Bi-Weekly Market Update #2
GooseGang Market Update #2: Strong performance from Bitcoin while Ethereum and Solana are lagging. Neutral sentiment across board. Major news to look out for in next two weeks. A lot of trading alpha at the end of the blog.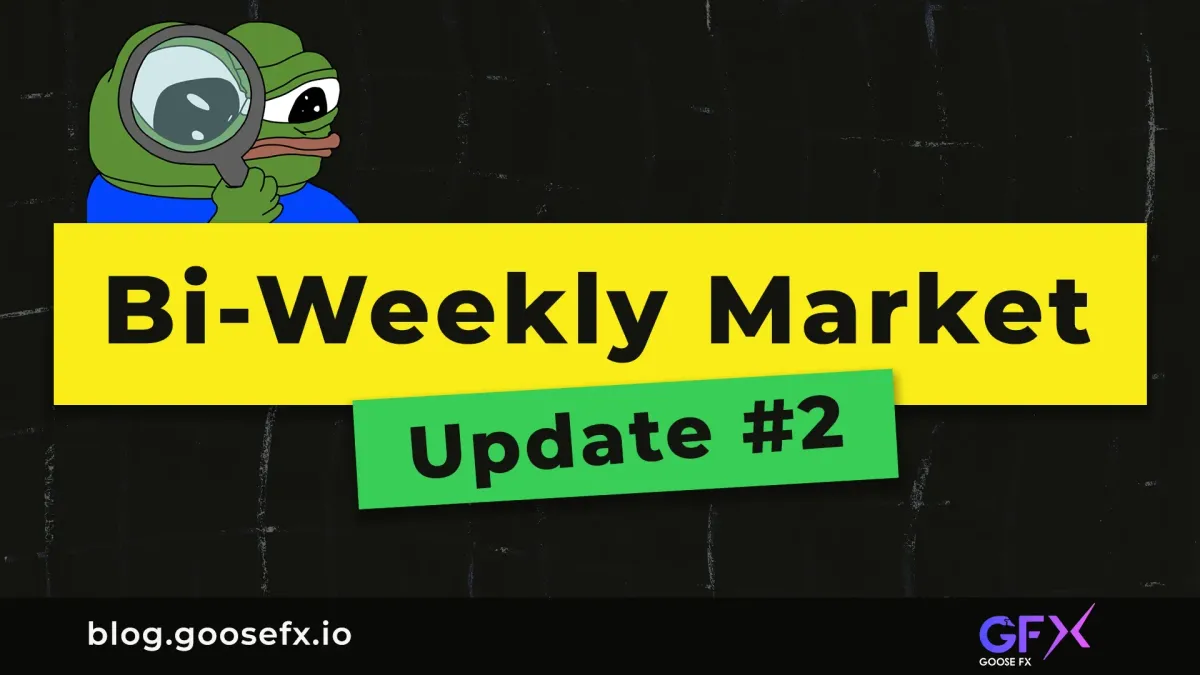 Introduction
Welcome to the second market update from Lil Goose HQ in a series of many more!
These updates are designed to provide a brief overview of the current market and also take you through any trading alpha or educational content you might have missed out on this week from your favorite CT trader 🦆
So, without further ado, let's kickstart this update for the second half of January 2023!
Bitcoin
Following the previous week, we got another market-wide rally, with Bitcoin jumping 14% from 21k to almost 24k.
The global crypto market capitalization has also increased from less than $1 Trillion to now $1.08 Trillion, with Bitcoin's market capitalization reaching $441 Billion.
Looking at BVOL, which tells us about Bitcoin's volatility, we can see that it also has increased by 26% showing that markets are getting more volatile during these periods. Hence, it's best to exercise caution and proper risk management when trading.
Coming onto the sentiment analysis section, we can see that there haven't been any significant changes in the sentiment, and it is still neutral, implying that while we have seen some bullish momentum pop back in the markets, there hasn't been any significant shifts in sentiment and people are still unsure where the market heads towards.
*What do you think? Is it an Echo Bubble starting, or has it finished or not an echo bubble at all?
Finally, coming to BTC Dominance, we have seen a jump from 42% previously to 44.5%.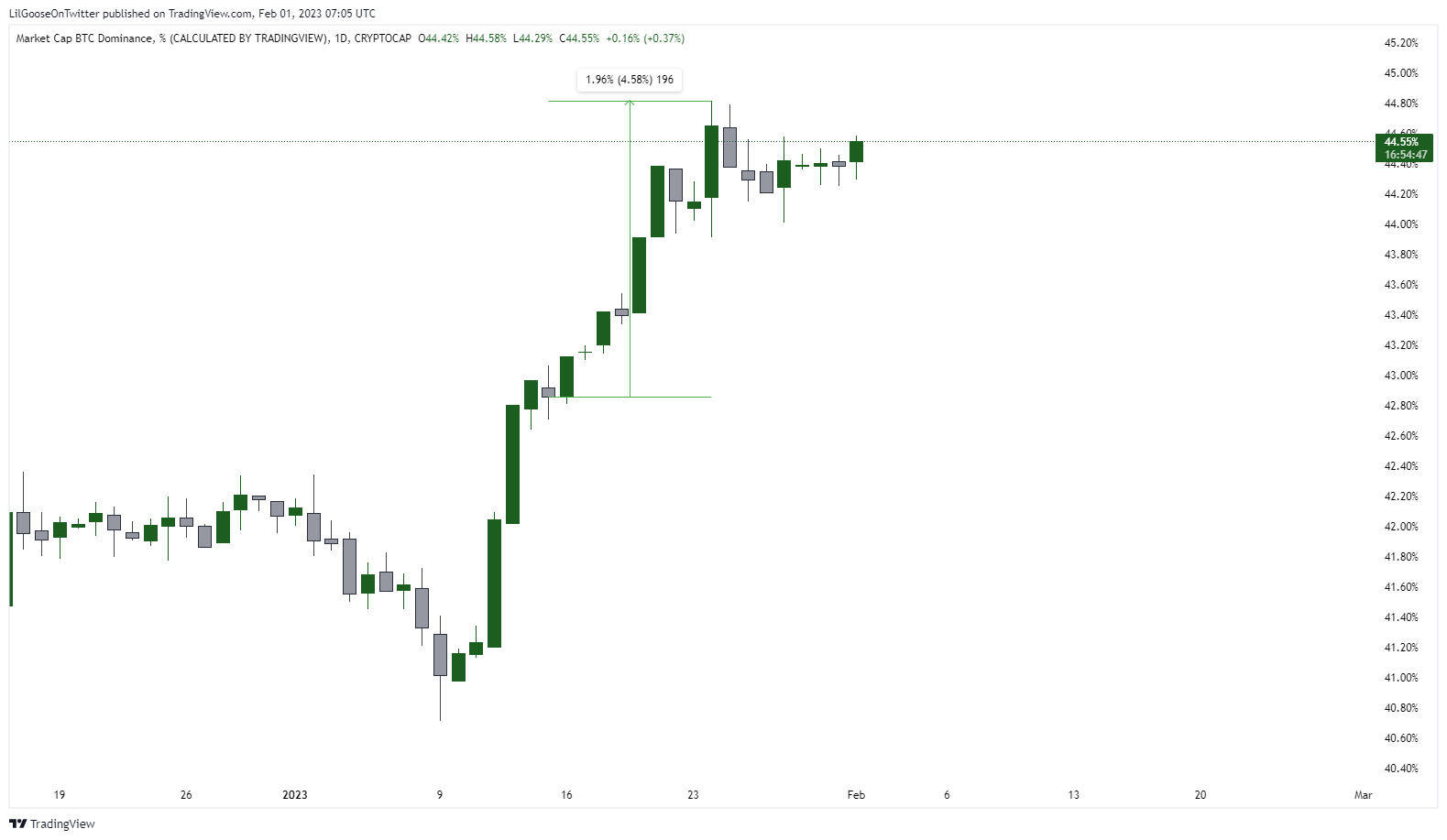 While BTC Dominance predominantly doesn't mean much in Lil goose's opinion, keeping it in check could be an excellent way to allocate and diversify your portfolio.
Ethereum
Moving to Ethereum, we saw that ETH underperformed compared to BTC, with ETH having a maximum increase of only 8.35% compared to BTC's 14.5% run-up. It is sitting at just shy of $1600 with a market capitalization of $192 Billion.
You can see this with an ETHBTC chart more clearly; the ETH to BTC ratio has been a downtrend these past two weeks, hovering between the range of 0.66 and 0.77. It had its lowest close in the last three months on 28th January 2023 and looks particularly weak from that standpoint.
Coming over to ETH's supply, we can still see that it's decreasing. We went from 120.52 Million to 120.515 Million in the past two weeks.
On the contrary, gas prices have increased from an average of 23 Gwei to 30 Gwei.
Solana
Finally, coming onto our last ticker, we have Solana or SOL, which has just outperformed ETH by gaining a maximum of 10.3% while underperforming BTC after the parabolic rally these past few weeks.
It is sitting for $23.9 at the time of writing with a market capitalization of $8.99 Billion sitting at #12 according to CoinGecko, losing two rankings in the past two weeks.
The sentiment around Solana is still shifting towards the bullish ends of the spectrum; however, that hasn't translated towards trading volume these past two weeks, as can be seen from Jupiter's stats which saw a decrease in the trading volume.
Nevertheless, more and more people are building and shipping new products across Solana, as evident from Saga Mobile and hackathons.
For news recaps, follow GFXIntern, where LilGoose posts a weekly thread covering news, raises, and podcasts/articles recommendations!
News and Headlines
These past two weeks weren't news heavy. However, the next few weeks are packed.
To stay on top of such news, you should follow Tier10k on Twitter.
Major news headlines to keep an eye on in the coming two weeks:
FOMC and Powell's Press Conference on 1st February
BoE and ECB Rates decision on 2nd February
NFP and Unemployment Rate on 3rd February
Prelim UoM Consumer Sentiment on 10th Feb
Federal Budget Balance on 11th February
You can keep a tab on sites like ForexFactory for any news in the Stock Market.
Overall, Lil Goose would suggest that people refrain from being pre-positioned into such volatile events as the chances of you getting stopped out of your position are highly likely.
CT Trading Alpha
Finally, we have Lil Goose's favorite section. For new people, your feed might be filled with 99% shitposting tweets and 1% alpha. In that case, Lil Goose is here to ensure you get that 1% of alpha, and in this section, we'll be going over any significant trading threads or videos you might have missed that contain insights to improve your trading.
So, without further ado, let's get into it!
As usual, we had 0xKyle drop narrative-based alpha for the week going ahead, and trust me, you want to take advantage of his feed and his substack.
He also talks about how he plays these narratives 🚀
If you want to enter Orderflow trading, give Adam a follow as he drops another banging thread on Order Blocks from an Order Flow perspective.
If you are a scalper or looking to get into scalping, Lil Goose should check VKTR out and understand his principles like the one below.
Lil goose also thinks that time-based stops are crucial when scalping.
Since his account is locked, here is the alpha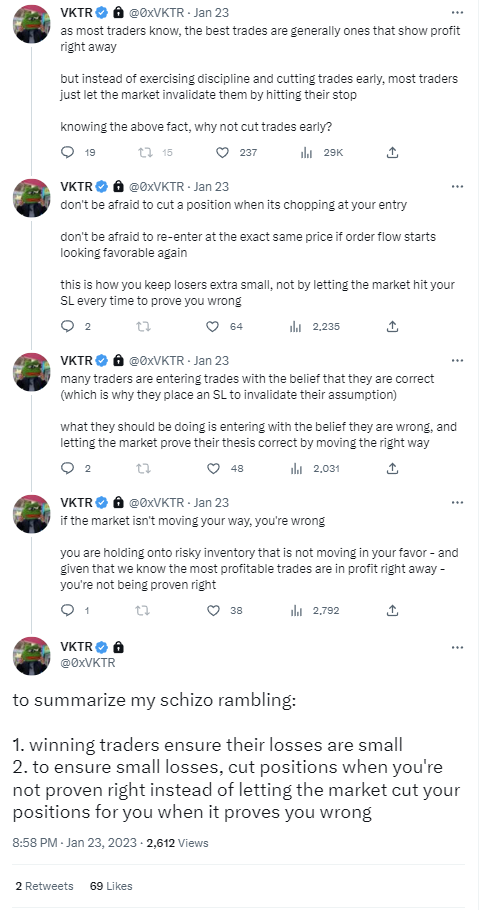 Next up, we have DriftProtocol themselves talking about FVGs
Try thinking about FVGs from an Order Flow perspective or research about it
Lastly, we have Cred dropping a banger tweet talking about having a maximizing profit mindset.
Conclusion
The market update from Lil Goose HQ provides an overview of the crypto market in the second half of January 2023.
The performance of Bitcoin is highlighted, with the cryptocurrency jumping 14% from $21,000 to almost $24,000, while the global crypto market capitalization has increased from less than $1 Trillion to $1.08 Trillion. The sentiment analysis suggests that the market is still neutral, meaning that while there is some bullish momentum, there hasn't been a significant shift in sentiment. The update also covers Ethereum, Solana, and major news headlines to keep an eye on shortly.
Finally, the update provides CT Trading Alpha with recommendations for significant trading threads or videos to improve trading skills. Overall, the market update provides a comprehensive overview of the crypto market for the week, including performance, sentiment analysis, and trading alpha.
Remember to diversify your portfolio and stay informed to make wise decisions!
-Lil Goose out 🦆
Website | Twitter | Telegram | Discord | Docs
Disclaimer: The statements, proposals, and details above are informational only, and subject to change. We are in early-stage development and may need to change dates, details, or the project as a whole based on the protocol, team, legal or regulatory needs, or due to developments of Solana/Serum. Nothing above should be construed as financial, legal, or investment advice.