GooseFX
GooseFX Leaderboards
Win tokens, NFTs, and more by engaging with GooseFX. Earn points through market orders, loyalty, trading volume, and profit performance. Trade now!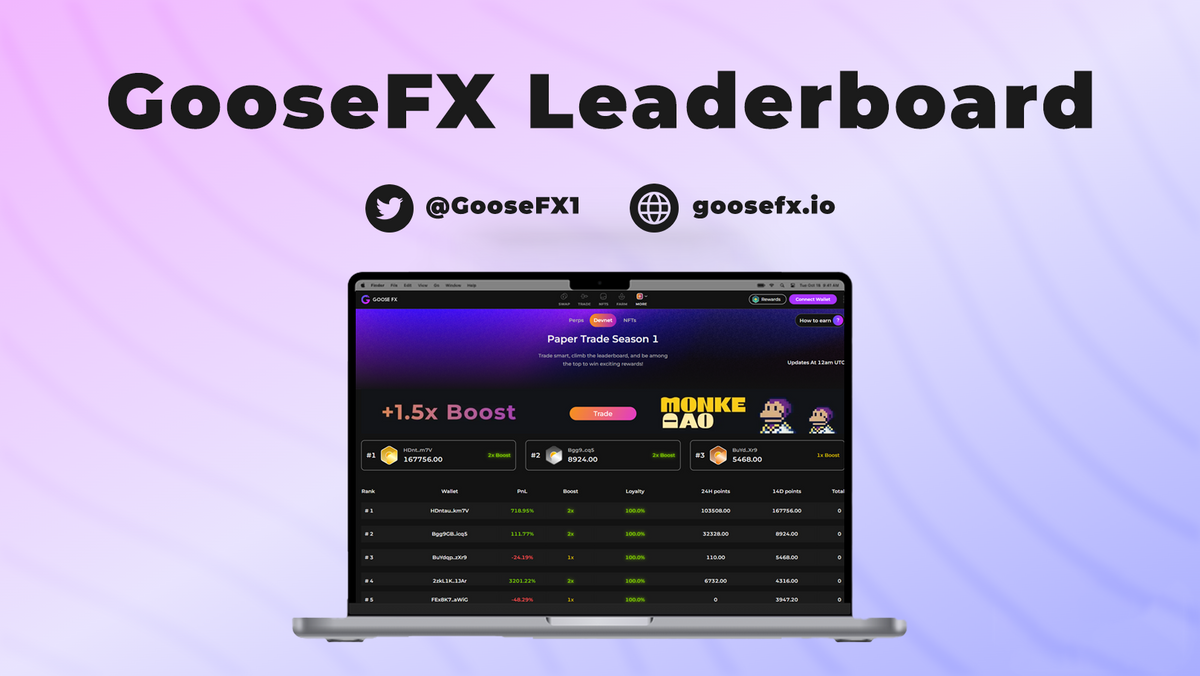 Introduction
We recently launched Goose Rewards, our brand new Point system that allows you to earn rewards for engaging with our comprehensive suite of protocols. To go along with this, we launched the first Devnet Trading Competition on Solana, where you can stand a chance to WIN tokens, NFTs, and much more!
In this blog, we'll dive into how you can participate in the first Devnet Trading Competition on GooseFX, win fantastic rewards, and automatically join our RAFFLE DRAW!
What is Goose Leaderboards?
Goose Leaderboards, particularly the Leaderboard for our Devnet Trading competition, offer an engaging platform for Trading and NFT enthusiasts. Traders and NFT Connoisseurs can compete, earn points, and fight for top positions. To grasp their mechanics and maximize your points, let's explore further.
Note: In this blog, we'll be diving into the tiny details of our Devnet Trading competition and the Devnet Leaderboards
Points System
The Points System in Goose Leaderboards is thoughtfully designed to reward various aspects of your trading journey. These aspects can vary from Market Orders to holding specific NFTs or X amount of tokens to improve your boost! These are a few specific aspects that can earn you points on our Leaderboard.
Market Orders, where you place orders of over $50, earn you valuable points. Your trading volume in USDC directly influences your points, encouraging more active trading. Loyalty Points are a bonus, increasing your points based on your loyalty score, which grows as you engage more with the platform. Your trading performance, reflected in your profit, also contributes to your points. The higher your profit, the more points you earn.
GooseFX also offers a Boost Multiplier, which augments your points based on your loyalty and profit percentages. Depending on collaborations with different Solana communities, holding specific NFTs or tokens can further boost your points.
Winning Rewards and Raffle draw
Points are categorized into 24hr points (earned within the last 24 hours), 14D points (accumulated over the last 14 days), and Total points (collected throughout your GooseFX Perps trading history).
The Devnet Leaderboard follows a biweekly reset, offering fresh competition every 14 days while your loyalty score remains unaffected. Points in the 24hr and 14D categories reset every Monday at 00:00 UTC. GooseFX rewards top-performing traders within 48 hours of each biweekly reset, including prizes and recognition within the GooseFX community.
Also, Season 1 promises an exciting lottery draw for additional chances to win some exciting prizes! Interacting with the platform and actively trading automatically enrolls you in a raffle draw, making every trade a potential ticket to a winning prize.
So, what are you waiting for? Start trading now!
How to Sign-Up on GooseFX?
Now, you're excited and fired up to join our Trading competition but need to don't know how to do it?
Fret not; in the following few sections, we'll see how easy it is to participate and start trading on our Perps dex.
Note: If you don't have SOL on Devnet, we recommend you using a Solana Faucet to get devnet SOL. Check our tutorial here.
To sign up for the GooseFX Devnet Competition,
Open your Wallet and switch to Solana Devnet. On Phantom Wallet, you can do this by going into Developer Mode in Settings.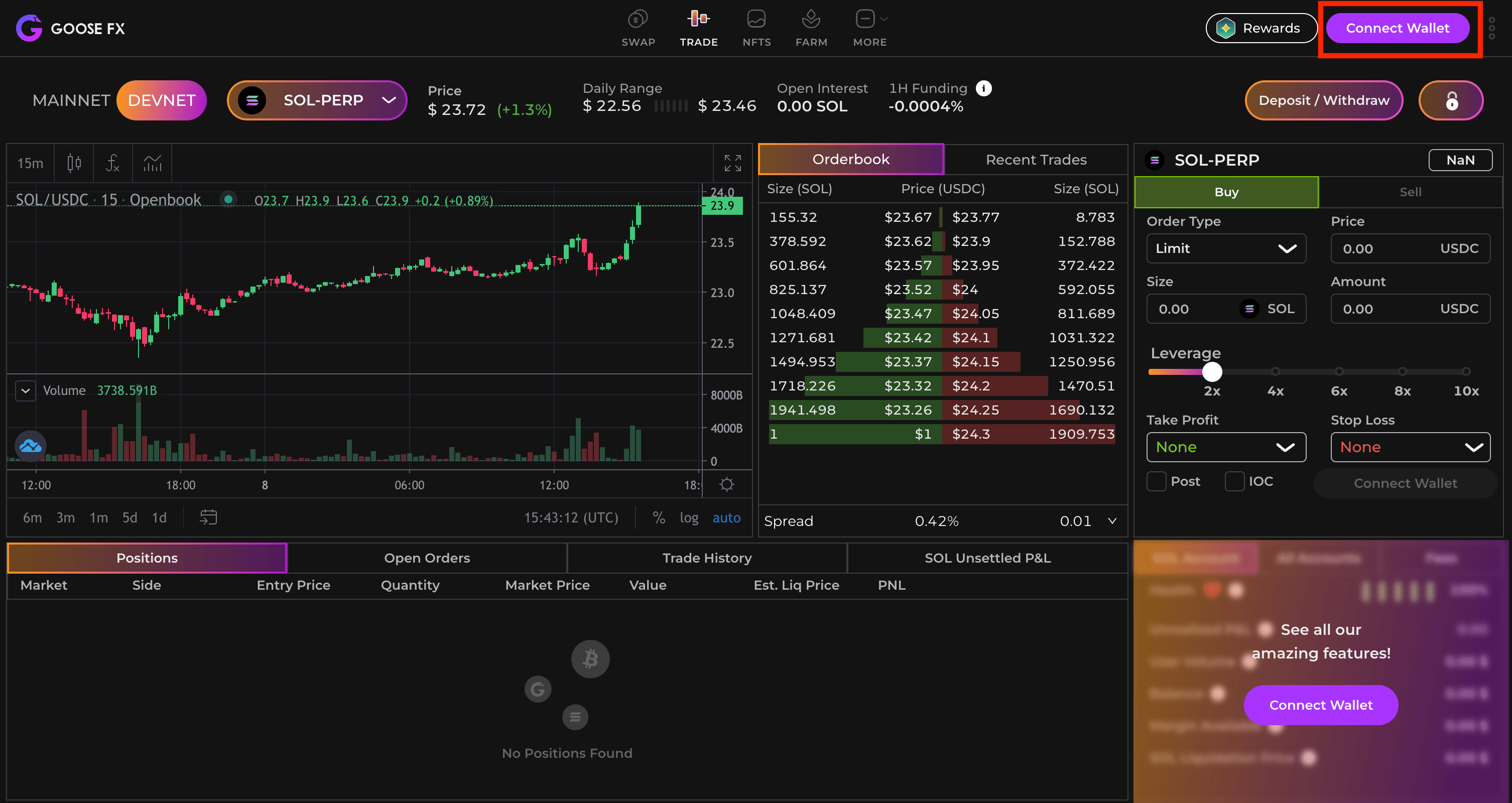 Turn on Testnet Mode, and you'll automatically be connected to Solana Devnet. If not, you can change the test network to Solana Devnet.
Now, log in to GooseFX and connect your Wallet. Switch to the DEVNET tab, where you'll see a deposit button on the top right corner of the screen.
Upon clicking the deposit button, you'll see that you can deposit only 500 USDC, which we already input. Once you click Deposit, you must approve the transaction in your Wallet and Voila! You're all set to start.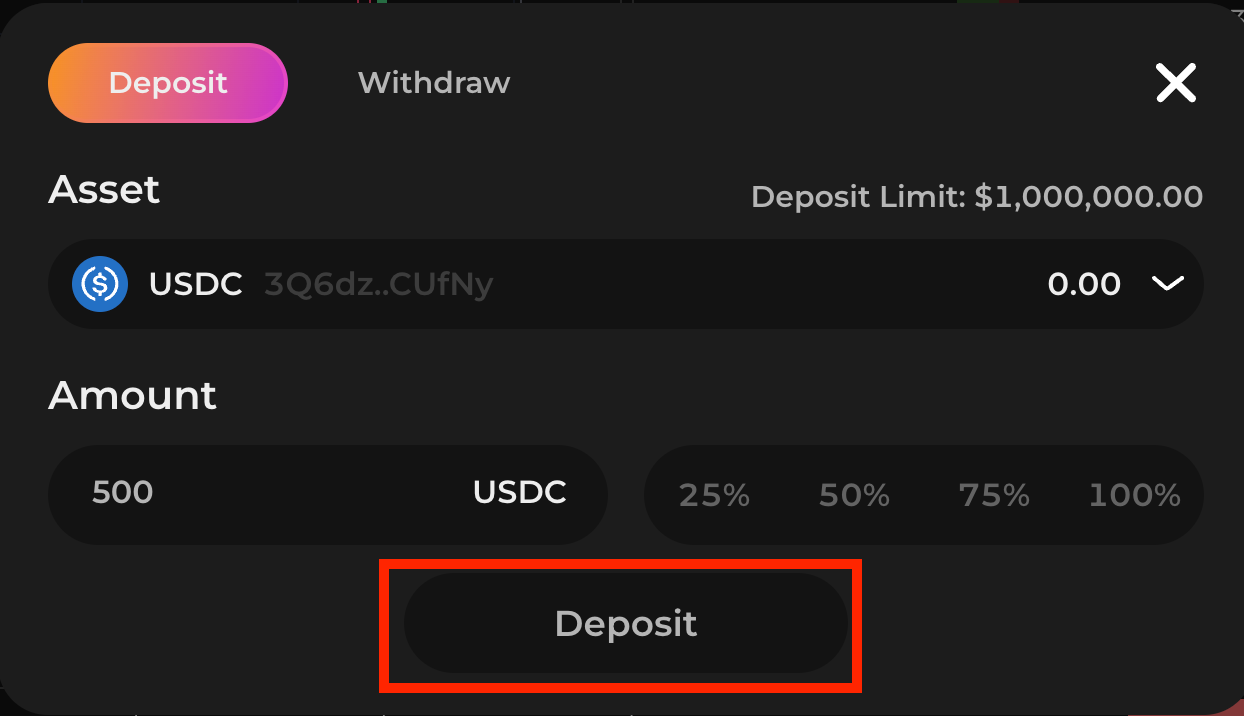 How to go Long or Short
To go Long, make sure you're on the Buy Tab, which you can see on the right side of the screen in the order placing layout.
Once you have that selected, select whether you would like to Market in or place a Limit order. For Limit orders, you'll have to set the price; however, for market orders, you'll be directly filled at the best ask offered.
To enter your position size, manually type in or drag the Leverage slider. Once that's done, you can add a Take Profit order either at pre-set 25%, 50%, or 100% profit from your price or input a custom price for your Take Profit.
Once that's all done, you just hit Long SOL and approve the transaction in your Wallet.
To go short, switch to the Sell Tab, and follow the same steps from Order type to Take profit. Once you're all set, just hit the Short SOL button and approve the transaction in your Wallet.
How to Close a position
Closing a position is straightforward, similar to other processes on our perps dex. To close your position, go to your Positions tab at the bottom of your screen and see a Close button against your position.
Once you click on it, you'll be greeted with the percentage of the current position you want to close. Select 25%, 50%, 75%, or 100% pre-sets or enter a custom quantity. Once that's done, click the Close button at the bottom of the popup and approve the transaction in your Wallet, and Voila!
Final Thoughts
Now, you possess the knowledge of what we're bringing and what you have to do to participate in the FIRST Devnet Trading competition on Solana.
So, what are you waiting for? Join now!
Website | Twitter | Telegram | Discord | Docs
Disclaimer: The statements, proposals, and details above are informational only, and subject to change. We are in early-stage development and may need to change dates, details, or the project as a whole based on the protocol, team, legal or regulatory needs, or due to developments of Solana/Serum. Nothing above should be construed as financial, legal, or investment advice.