Solana Ecosystem - June 2023
Discover the dynamic Solana ecosystem, from DeFi protocols like GooseFX, OpenBook and Drift etc. offering diverse trading opportunities to NFT Projects like MadLads, SMBs, Rave3NFTs etc.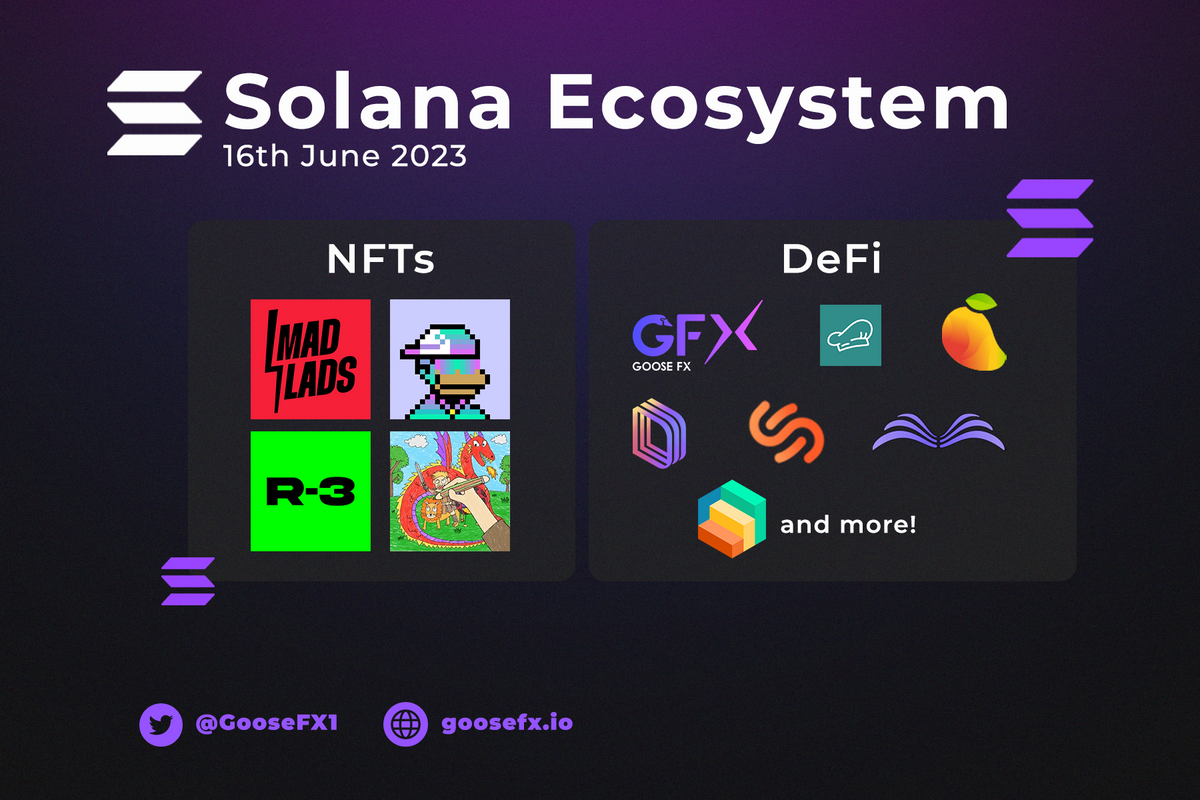 Introduction
In our last blog, we talked about a specific niche of protocols in Solana called Structured Products. However, this time, we're going bigger!
Solana , currently sitting at a Total Value Locked or TVL of over $350 Million, is home to a wide variety of protocols owing to its transaction speed and cost. While the TVL has yet to see major growth since the start of the year, this hasn't demotivated the builders in the least, who keep shipping new stuff (including us at GooseFX)!
Solana's high-performance and low-cost infrastructure make it an ideal spot for trading, whether it's Crypto tokens or NFTs, derivatives or spots, offering many opportunities for users and developers alike. Owing to these features, it has gained significant traction and become a preferred blockchain platform for multiple projects, each bringing its own innovation and value proposition.
Solana's Market Cap at the time of writing is hovering around $8.5 Billion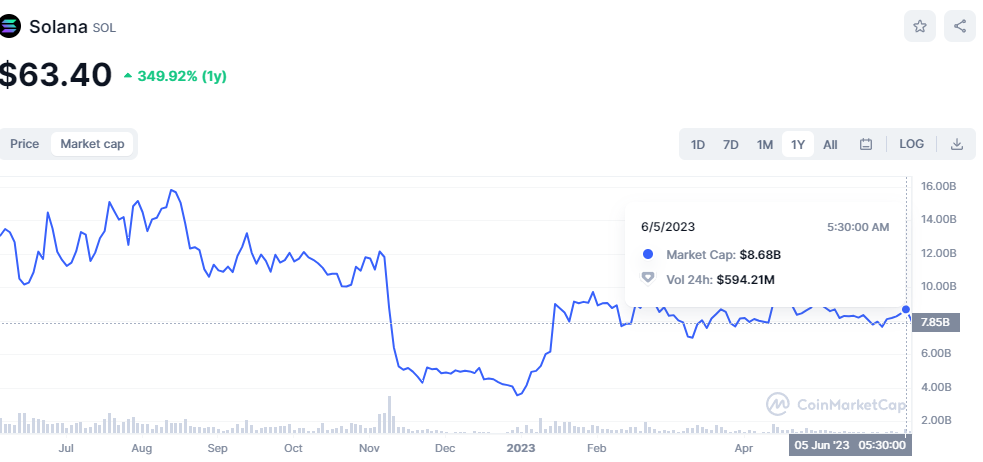 In this comprehensive blog, we will explore the top DeFi and NFT projects in the Solana Ecosystem, with a focus on the offerings of each.
Solana DeFi Ecosystem
The Solana ecosystem is home to many DeFi projects that contribute the majority to Solana's TVL.
This section will take a closer look at some notable Solana DeFi projects across different categories, highlighting their key features and contributions to the ecosystem.
Openbook (Spot DEX)
What started as a Community-Led project post-FTX collapse has brought back faith and TVL in the Solana Ecosystem. Openbook is a spot decentralized exchange (DEX) built on the Solana blockchain whose code was forked from Serum V3. Offering users a seamless and secure platform to trade cryptocurrencies, OpenBook empowers users to execute spot trades easily and efficiently. Since its inception, OpenBook has brought a total volume of $545 Million, with its TVL currently hovering around $3.3 Million.
If you want to read more about OpenBook, Check out our blog here.
OpenBook v2 is officially in development, moving from the outdated Serum Fork to a new build inspired by Mango Markets v4 and bringing a variety of new features.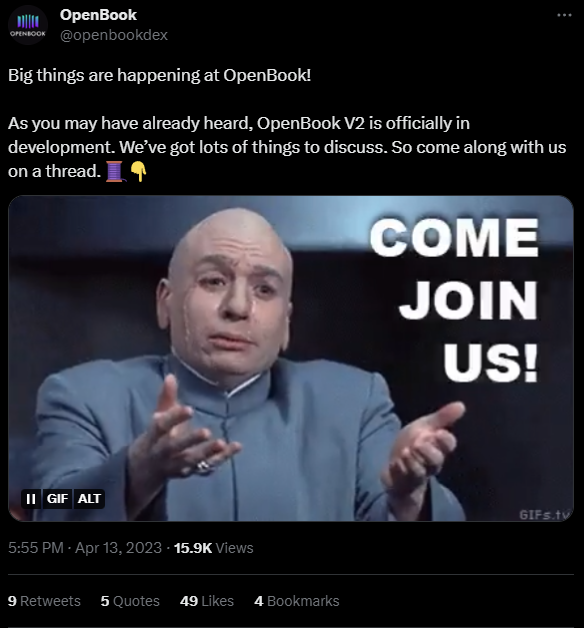 Drift (Perps DEX)
For those that may not know, Perps or Perpetual Futures are an extension to a futures contract; however, they don't have any expiry date, Hence the term - Perpetual or never-ending. You can check out our blog on that here.
Coming onto Drift, Drift is currently the leading perps dex on Solana. Before its v2 launch, Drift had a TVL of over $15 Million, currently sitting at $7.8 Million post-v2 launch with a cumulative volume sitting at a massive $670 Million since its inception spread out across just under 4000 users.
Drift has 3 different liquidity sources for its perps dex. Those are JIT or Just-In-Time Liquidity based on Dutch Auction for each order submitted on Drift. This mechanism is the first to be triggered post-order submission from the user. Next up is their Orderbook, managed by Keeper Network, which helps fill limited orders. Last up is their dAMM or Dynamic Automated Market Maker.
We've written a brief article on different types of AMMs that you can check out to understand better.
GooseFX (Perps DEX)
We at GooseFX are building a one-stop shop for Solana where you can trade perps, NFTs and farm yield, all through a single application.
We initially launched our Perps on Devnet and held a trading competition that garnered about 110 Traders with over $1.1 Million volume generated. We went live on mainnet on April 18th, and the journey has been insane. The amount of feedback we've gotten and the response has been amazing, and we're continuously pushing ourselves to become the DEX that is for the users. We also recently passed 1 Million in Cumulative transactions on our Perps Dex.
We're also working on v2 for our perps dex, absorbing all the feedback we've gotten and bringing the best experience to you.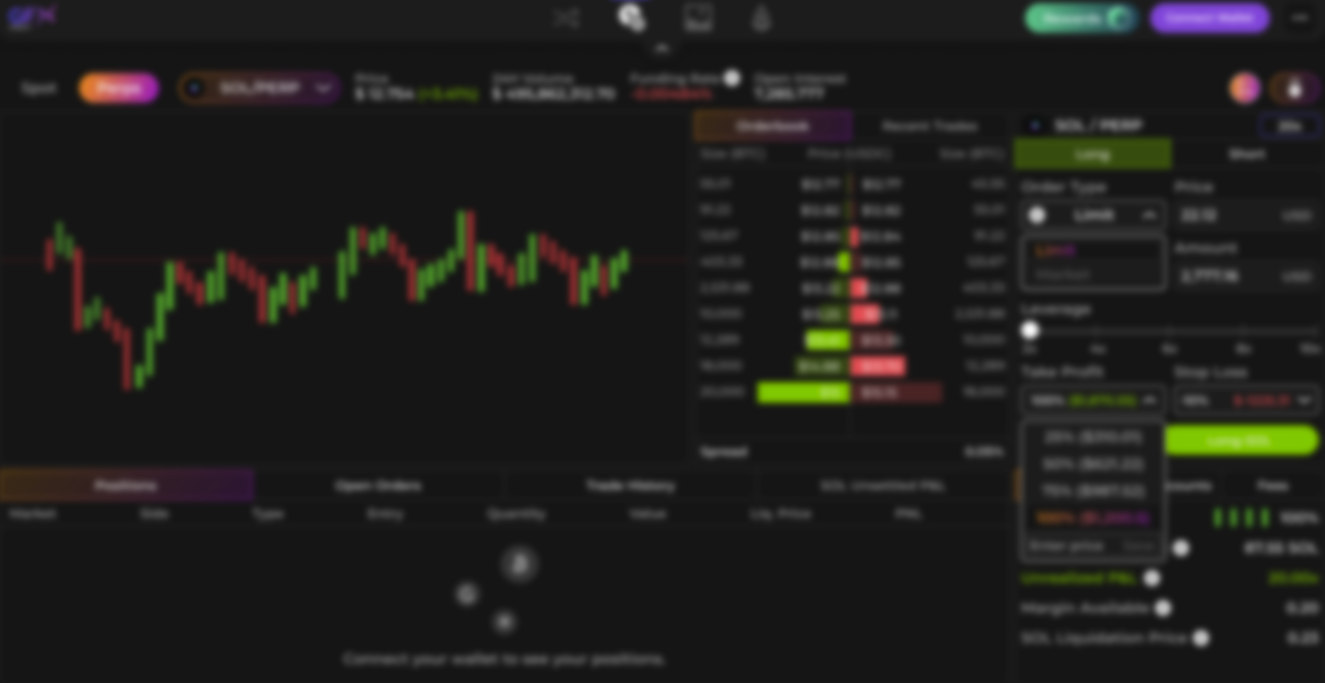 For a smooth perps trading experience, visit: https://app.goosefx.io/trade
Marinade Finance (DeFi Lending)
If we're talking about Solana DeFi ecosystem, we can never forget about Lending/Borrowing Protocols. With over $95 Million in TVL, sitting at the top of not only the lending protocols in Solana but overall as well is Marinade Finance.
Marinade Finance is a liquid staking protocol on Solana. Liquid Staking refers to the process of staking crypto while still being able to use them for other purposes. Via Marinade Finance, you can stake your SOL tokens against which you'll receive mSOL tokens that you can use with other Solana protocols.
(Hint: Something like converting it to USDC and trading SOL-PERP 👀)
While the APY may seem low to a few, note that the Risk against your staked tokens is also comparatively low, as Risk and reward go hand in hand.
You can check out their stats from the linked dashboard
Hubble Protocol (Stablecoin Issuer)
Last, but not least, we have the Hubble Protocol. Hubble allows you to borrow USDH against multiple assets like SOL, mSOL and ETH. Doing so allows the user to access liquidity while retaining their original assets.
What is USDH?
USDH is a stablecoin soft-pegged to the dollar and backed by the assets locked in the Hubble Smart Contract. The most important aspect of USDH is that it is Over-collateralized, i.e. for every 1 USDH, there's more than $1 locked in the smart contract.
You can read all about USDH here.
You can use USDH for various purposes, including but not limited to yield farming or liquidity mining, staking, and even swapping it for another asset! While this is all in Phase 1, in their Phases 2 and 3, Hubble will be launching DeFi structured products and undercollateralized loans as opposed to overcollateralized loans that exist currently.
Solana NFT Ecosystem
Solana has become a thriving hub for NFTs, offering many exciting projects like SMBs, DeGods, and the most recent ones being MadLads in this space. Major NFT marketplaces like MagicEden and Tensor have had a surge in marketplace volume over the past couple of months compared to the previous year, with over 11,000 NFTs being minted daily on average.
Capturing the Solana NFT ecosystem by storm are these top projects (in no particular order):
Madlads
MadLads is currently the most popular and traded NFT collection on Solana consisting of 10,000 unique pieces. The collection, created by Solana development company Coral, was launched via Coral's wallet app, Backpack. The NFTs are known as "executable NFTs" (NFC), platforms for operable Web3 applications​1.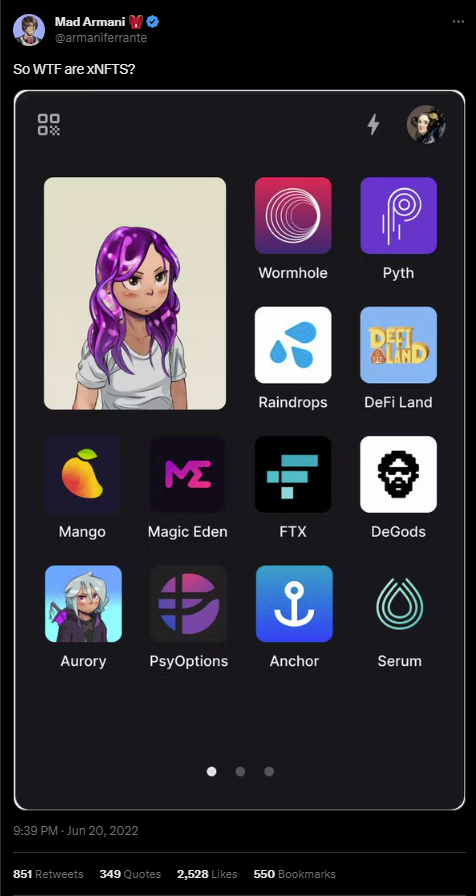 The initial sale of Mad Lads faced bot interference, leading to a one-day delay. However, the developers ingeniously created separate minting portals for human users and bots, tricking the latter and causing a surge in the project's popularity. This move led to $8+ million generated within 24 hours of the relaunch​ , and the users caught in the crossfire were refunded later.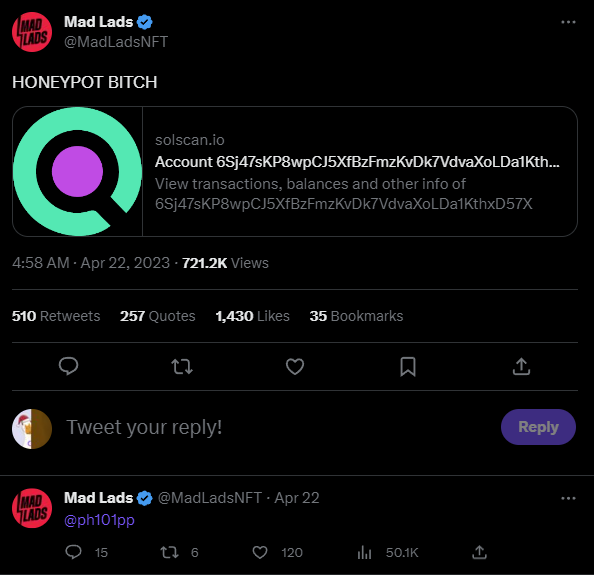 The floor price of MadLads is currently at 82.5 SOL, with a daily volume of over 6000 SOL.
To buy a MadLadsNFT, visit app.goosefx.io/nfts/Mad_Lads
MadLads NFT also released their staking program that allows holders to generate exclusive soul bound coins tied to their Mad Lad NFT. These coins reside in a soulbound inventory, similar to game menus, and cannot be transferred between holders.
The inventory also serves as storage for xNFTs and allows direct airdrops to Mad Lad's holders. It combines loyalty rewards programs and in-game currencies, creating an engaging NFT ecosystem.
Rave3NFTs
Rave3NFTs recently launched and sold out quickly, introducing 'meta-physical Kandi Bracelets' as a social activation. These bracelets aimed to combat negativity by rewarding positivity and were widely celebrated within the community​.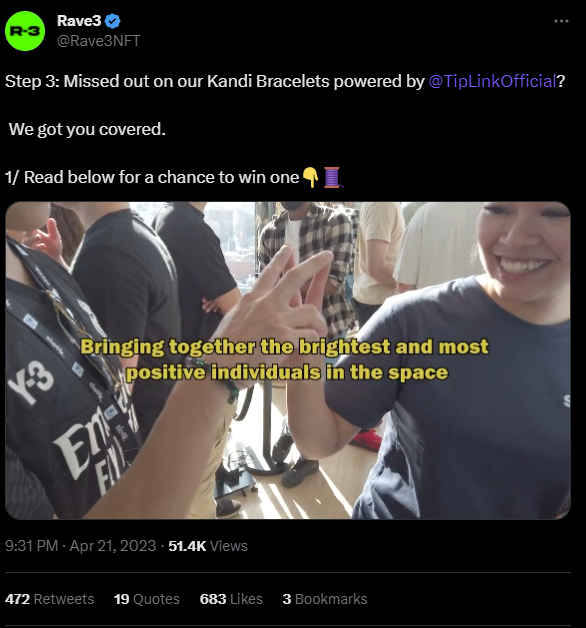 After their initial success, Rave3NFTs announced the Bullboard, a gamified experience designed to promote positivity across the crypto space. Looking ahead, the team plans to introduce a holder incentive, a gamified social platform, and real-world activations, while also seeking to onboard communities beyond Solana, aiming to combat toxicity and maximalism​​.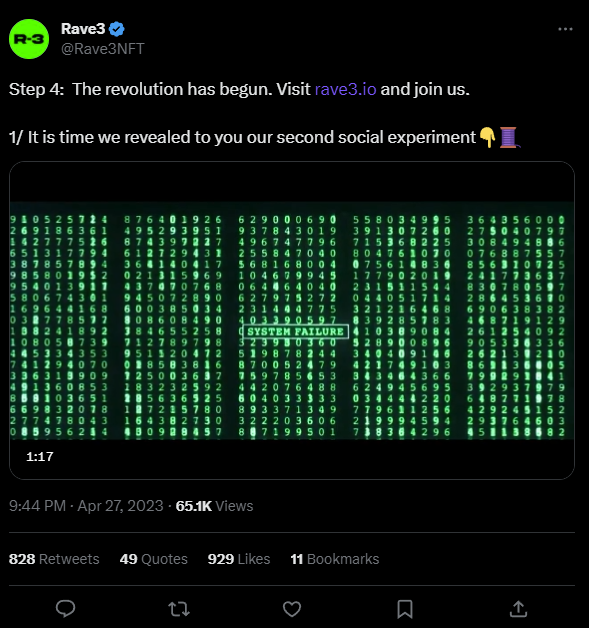 DeGods and y00ts
DeGods is a Solana-based PFP NFT collection featuring godly characters blending modern streetwear and ancient deity-inspired art. Launched in October 2021, each DeGod NFT possesses 4-7 unique traits from eight possible attributes, creating distinct rarity for each piece.
Holders can also stake their DeGods to earn DUST tokens and gain access to the DeDAO, a decentralized autonomous organization or DAO governing the Solana ecosystem. DeGods holders were also eligible to mint y00ts, their sister NFT project, via their native token, DUST. y00ts is another NFT collection consisting of 15,000 NFTs on Solana.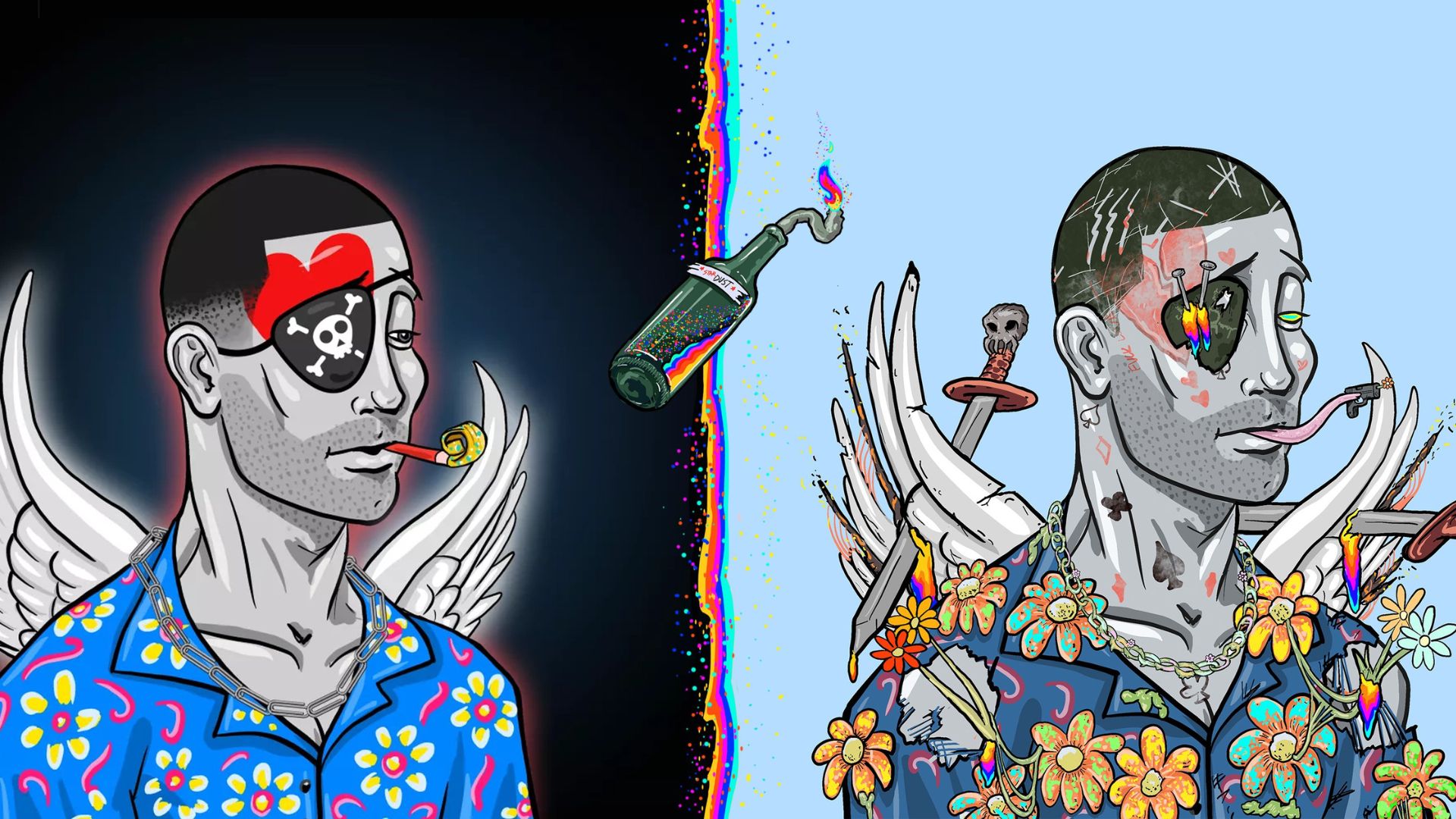 DeGods recently were part of a major whiplash when they announced their migration to Ethereum, with y00ts moving to Polygon.
Solana Monkey Business
Solana Monkey Business or SMB is a collection of NFTs on the Solana blockchain that features pixelated monkey images. The SMB collection has released several generations of monkeys, each with unique features and benefits. The first generation (Gen1) featured four space-themed monkeys, each with a limited supply. Holding the whole collection gave the holder a cut of the royalties from Gen2 sales​​.
The Gen2 is a collection of 5000 randomly generated 24×24 pixel monkey NFTs, each unique and easily recognizable, with their metadata stored on Arweave, a permanent and decentralized data storage solution​​.
Hovering at a floor price of just under 200 SOL, its current daily volume stands at 1500 SOL
Currently, the SMB community is preparing to launch SMB Gen3, which will introduce a new generation of monkeys to the Solana ecosystem, with a special purchasing opportunity for SMB Gen2 holders​1.
Read about the design update for Gen3 here.
ABC NFTs
ABC NFT is a collection of 10,000 NFTs that takes collectors on a nostalgic journey back to their carefree childhood days. This experimental project stands out with its commitment to immutability, devoid of a team, roadmap, or royalties. Within just a few months, the price of ABC NFTs soared from 1.5 SOL to an impressive all-time high at 200 SOL and is currently sitting at 29 SOL with a daily volume of 1500 SOL sitting next to Solana Monkey Business.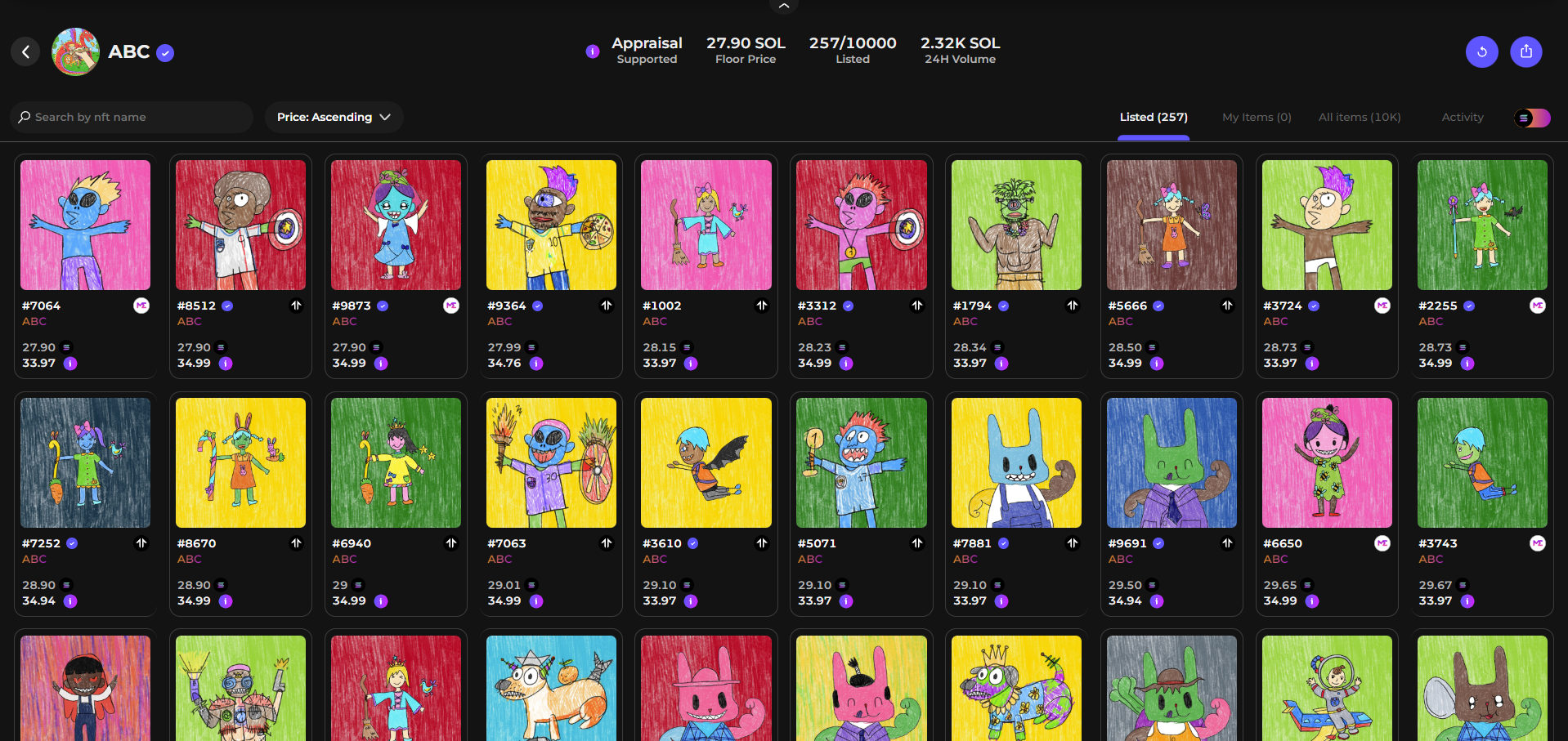 Recently ABC launched their ABC Ordinals to help warp your ABC NFTs to Bitcoin Ordinals.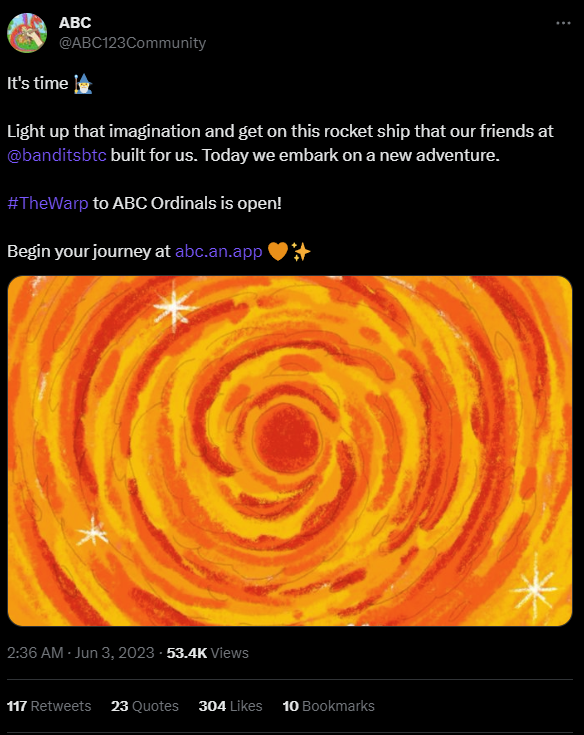 Frequently Asked Questions (FAQ)
In the final section of our blog, we'll be going over some of the most frequently asked questions about Solana.
What is Solana?
Solana is a high-performance blockchain platform renowned for its speed, low fees, and a thriving ecosystem. It offers diverse trading opportunities in DeFi and NFTs, making it a preferred choice for innovative projects. Solana's impressive infrastructure has attracted projects like GooseFX, Marinade Finance, Solana Monkey Business etc. solidifying its position as a leading force in the blockchain industry.
Why is Solana so special?
Solana is special due to its high-performance blockchain infrastructure, enabling fast transaction speeds and low fees. This makes it an ideal platform for trading, including DeFi and NFTs, offering users and developers a seamless and cost-effective experience.
Is Solana better than Ethereum?
Solana and Ethereum are prominent blockchain platforms, each with strengths and use cases. Solana excels in transaction speed and scalability, offering fast and low-cost transactions. Ethereum, on the other hand, has a larger network effect, a robust ecosystem, and a longer track record. The choice between Solana and Ethereum depends on a project or user's specific needs and requirements. Evaluating transaction speed, cost, ecosystem maturity, and developer support is important when considering which platform to utilize.
Conclusion
Solana has gained significant traction and has become a preferred choice for innovative projects in the DeFi and NFT space. In this blog we explored not only the top Solana ecosystem dApps but also some notable Solana NFT projects like MadLads, Rave3NFTs, DeGods, Solana Monkey Business, and ABC NFTs. With these projects, Solana has established itself as a thriving hub for NFT innovation.
Its growth and diverse ecosystem makes it a force to be reckoned with in the blockchain industry. #OPOS
Website | Twitter | Telegram | Discord | Docs
Disclaimer: The statements, proposals, and details above are informational only, and subject to change. We are in early-stage development and may need to change dates, details, or the project as a whole based on the protocol, team, legal or regulatory needs, or due to developments of Solana/Serum. Nothing above should be construed as financial, legal, or investment advice.