Solana Wallets
Solflare Auto-Approve [GUIDE]
Discover the power of Solflare Wallet's Auto-Approve feature, seamlessly integrating with the GooseFX Perps Platform.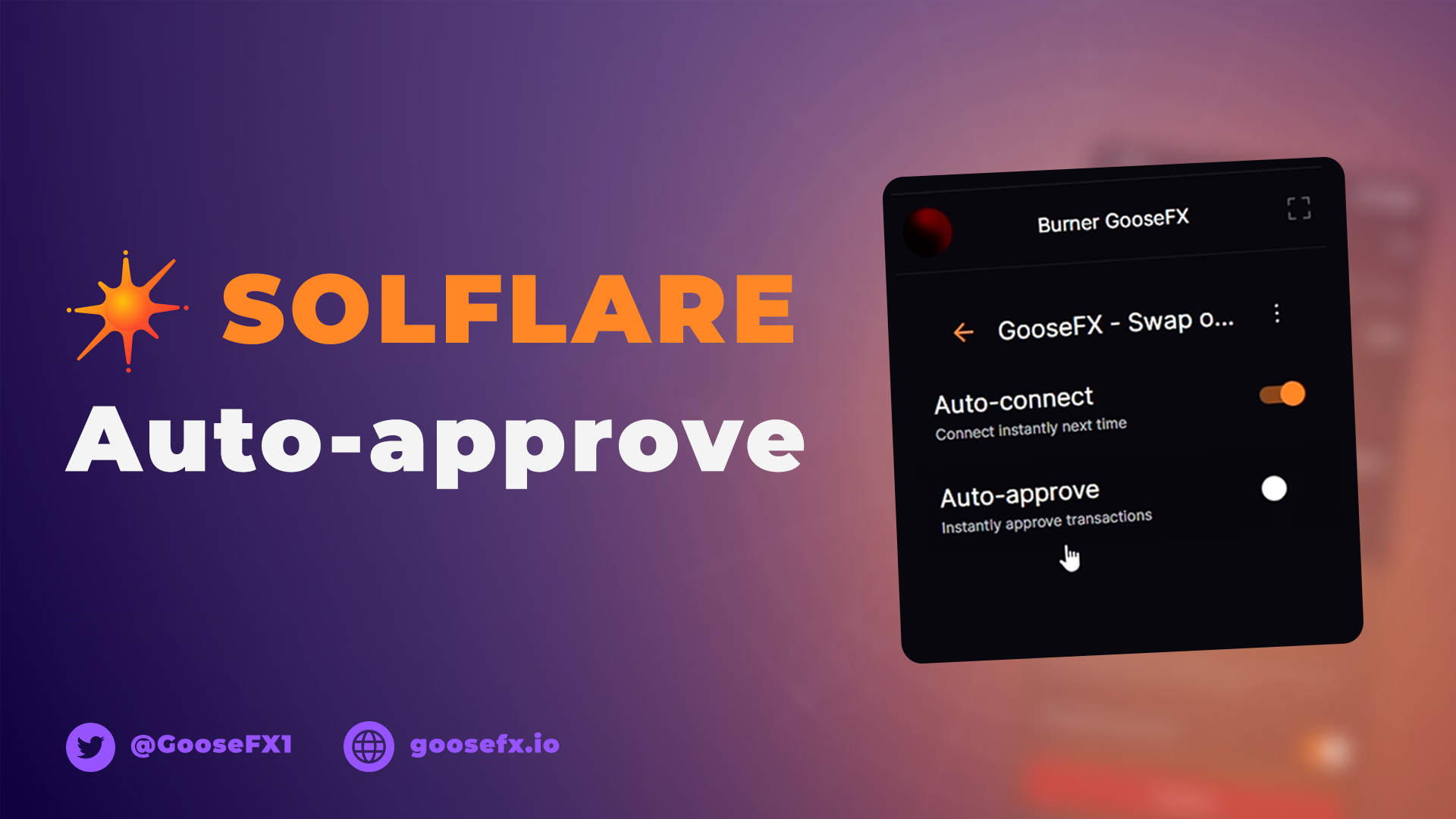 In the fast-paced world of decentralized finance (DeFi) and Non-Fungible Tokens (NFTs), efficient and secure transactions are paramount. Solflare Wallet, a leading wallet on Solana, introduces its game-changing Auto-Approve feature, designed to streamline transactions within the Solana ecosystem.

In this blog, we will explore the benefits of Solflare Auto-Approve feature, how to use it, and its integration with GooseFX's Perpetual DEX. Additionally, we'll delve into the added security of Solflare Burner Wallets and how they complement the Auto-Approve feature.
Solflare Auto-Approve
Solflare Auto-Approve is a feature that eliminates the need for manual transaction approval, allowing users to mint, buy, and trade at lightning speed.
By removing the approval step, transactions become seamless, enabling users to take full advantage of the GooseFX Perpetual DEX without any delays. Enhancing the overall trading experience, making GooseFX perps DEX as smooth as using a centralized exchange (CEX).
Benefits of Using Solflare Auto-Approve?
Enabling Solflare Auto-Approve offers several key benefits.
Seamless Trading Experience
Users can effortlessly execute trades on the GooseFX Perpetual Futures DEX without the need for manual approvals, enhancing the overall trading experience.
Elimination of Transaction Delays
Manual approval can introduce delays in transaction processing at times. With Auto-Approve, transactions are executed instantly, ensuring timely trades and capitalizing on market opportunities.
Safely Isolated in Burner Accounts
Auto-approve wallets can only be enabaled in burner accounts which are isolated from main accounts, ensuring that potentially compromised burner accounts won't be imported when restoring your wallet.
Reduced Exposure to Risks
Auto-Approve, when combined with Solflare Burner Wallets, minimizes exposure to potential risks associated with connecting to untrusted sites.
How to Use Solflare Auto-Approve?
To enable the Auto-Approve feature on Solflare Wallet, follow these simple steps:
Step-by-Step Guide
Click on your profile picture at the top of your Solflare Wallet.
At the bottom of your account list, select the option to "Create Burner Account"
Read through the descriptions and click "Continue"
Give your Burner Wallet a recognizable name and click "Create"

Connect your burner wallet to your desired Solana dApp.
Verify the link and click "Trust this app"
Click the "gear icon" and then go to "Security"
Click "Manage Apps" and choose the desired trusted site, where you want to enable "Auto Approve" then click "Yes" to enable


Conclusion
Solflare Wallet's Auto-Approve feature revolutionizes Solana transactions, providing users with fast and secure trading experiences. By seamlessly integrating Solflare Burner Wallets with Auto-Approve on the GooseFX Perps Platform, users can enjoy the benefits of decentralized peer-to-peer financial products without compromising on security or efficiency. Embrace the power of Solflare Auto-Approve and unlock a world of possibilities on Solana.
Website | Twitter | Telegram | Discord | Docs
Disclaimer: The statements, proposals, and details above are informational only, and subject to change. We are in early-stage development and may need to change dates, details, or the project as a whole based on the protocol, team, legal or regulatory needs, or due to developments of Solana/Serum. Nothing above should be construed as financial, legal, or investment advice.