The $BONK Token: An In-Depth Look - Pros, Cons, and Risks
Get the full scoop on $BONK, the Solana meme coin causing a stir. In this in-depth analysis, we cover the pros, cons, and risks of investing in this highly speculative token. Don't miss out on the full picture before making a decision.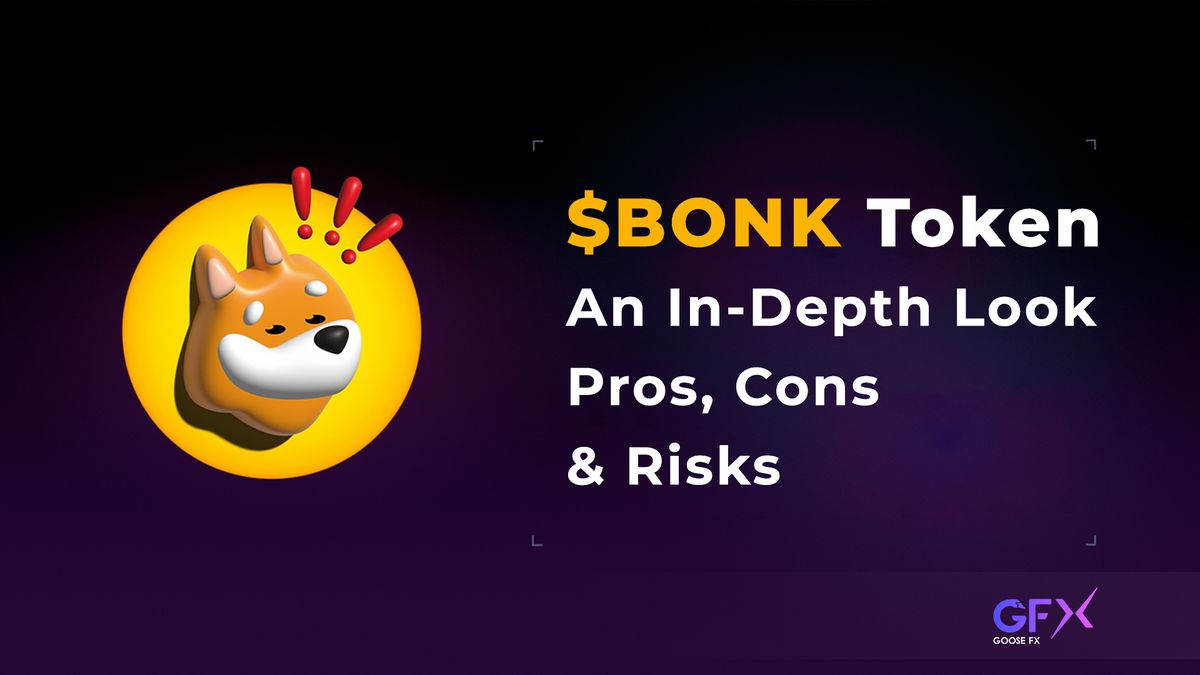 Table of Content
$BONK - Introduction
Recently, the Bonk token has gained significant attention in the cryptocurrency community. A Solana meme coin representing a dog, $BONK has attracted a strong following and seen impressive market value growth. In this blog, we will take a closer look at the Bonk token and its development and some of the risks and concerns raised about it.
Token distribution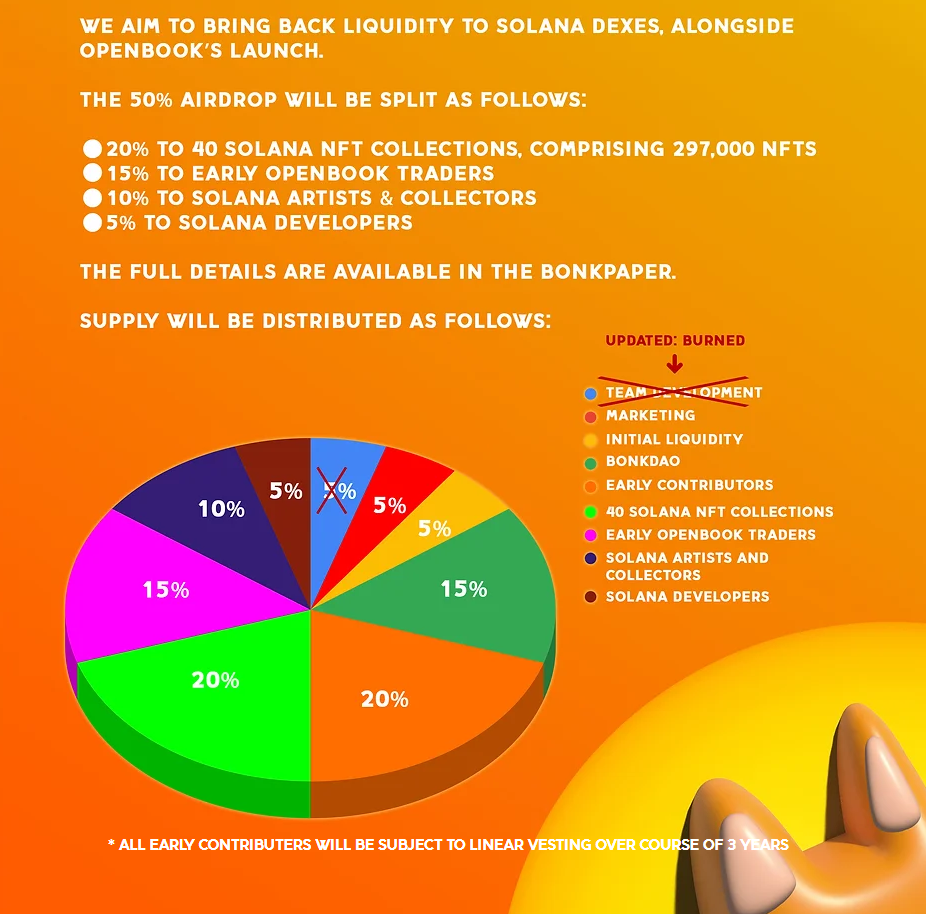 According to Bonk's official website, 50% of the token's total supply was airdropped to the Solana community.
This distribution was split among four groups
Solana NFT holders
Early Openbook traders
Solana artists and collectors
and Solana developers.
The remaining 50% was allocated to
early contributors
initial liquidity
marketing
and team development.

One key aspect of Bonk's token distribution is its vesting period for early contributors. This group, which received the most significant portion of the remaining 50% at 20%, is subject to linear vesting over three years. This means that the tokens will be gradually released over time rather than immediately available for sale on the market. The vesting period helps to ensure that early contributors are aligned with the long-term success of Bonk and reduces the risk of insider dumping.
Use of funds
The Bonk team plans to use the funds generated from the token for various purposes. According to Bonk's documentation, 10% of the funds will be used for initial liquidity on DEXes such as Raydium, Orca, and Solend. Another 5% will be allocated for marketing promotions, such as giveaways and collaborations, and the remaining 5% will be used to pay team members for their contributions.
All team tokens have been burnt as of 9th Jan 2022
Market performance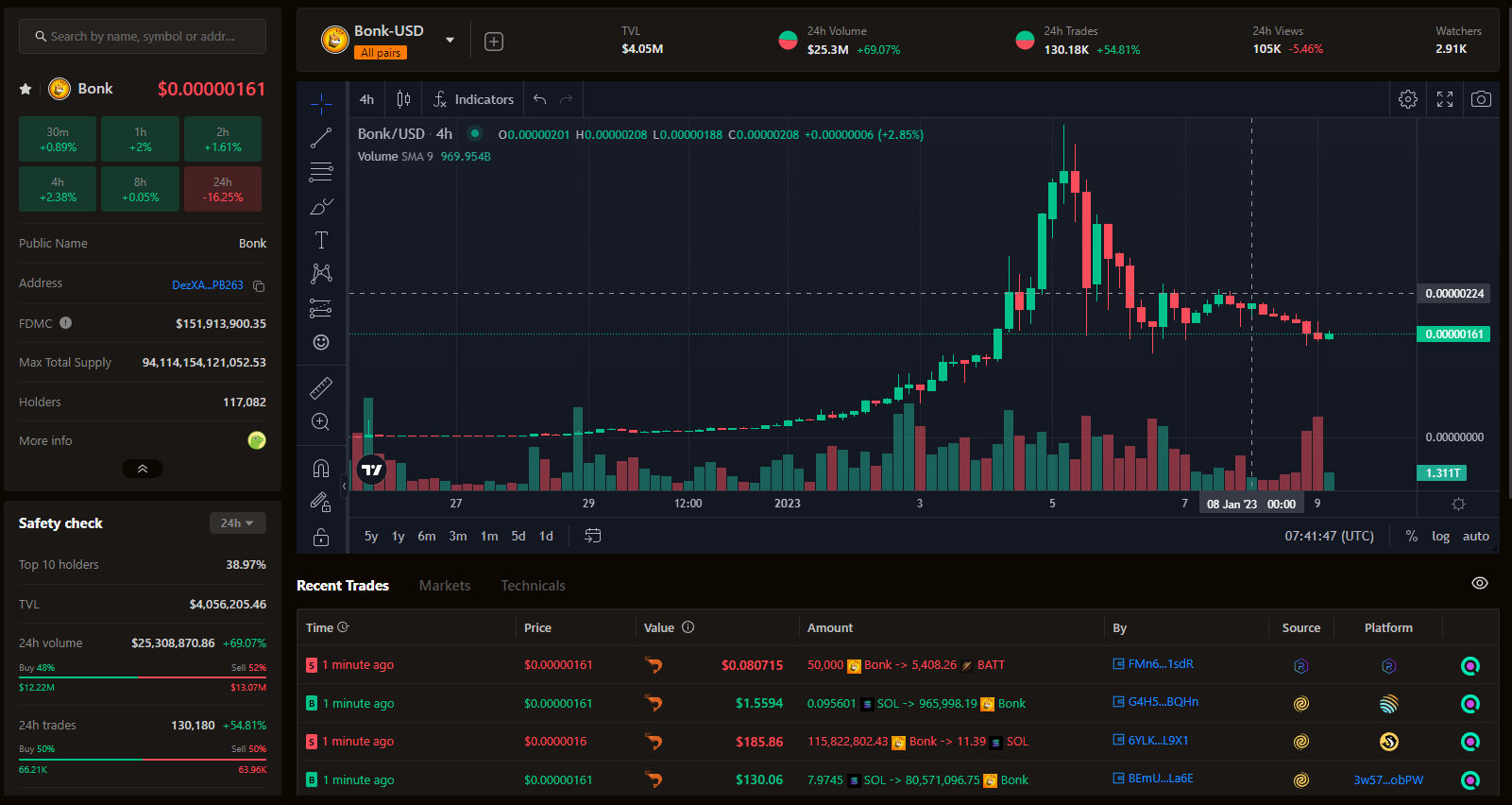 Since its debut, $BONK has seen impressive growth in its market value. According to CoinMarketCap, the token has a current market cap of over $150 million, with a trading volume of over $34 million in the past 24 hours. Bonk's market performance was solid in its launch's early days, with a 1500% increase in value and a 2600% increase in trading volume in its first three days. This strong market performance has also contributed to a significant boost for the Solana network.
However, it is essential to note that the cryptocurrency market is highly volatile, and past performance is not necessarily indicative of future results. Bonk, like any other cryptocurrency, carries risks and may experience fluctuations in value.
Integrations
$BONK has integrated with over 28 projects on Solana such as xnft, assetdash, hedgehog markets, solape, streamflow.
New projects like Drift, Zeta, Tulip and Kamino Finance have integrated $BONK into their dApps allowing for more liquid trading whether it's on spot or perpetuals!
StepDataInsights cover how we saw an increase in #of active addresses and also new addressed on Solana compared to ETH and Polygon
Risks and Concerns
One concern that has been raised about Bonk is its low, fully diluted valuation (FDV). An FDV would represent the total market cap of a token if all tokens were to be released. Tokens with a high FDV may be more susceptible to inflation and sell pressure as more tokens become available on the market and drive down the price. Bonk's low FDV may make it more vulnerable to manipulation by individuals or groups who hold a large percentage of the total supply.
Another risk to consider is the potential for insider dumping. While Bonk has a vesting period for early contributors to reduce this risk, it is always possible that individuals with a large amount of the token may sell off their holdings quickly, potentially leading to a significant price drop.
Conclusion
Overall, the $BONK token has attracted a strong following and has seen impressive growth in its market value. While its emphasis on community and utility is a positive aspect, it is crucial for investors to carefully consider the risks and concerns associated with the token before deciding whether or not to invest. The cryptocurrency market is highly volatile, and any investment risks loss. It is always a good idea to DYOR before making any investment decisions.
How to buy $BONK?
How to earn $BONK?
Disclaimer
This blog is not intended to be financial advice and should not be relied upon as such. Investing in Bonk or any other cryptocurrency carries risks, and investors should be aware of these risks before making any investment decisions. The content in this blog is for informational purposes only and does not constitute an offer to buy or sell any securities or other financial instruments. Please do your due diligence before making any investment decisions.
Website | Twitter | Telegram | Discord | Docs
Disclaimer: The statements, proposals, and details above are informational only, and subject to change. We are in early-stage development and may need to change dates, details, or the project as a whole based on the protocol, team, legal or regulatory needs, or due to developments of Solana/Serum. Nothing above should be construed as financial, legal, or investment advice.