The Top 20 NFT Marketplaces on Solana: Your Ultimate Guide (2023)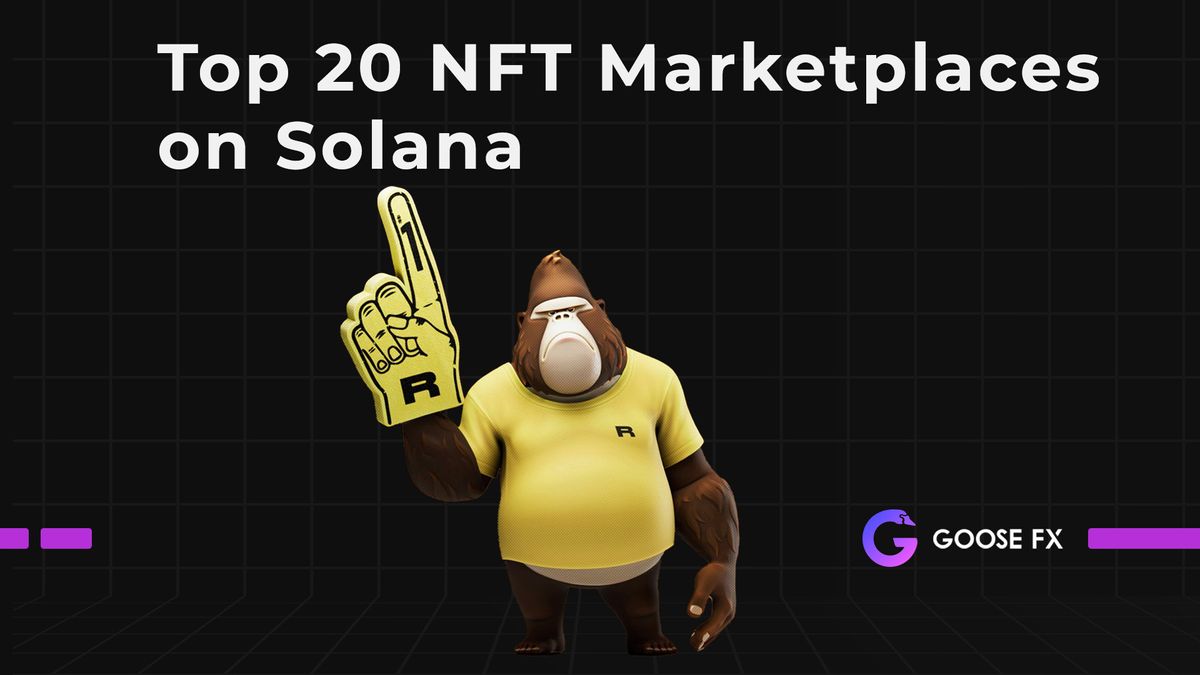 Introduction
Have you heard of Non-Fungible Tokens or NFTs? These are unique digital assets stored on a blockchain and represent digital or physical asset ownership. They can be anything from collectibles and artwork to virtual land and in-game items. Using NFTs allows creators to prove ownership of their assets and set prices based on scarcity.
With the NFT market growing at an incredible rate, it's no surprise that there are now a wide variety of NFT marketplaces where you can buy, sell, and trade these assets. One blockchain that has gained popularity as a home for NFT marketplaces is Solana. It's fast, secure, and has low transaction fees, making it an ideal choice for NFT creation and exchange.
Whether you're a seasoned NFT collector or just starting, these marketplaces offer a wide range of options for buying, selling, and exploring the world of NFTs.
But what is an NFT marketplace, exactly? It's a platform where you can buy, sell, and trade NFTs. You'll need to connect your crypto wallet to the platform to use one. This will allow you to store your NFTs and transact using supported cryptocurrencies. Many NFT marketplaces also have their native token or currency that you can use to buy and sell NFTs on the platform.
Overall, NFT marketplaces provide a convenient and secure way to buy, sell, and trade unique digital assets. So if you're interested in joining the world of NFTs, check out the top 20 NFT marketplaces on Solana!
Here are some of the best Solana NFT Marketplaces:
MagicEden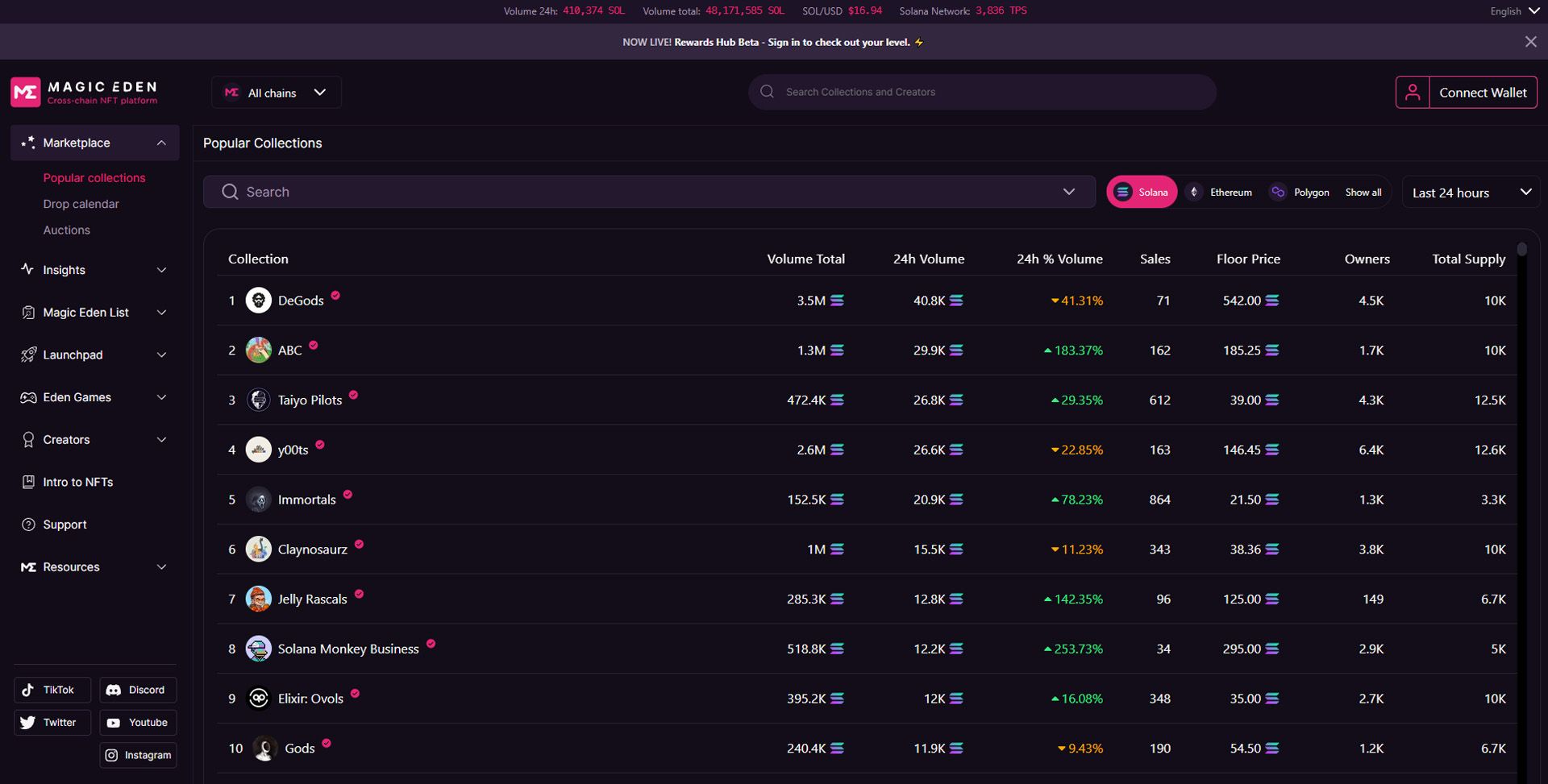 You may have heard of MagicEden, the top cross-chain NFT marketplace built on the Solana blockchain.

MagicEden is known for its user-friendly features and low transaction fees, which have made it a go-to platform for NFT traders. The platform has quickly become one of the largest NFT marketplaces on Solana, with a thriving secondary market and an increasing number of NFTs being launched on the platform.
MagicEden has a launchpad for minting new NFTs and provides marketing support and a creator community for NFT creators. And for those looking to buy NFTs, the platform has many features to make it easy to browse and search for the perfect asset. There's a page for popular collections, an attributes filter, and a stats page, all of which can help you get a sense of the trends and demand within the market.
Royalties:  Optional for buyers
Platform Fee: 2% (Currently waived off as promotional period)

Magic Eden Socials
Solanart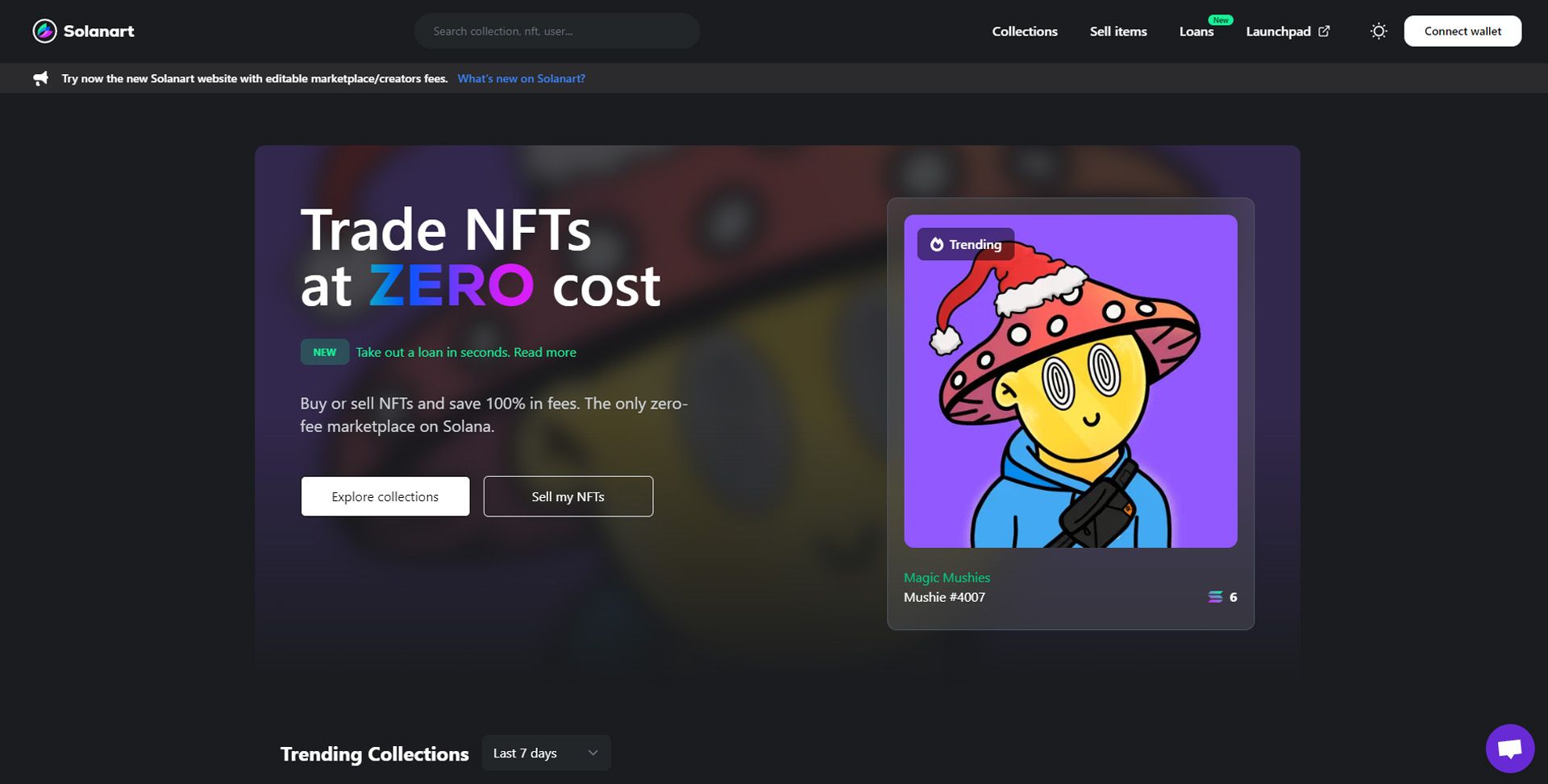 Solanart is a pioneering NFT marketplace on Solana, known for being the only true zero-fee platform on the network. They were among the first to launch collections such as SolPunks, Sollamas, Degen Ape Academy, and Kaiju Cards.
Solanart is a trusted and respected marketplace, setting the standard for NFT trading on Solana.

Royalties:  0% - Optional for seller
Platform Fee: 0%

Solanart Socials
SolSea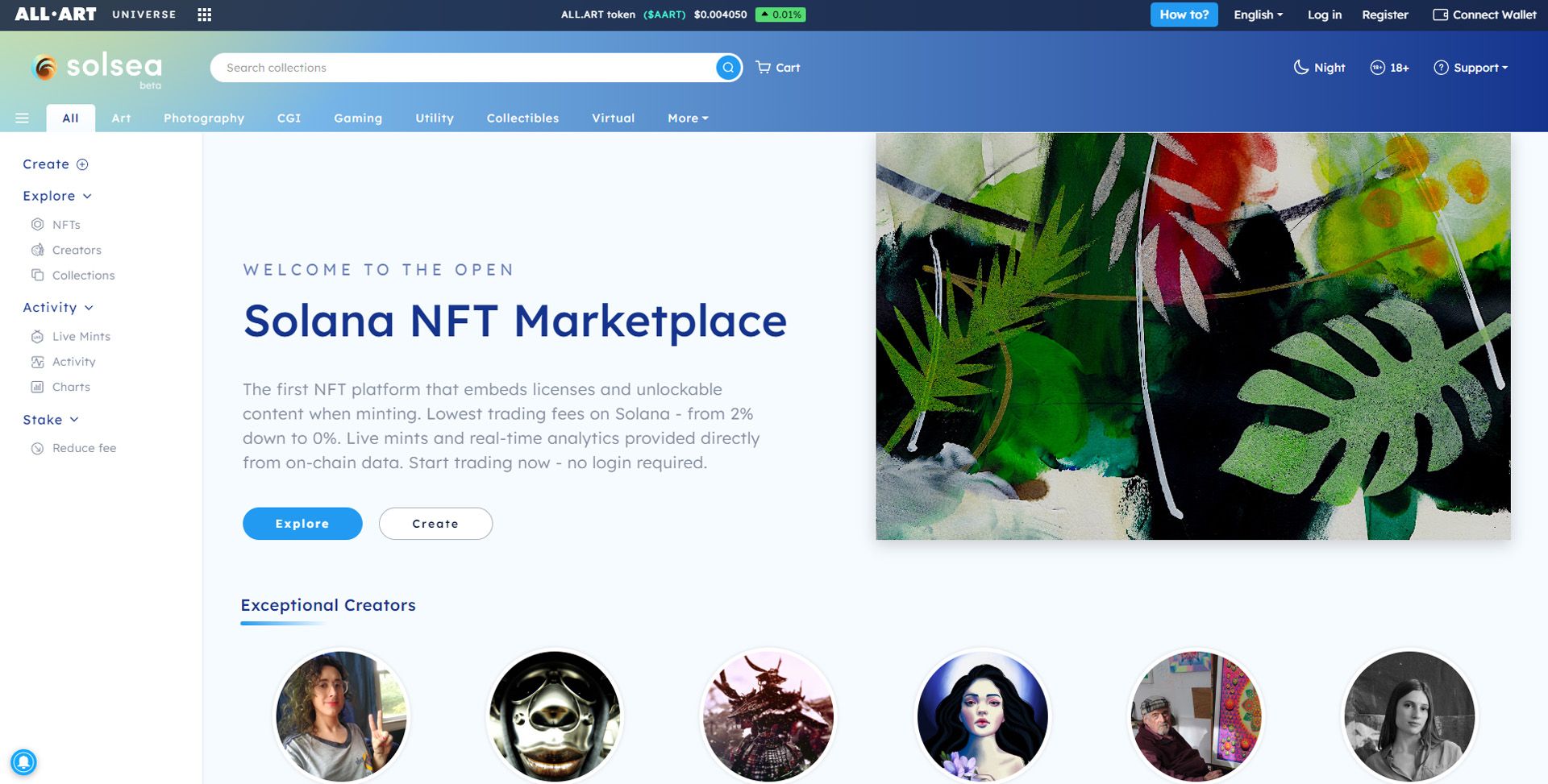 SolSea is a leading NFT marketplace on Solana, offering a range of innovative features to creators and collectors. The platform allows creators to embed licenses and unlockable content during the minting process, providing valuable information and incentives to buyers.
SolSea also has some of the lowest trading fees on the network, ranging from 2% to 0%. Additionally, it offers live mints and real-time analytics based on on-chain data, providing users with up-to-the-minute information about the marketplace.

SolSea Socials
Metaplex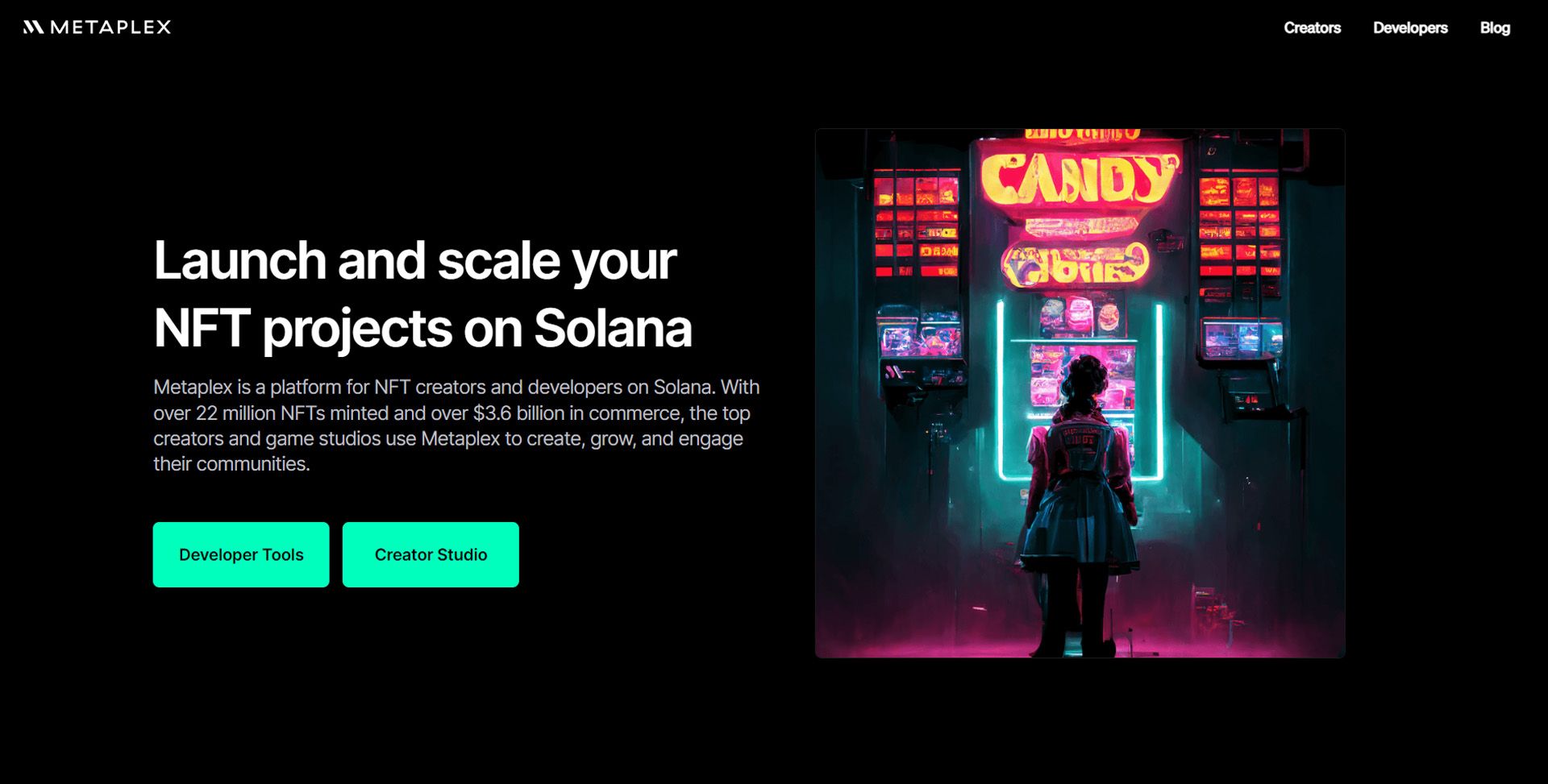 Metaplex is a cutting-edge NFT platform built on the Solana blockchain, known for its focus on providing a best-in-class NFT creator experience. It offers a range of tools and resources to make the process of creating and launching NFTs easier.

The standout features of Metaplex include:
Token Metadata: serves as the NFT standard for Solana, allowing creators to easily mint and manage their NFTs and providing valuable information to buyers.
Candy Machine v3™: a profile picture (PFP) focused tool that works like the gumball-style candy machines.
Auction House: a decentralized sales protocol for NFT marketplaces, providing creators with an easy and transparent way to sell their NFTs.
In its first year, the Metaplex ecosystem has celebrated the minting of 15M NFTs and $3B in value to creators across primary and secondary sales.
Metaplex is a promising NFT platform that offers a range of unique features and services for creators and collectors. If you're looking to launch an NFT project on Solana, Metaplex is definitely worth considering.

Metaplex Socials
Fractal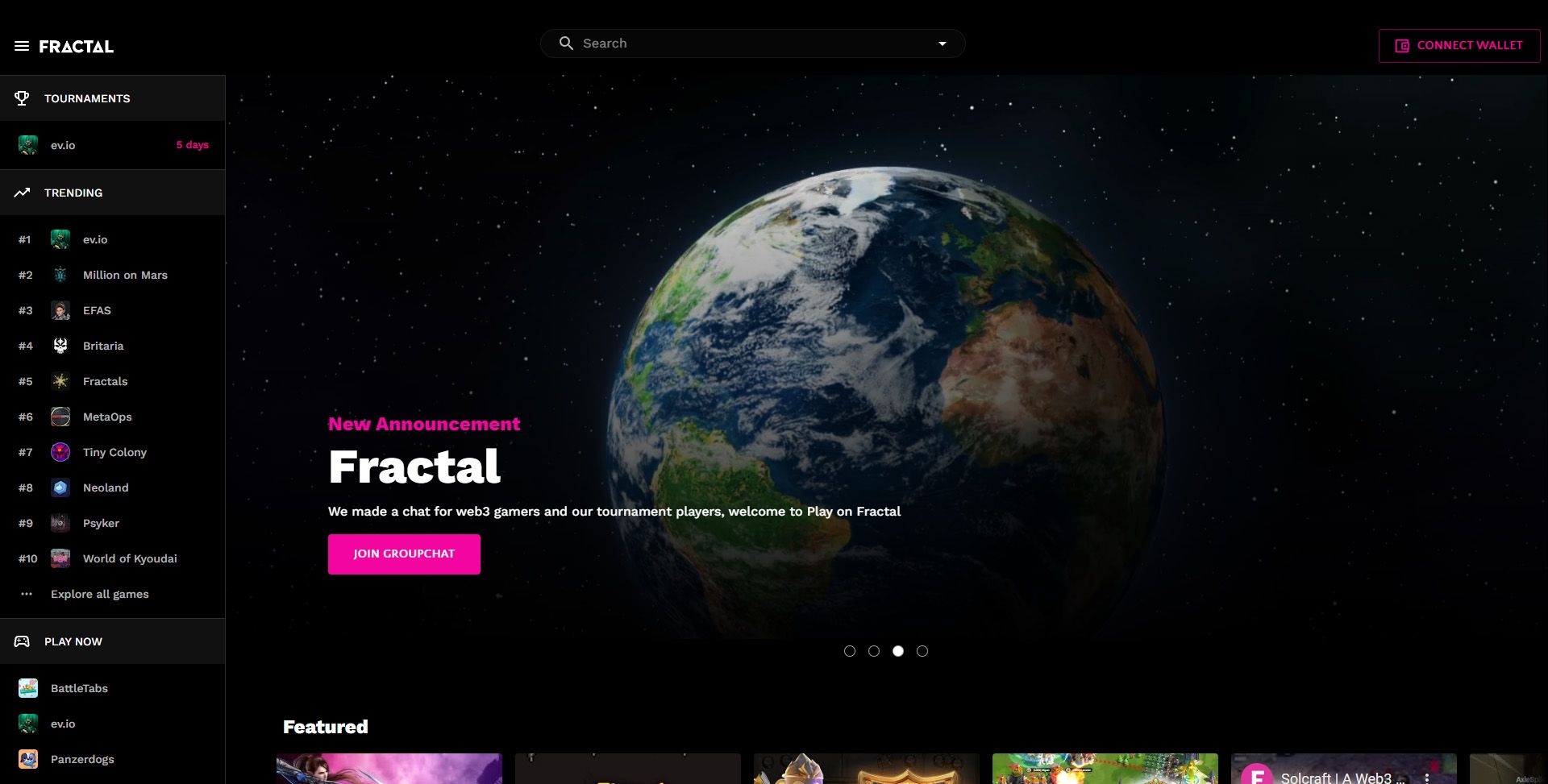 Introducing Fractal, a marketplace for gaming NFTs on the Solana blockchain. The platform offers a range of features for players and game creators, including:
Discover, buy, and sell gaming NFTs through both a primary market (initial drops by gaming companies) and a secondary market (peer-to-peer trading)
Support for gaming companies to reach customers at scale through partnerships and building tools
Low cost and high-speed transactions, making it appealing to game creators who want to have a high number of in-game assets
Infrastructure for emergent use cases of NFTs, such as the lending/scholarship model in some play-to-earn games
The team behind Fractal is composed of serial entrepreneurs with a mission to create an open platform for the free exchange of digital goods.

Fractal Socials
Alpha Art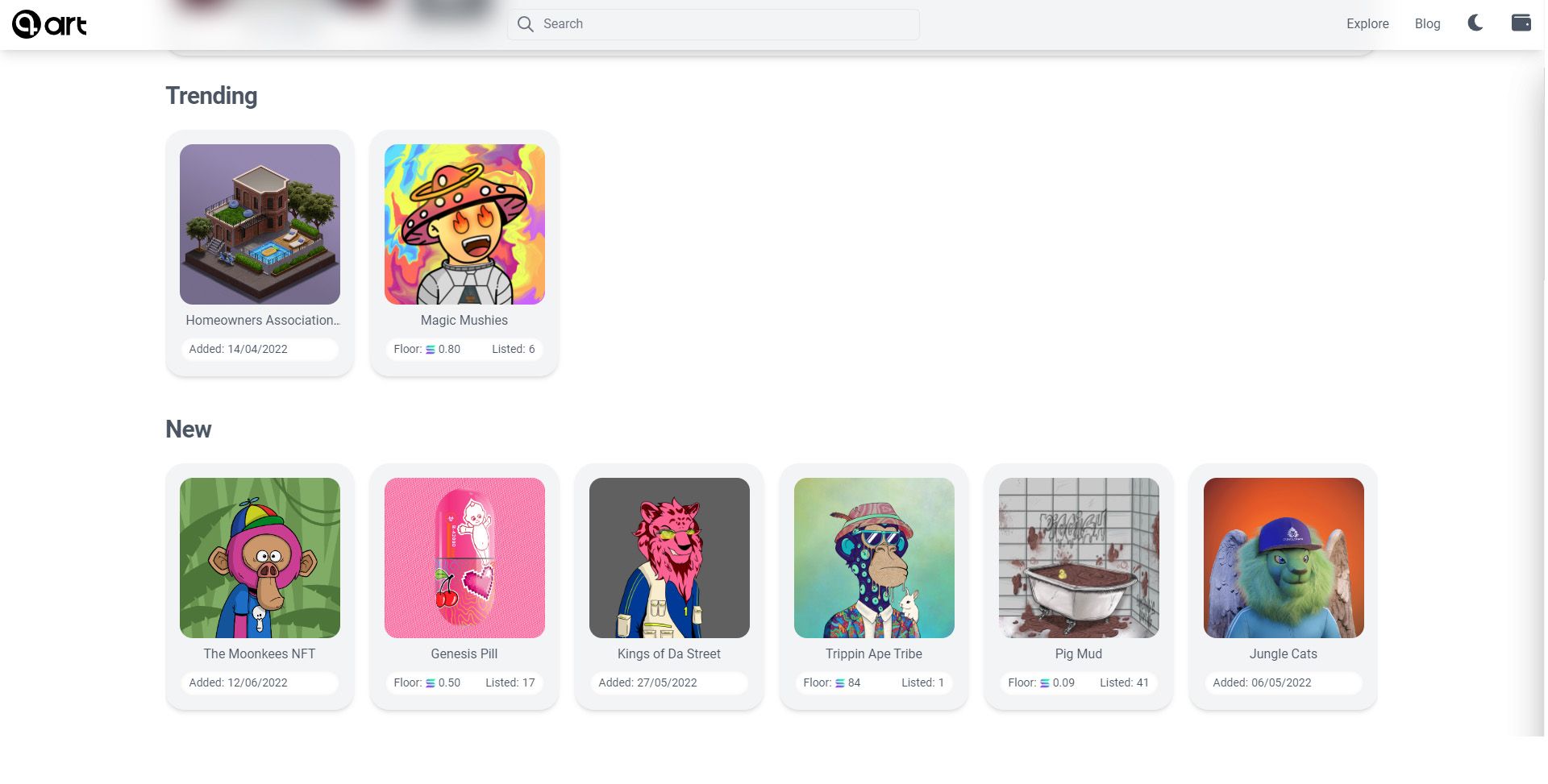 Alpha Art is a revolutionary NFT marketplace that allows users to buy and sell Solana-based NFTs without any listing fees. The platform offers a range of features for users, including the ability to send offers for any NFT on the marketplace, even if it is not listed, and the ability for collection owners to update banner images, thumbnails, and descriptions. Alpha art also offers a flat 2% seller fee at the time of sale. The platform does not currently support minting NFTs and unlists collections with royalty sharing utilities in their roadmaps.

Alpha Art Socials
Holaplex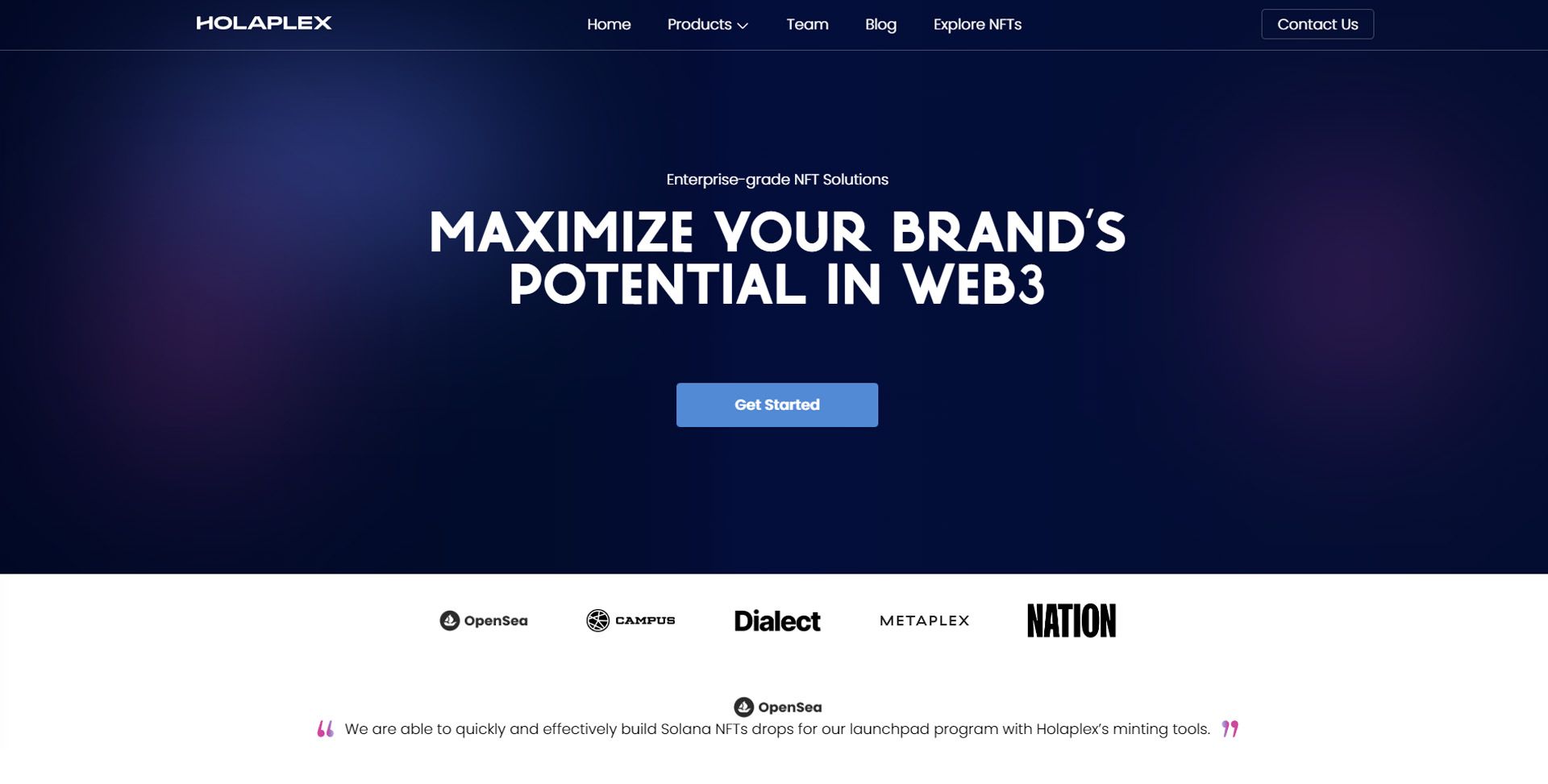 Holaplex is an enterprise-grade NFT solutions provider that offers a range of tools and services for businesses looking to onboard to web3.
The company's suite of open-source software tools and contributions from leading integration partners include NFT Command Center, Whitelabel Marketplace, API Tools, Wallet/User Management, Custodial Wallets, KYC, Compliance, Enterprise Treasury, Fiat On Ramp, and Utility Management.
Holaplex's NFT Command Center enables businesses to easily create and manage all of their brand's NFT assets and launch a whitelabel NFT marketplace.
Holaplex's API tools allow for fast performance even with low TPS and the company is a leading open-source Web3 contributor. They have more than 10,000 creators using their tools and have indexed over 15 protocols

Holaplex Socials
SolanaKit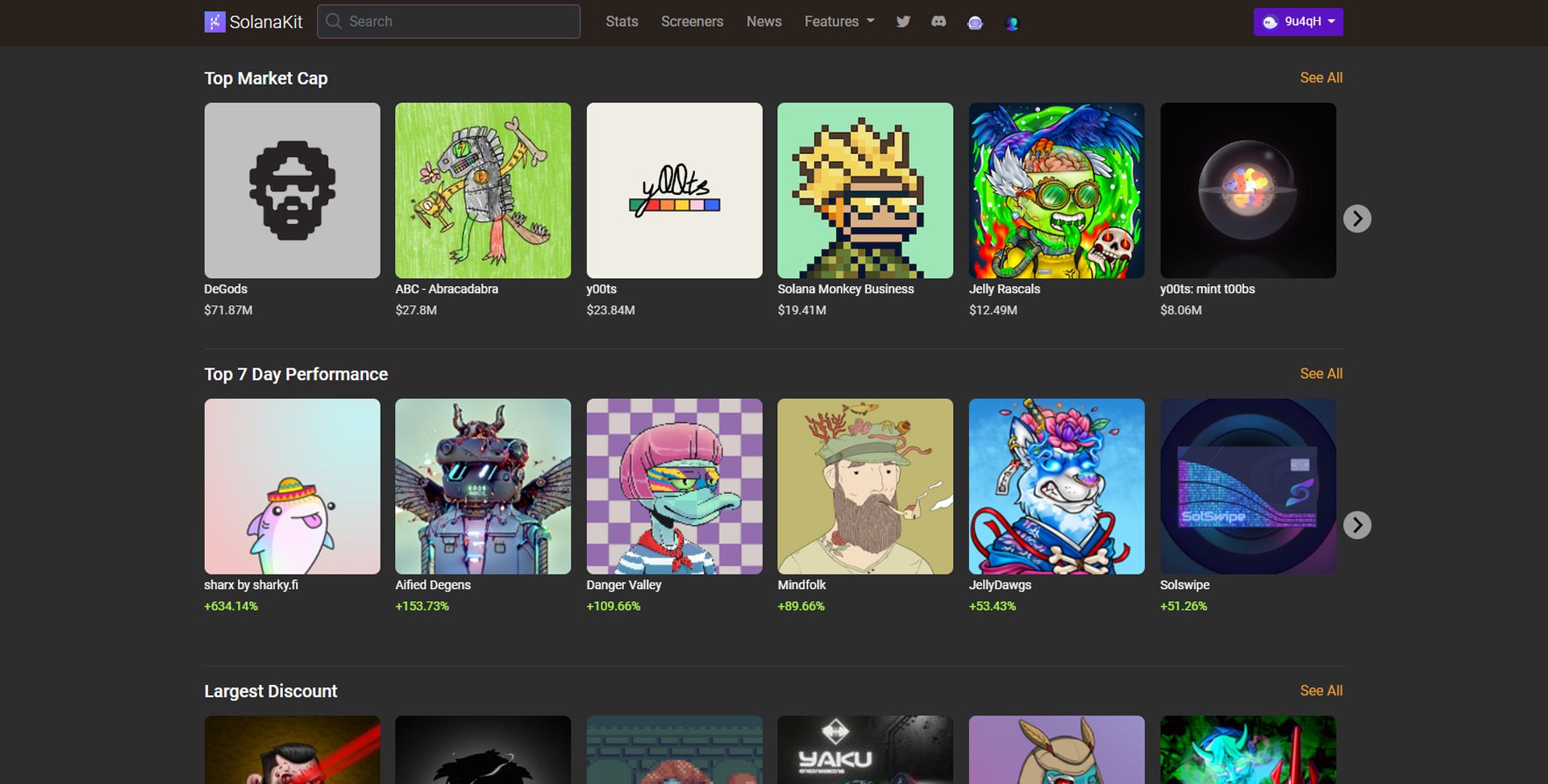 SolanaKit is an analytical toolkit for Solana NFT enthusiasts, collectors, and whales. It provides in-depth analysis of price, rarity, and whale activity in over 50 Solana NFT collections, as well as highlighting upcoming drops. The platform is built from scratch by the SolanaKit team and is designed to be easy to use, providing investors with broader access to the world of cryptocurrency. The team is constantly working on new features such as Rarity Sniper, NFT Screeners, Wallet Checker, and Solana NFT News, to empower NFT collectors.

Solanart Socials
Hyperspace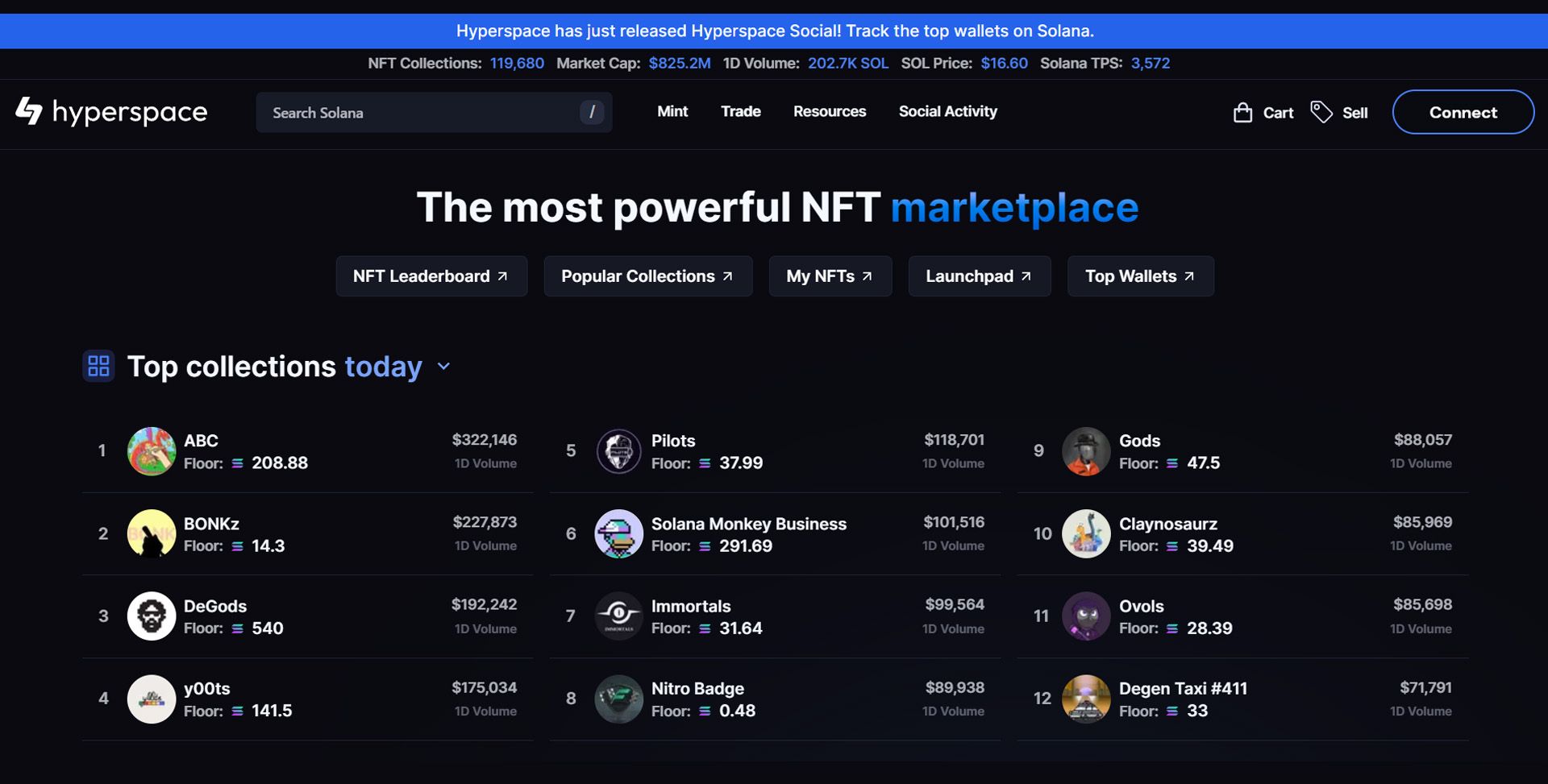 Hyperspace is an all-in-one NFT platform built on Solana, known for its powerful NFT trading experience. They offer a native marketplace contract with low fees, and the ability to trade across all other Solana marketplaces from a single user interface. They also work closely with project creators to launch new NFT projects, and provide analytics to track and analyze trends across different NFT projects. Additionally, they offer an upcoming drops feature, where you can monitor new NFT projects launching daily on Solana.
Overall, Hyperspace aims to enable the best NFT trading for everyone while protecting the openness and composability of web3.

Platform Fee: 1%

Hyperspace Socials
Formfunction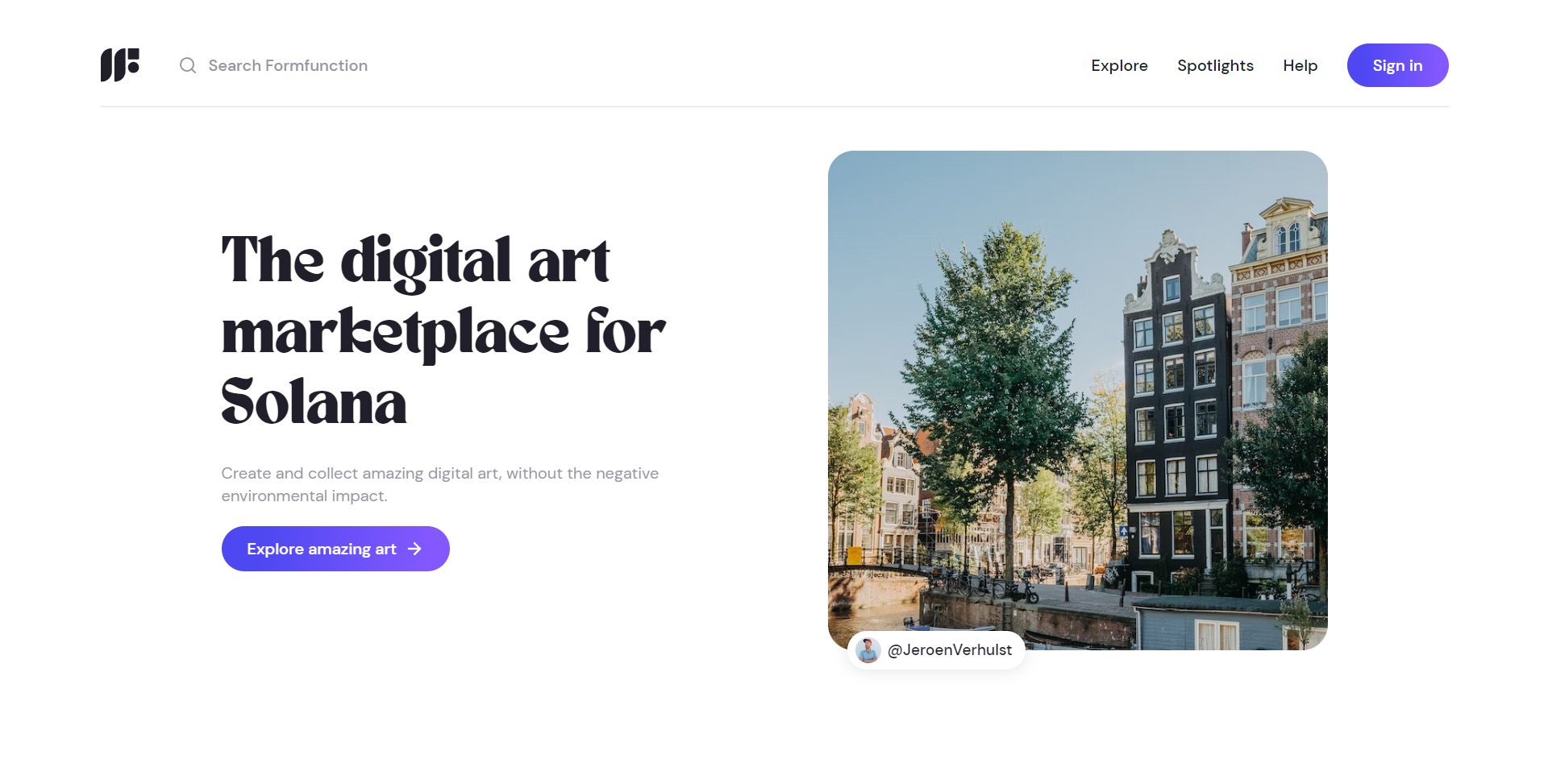 Formfunction is a 1/1 Solana-based NFT marketplace for independent creators. Their goal is to support independent artists and creators by giving them true ownership over their work, helping them build a loyal audience and making it possible for them to earn a decent living with just 100 true fans. The platform offers low fees and minimal environmental impact, and prioritizes simple user experiences. Formfunction plans to expand its marketplace by adding features like participation NFTs and the ability to make offers on unlisted pieces. They also plan to build a mobile app to make it easier for users to discover and create amazing art on the go. They are also working on other ways to support creators who want to make a living with NFTs, like better insights into how their work is doing on the marketplace and easier ways to connect with their community of collectors.

Fee Structure
Formfunction charges a 3% transaction fee for secondary sales (sales after the primary sale)
Artists receive 95% of the final sale for primary sales
Artists can set a royalty percentage for secondary sales, up to 20%
No fees for minting, listing, or bidding on Formfunction.
Formfunction Socials
DigitalEyes Market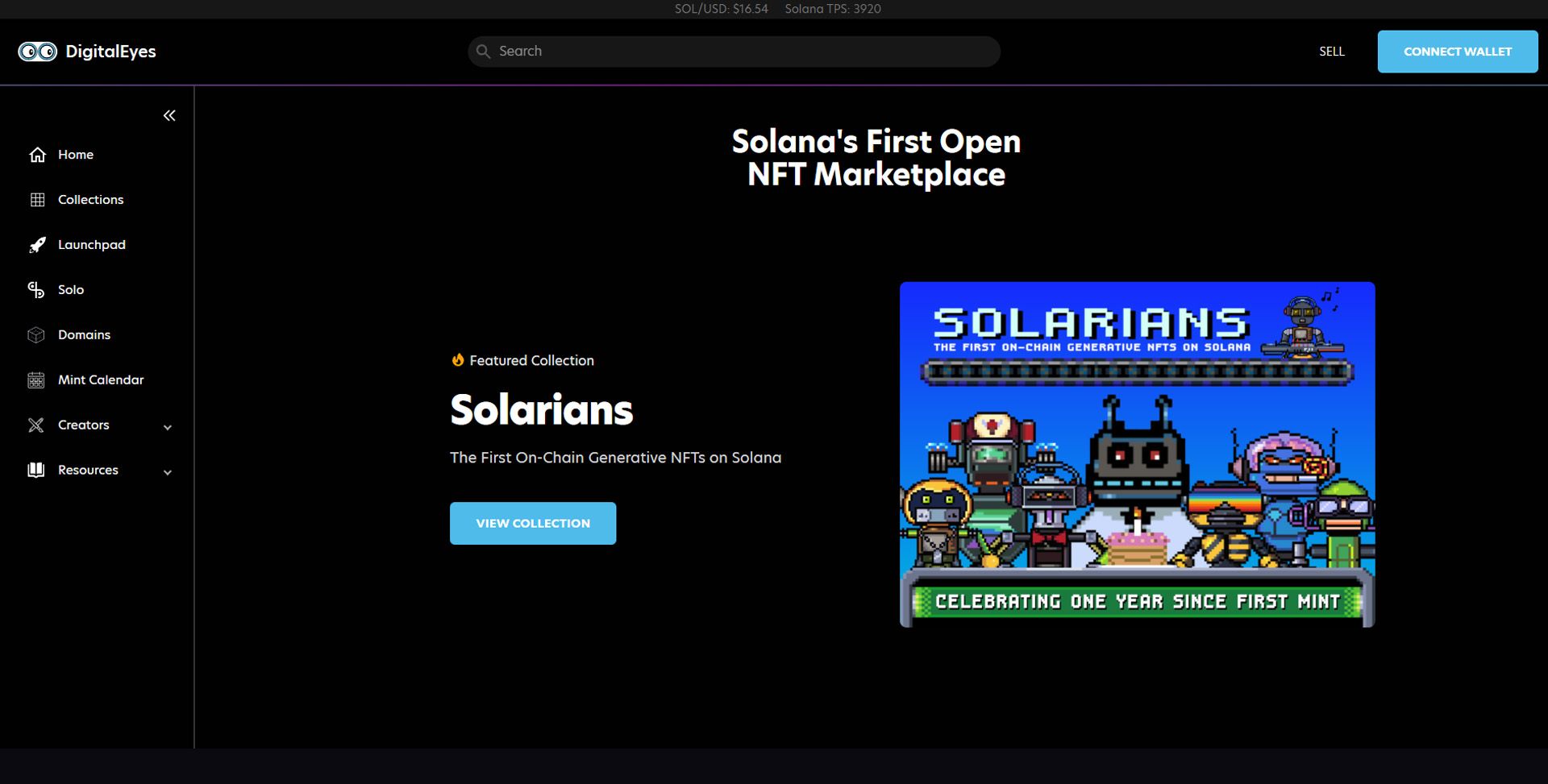 DigitalEyes is an NFT marketplace built on Solana. They offer an open marketplace and have recently rebuilt their backend for their central marketplace and relaunched Domain Auctions. They have also added aggregation of external listings, providing traders with more buying opportunities and information. They have integrated rarity ranks from MoonRank and HowRare and advanced collection filters such as min/max price and sorting by rarity rank. They also have added a bulk listing and canceling from their wallet to make buying and selling NFTs more convenient.

Solanart Socials
HelloMoon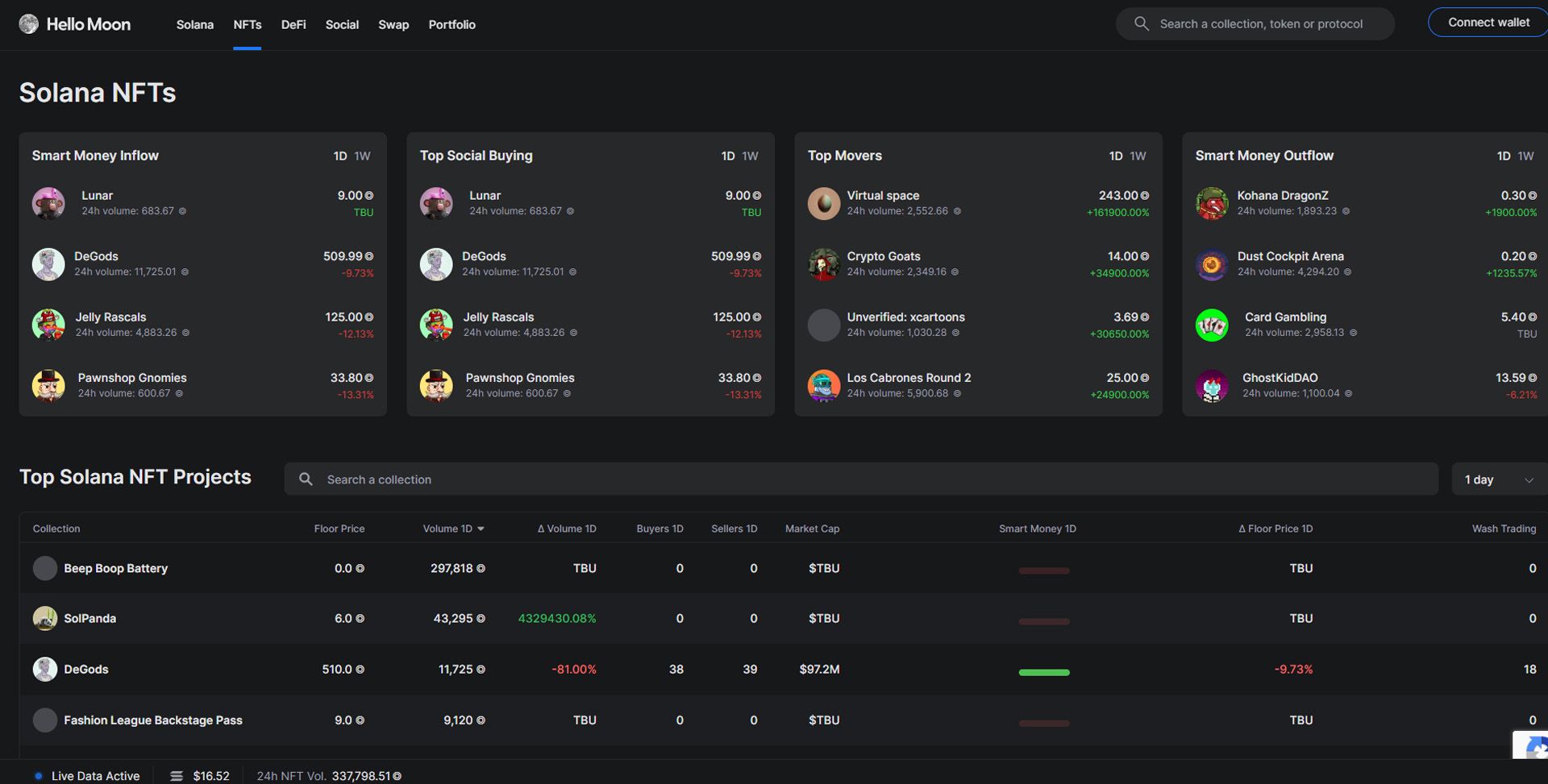 HelloMoon is a powerful analytics tool for Solana NFTs and DeFi protocols. It offers a variety of features such as portfolio value estimator, key metrics for the Solana blockchain, and a visual dashboard for easy data analysis. It also has the ability to analyze NFT collections, check floor prices and wash trading activity, and even perform technical analysis. Hello Moon is a great tool for traders and investors looking to make informed decisions on the Solana blockchain.

HelloMoon Socials
Yawww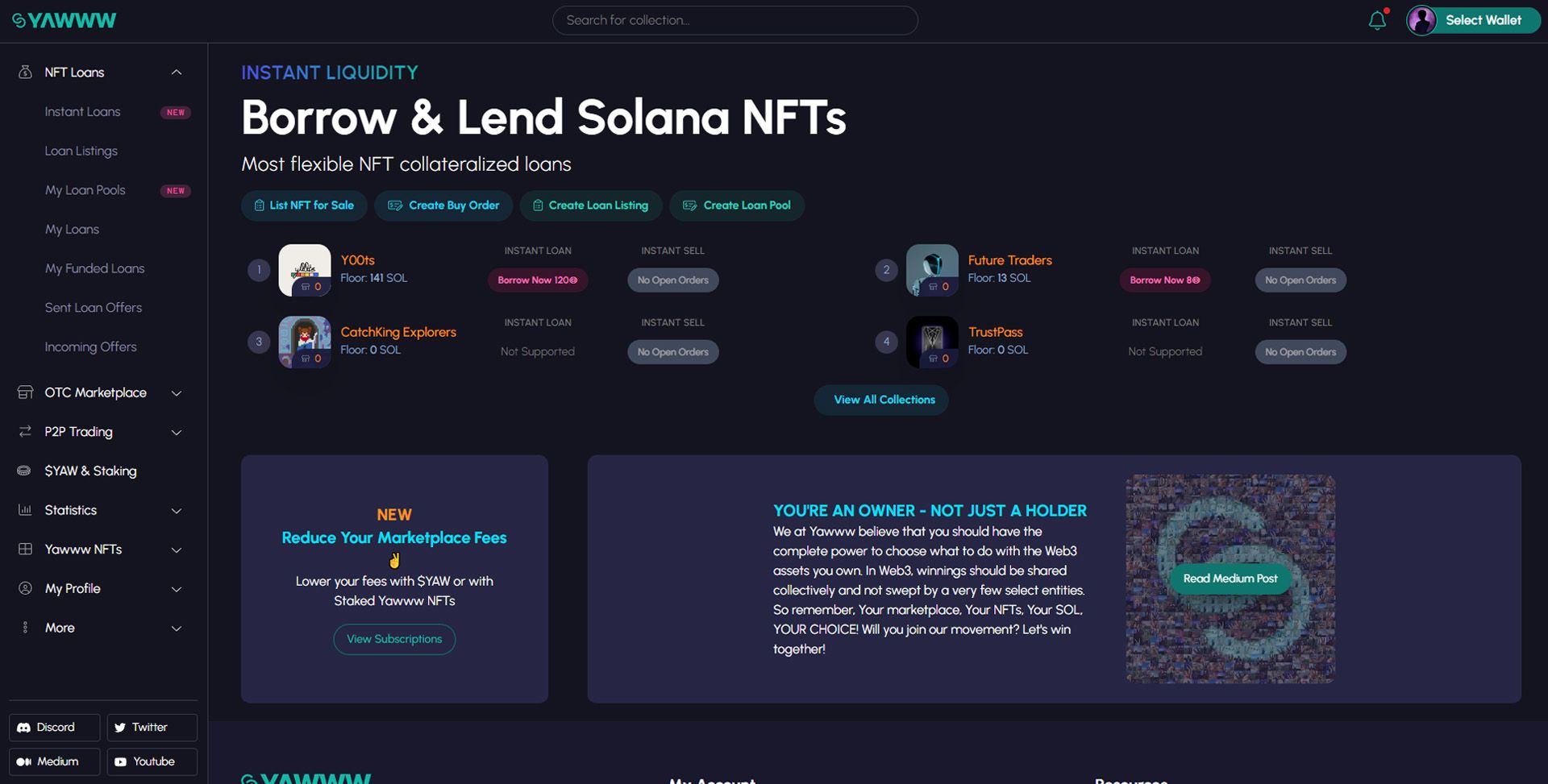 Yawww is an NFT marketplace that empowers NFT owners by allowing them to set their own creator fees. On average, sellers can earn 8% more on their NFTs compared to other marketplaces. Sale listings on Yawww involve moving the NFT to an escrow wallet until it is bought or the listing is cancelled. Airdrops to the escrow account will remain there and proceeds will be transferred to the community treasury. Creator fees can be adjusted by the seller and other platform fees can be checked on the subscription page. Offers can also be made by buyers with their own terms for the seller to consider.

Platform Fee: 1%

Yawww Socials
Solport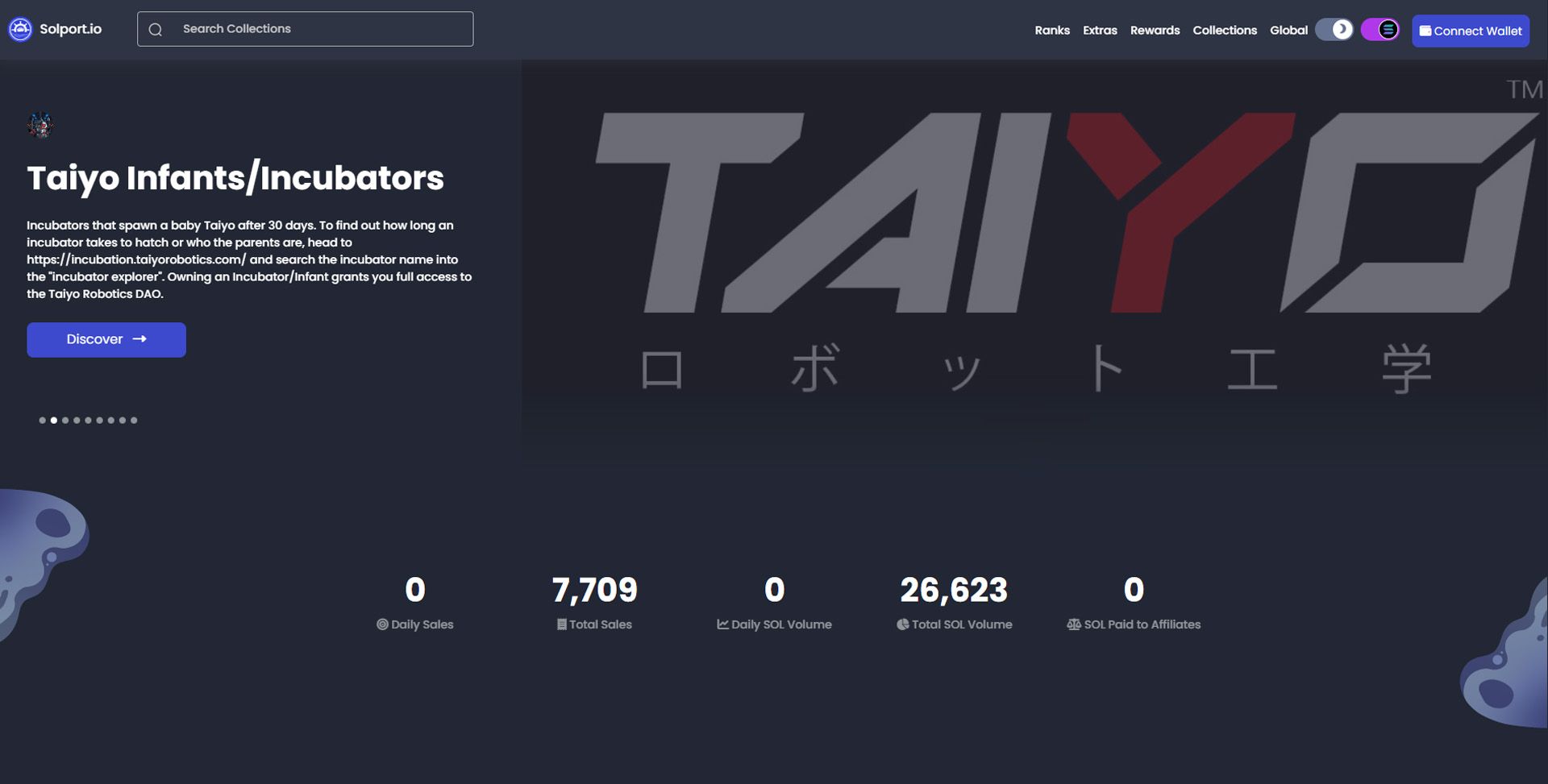 Solport is a marketplace for trading Solana NFTs, which aims to provide a safe platform for both collectors and creators. They offer several selling options, including listing NFTs with a buy it now price, accepting offers, or listing as an auction. To create an auction, users can set an expiration date and optional reserve and minimum bid prices. Solport charges a 2% fee for sellers and offers a Telegram notification feature for users to stay updated on their account activity.

Solanart Socials
Tiexo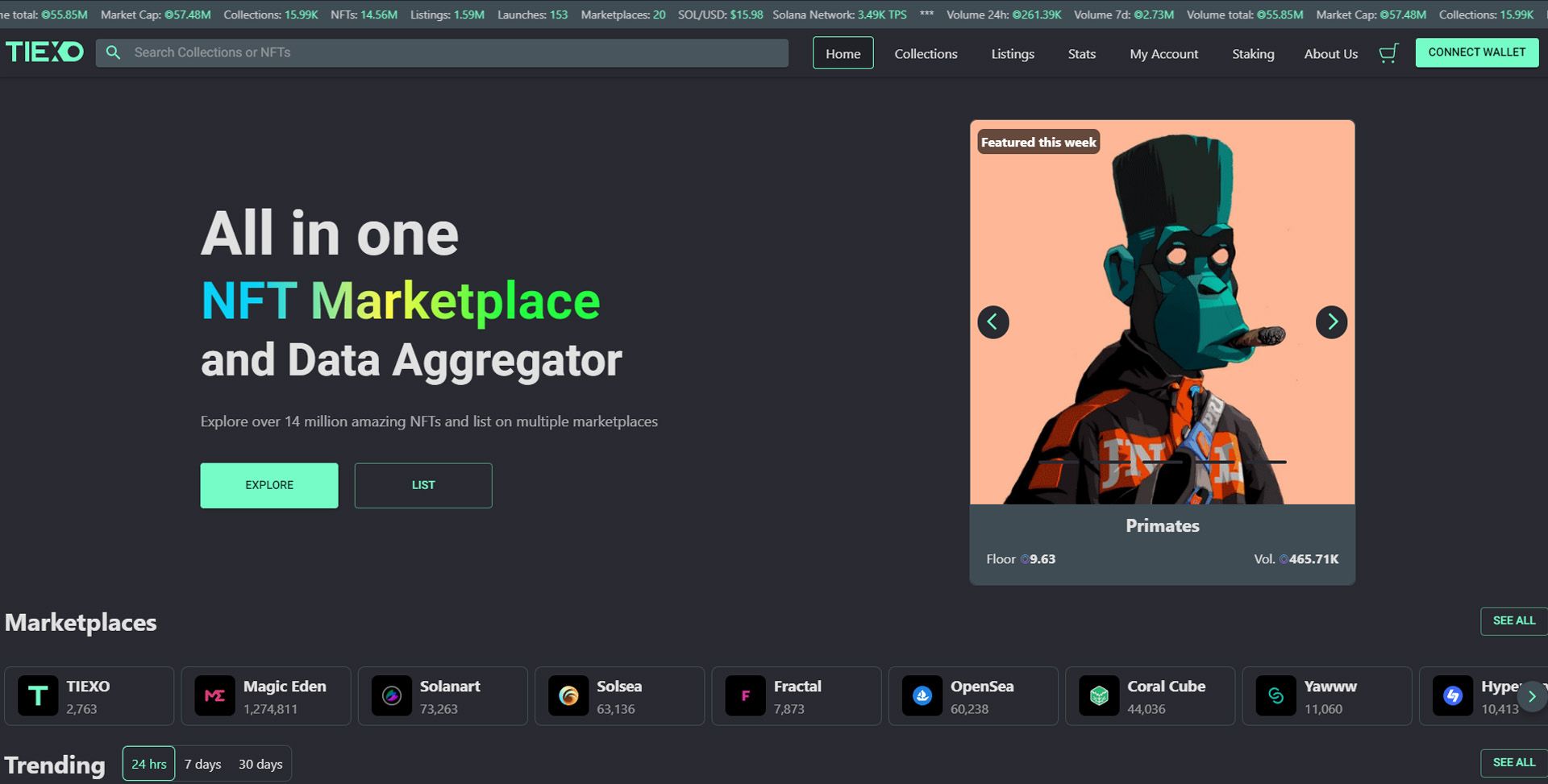 Tiexo is a Solana-based NFT aggregator that brings together information and data about all NFT collections within the Solana ecosystem to empower users to make informed decisions when buying or selling an NFT.
Some key features of Tiexo include:
Aggregating data from over 15,989 NFT collections, 14,561,800 NFTs, and 1,588,981 listings from 20 different marketplaces
Providing 3 different rarity score systems to help users make informed decisions
Multi-listing feature to increase exposure by listing NFTs on multiple marketplaces
Staking and token swap options to allow users to easily manage their crypto assets
An NFT stats feature to view detailed reports on different NFT collections
A flagship collection feature to showcase unique and exclusive NFTs
Overall, Tiexo aims to make the process of buying, selling and discovering NFTs in the Solana ecosystem more accessible and user-friendly. With its range of features and tools, users can easily stay informed and make smart decisions when it comes to their NFT investments.

Tiexo Socials
Hadeswap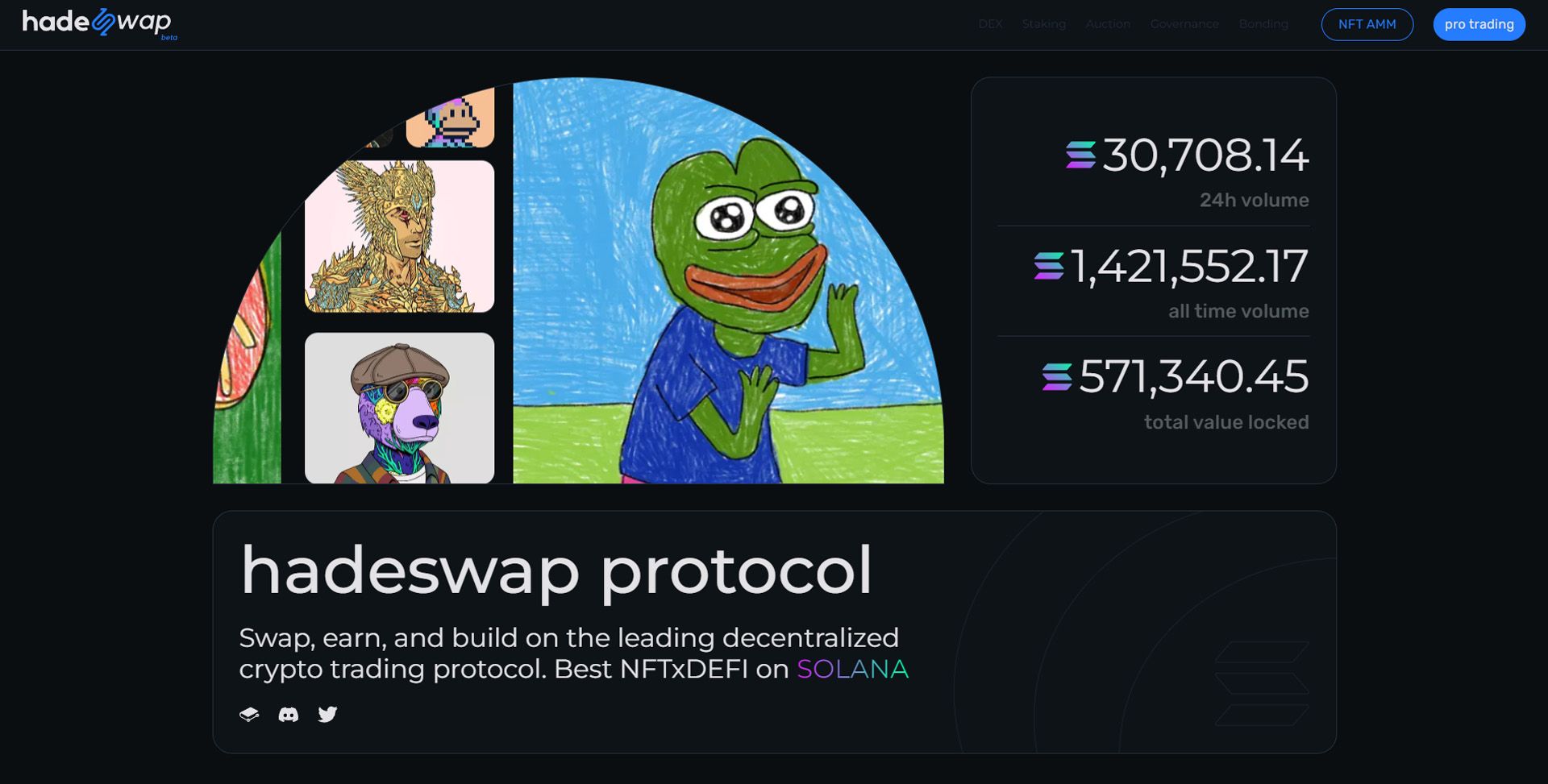 Hadeswap is a decentralized and efficient NFT trading platform that utilizes Automated Market Maker (AMM) technology to improve NFT liquidity and trading experience. It allows users to trade and swap NFTs using liquidity pools, similar to how one would trade and swap cryptocurrencies on Uniswap.
Some of the key features of Hadeswap include:
Zero platform fees from the start, with any changes decided by governance using the $HADES token
Zero royalty fees by default, with the option to pay them if desired (not active in the lite beta version)
Progressive selling and buying of NFTs
Opportunity to earn SOL
Hadeswap's underlying technology is solid, efficient and safe, and users can find more details on their documentation. But for now, the platform is focused on providing a user-friendly experience that allows anyone to easily trade and swap NFTs.

Hadeswap Socials
Releap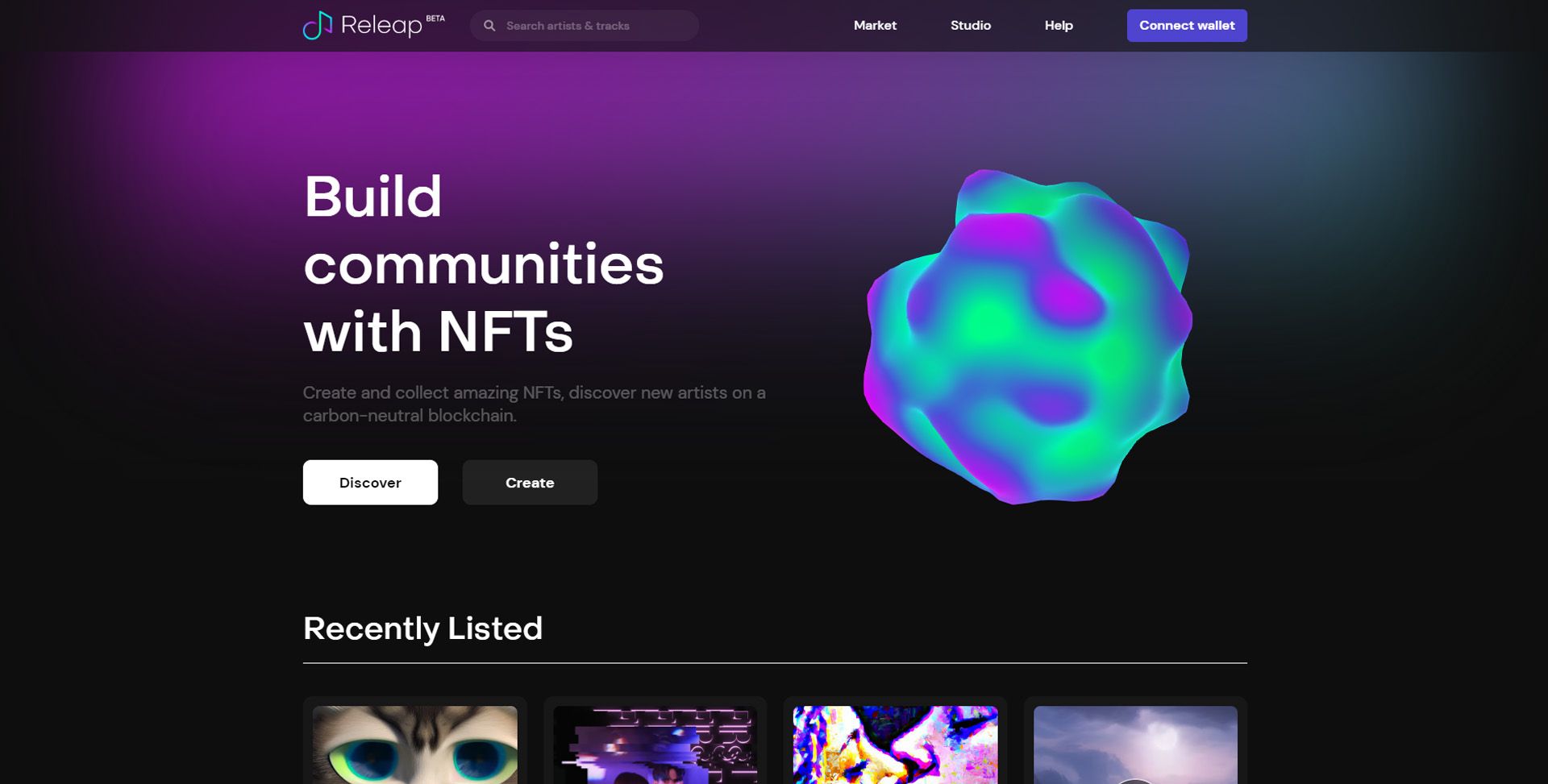 Releap is a social NFT protocol that allows creators to publish and sell their content as NFTs. It aims to empower artists with new ways of gaining exposure, interacting with fans, and monetizing their work.
Mint NFTs that can interact with other NFT dapps in the Solana ecosystem.
Discover and support creators in the growing Releap community.
Buy and sell NFTs on the Releap exchange.
Engage with fans through public posts and comments, as well as exclusive content for NFT holders through "Releap Circles."
Releap charges a 1.5% fee when an NFT is sold on their exchange, with no minting fees.
Releap Karma is the next step in launching the project's governance token. Users earn Karma by participating in the community and can redeem a certain number of $REEP tokens from the community pool.
Releap Socials
Supadrop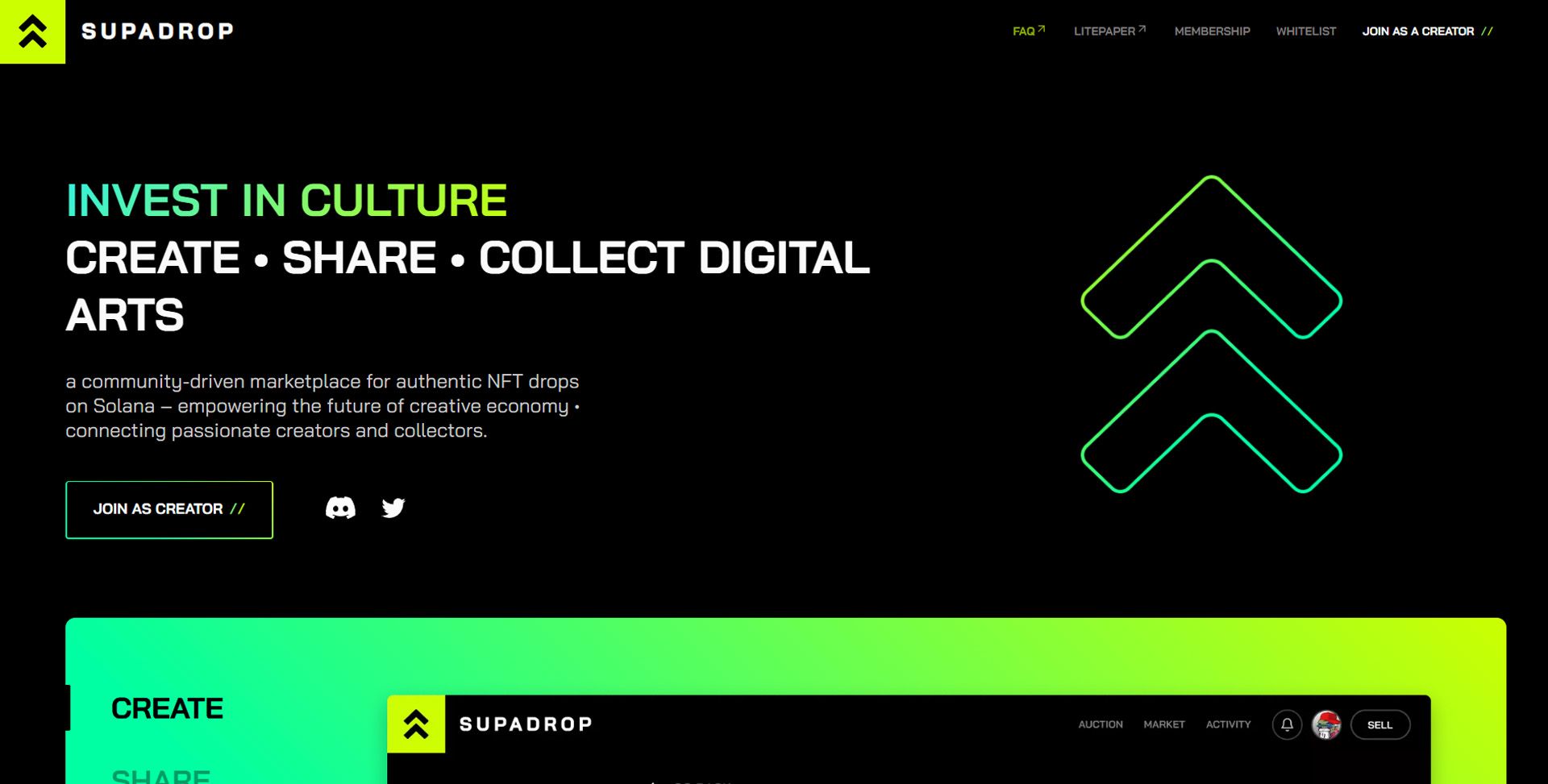 Supadrop is a community-driven marketplace for authentic NFT drops on the Solana blockchain. Its focus is on community, art, and user experience. The platform is designed to help emerging digital creators find their first 1000 true fans by connecting them with verified, passionate digital art collectors.
Some key features of Supadrop include:
Alpha Membership program that rewards collectors and creators with benefits such as 0% seller fee, NFT airdrops, early access to new features, and vote rights for proposals.
Private collectors' group that is the first to know about upcoming artists and connects them with passionate collectors to support their journey and artworks.
Community program and platform feature that helps artists onboard the platform and sell their first genesis NFT.
Minimalistic UI and museum-like browsing experience to keep the focus on the art.
Fees on Supadrop include a 2.5% service fee based on the final sale price, a 0.01 SOL mint fee per artwork and an additional 0.03 SOL if listed on auction, and small gas fees for transactions. All funds are managed by smart contracts on the Solana blockchain and can be tracked on the Solana Explorer.

Supadrop Socials
Tensor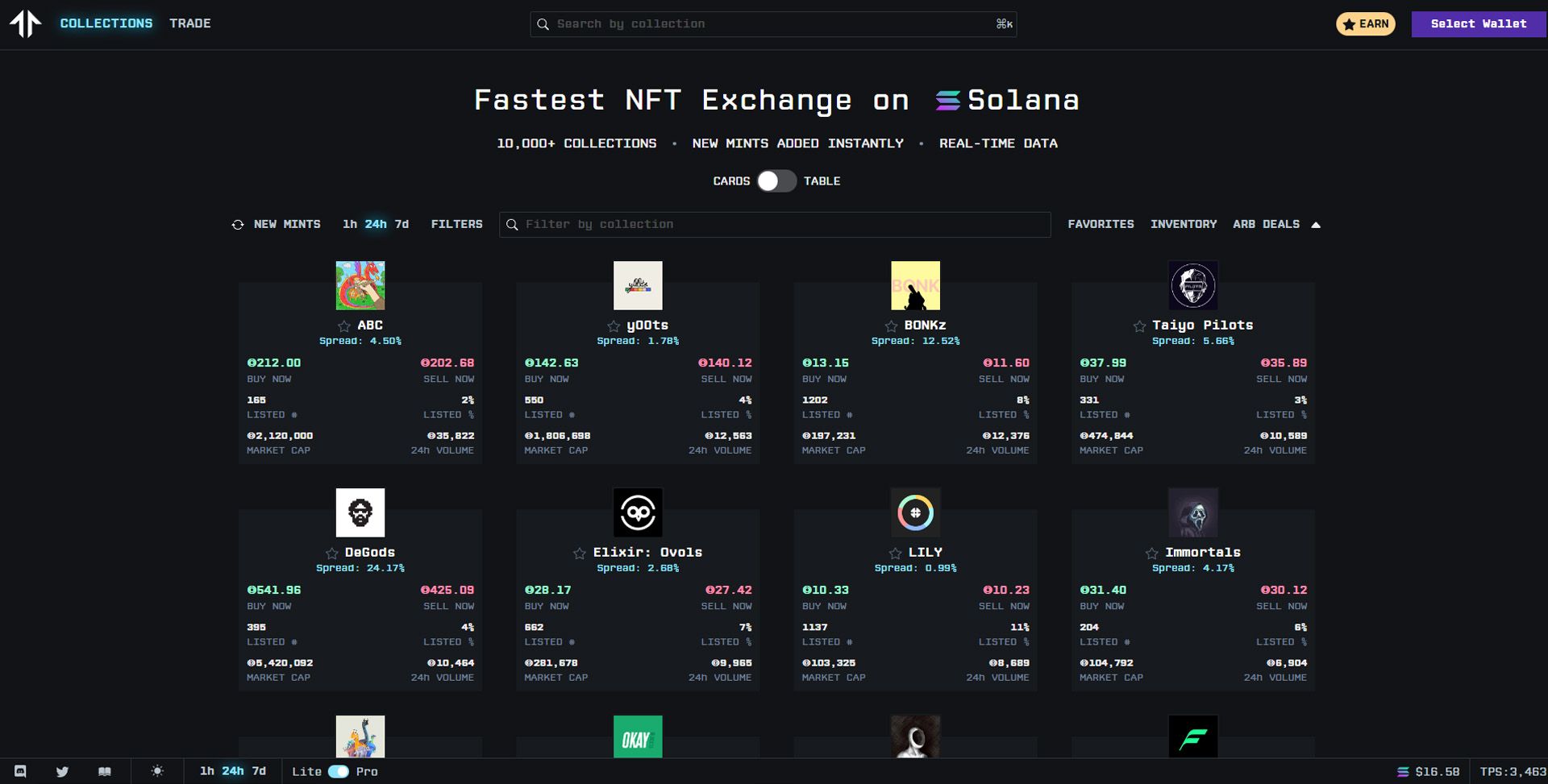 Tensor is a new NFT trading platform that aims to become the go-to destination for pro NFT traders. The platform offers a range of features and tools that are designed to appeal to experienced traders, such as real-time data, advanced order types, and bulk actions. Some of the key features of Tensor include:
Tensor Aggregator: This feature provides liquidity sourced from 9 different marketplaces, along with a UI that displays real-time data and trading analytics.
Tensor AMM (TensorSwap): This feature allows users to trade NFTs using liquidity pools, similar to how one would trade cryptocurrencies on Uniswap.
Rewards program for early liquidity providers
No platform fee and low royalties fee
Instant new collection listings
4 integrated rarity systems
UI/UX design for users who enjoy nice things in life.
Tensor is also planning to expand to other chains in the future, and is currently working on features such as automation & NFT sniping, margin / leverage, perps / derivatives, notifications & alerts, single login for multiple wallets, API for programmatic trading, advanced trading analytics, and data export for tax & P&L management.

Tensor Socials
Conclusion
The world of NFTs is rapidly growing and Solana is becoming a popular choice for NFT marketplaces. From MagicEden to Tensor, there are a variety of options for buying, selling, and exploring the unique digital assets. These marketplaces provide a convenient and secure way for users to transact and store their NFTs. Whether you're a seasoned collector or just getting started, there's something for everyone on Solana's NFT marketplaces.
Website | Twitter | Telegram | Discord | Docs
Disclaimer: The statements, proposals, and details above are informational only, and subject to change. We are in early-stage development and may need to change dates, details, or the project as a whole based on the protocol, team, legal or regulatory needs, or due to developments of Solana/Serum. Nothing above should be construed as financial, legal, or investment advice.