Top 5 NFT Launchpads on Solana 2022 | GooseFX
Top 5 NFT Launchpads on Solana | Magic Eden · Bifrost · GooseFX · LMNFT · Solanart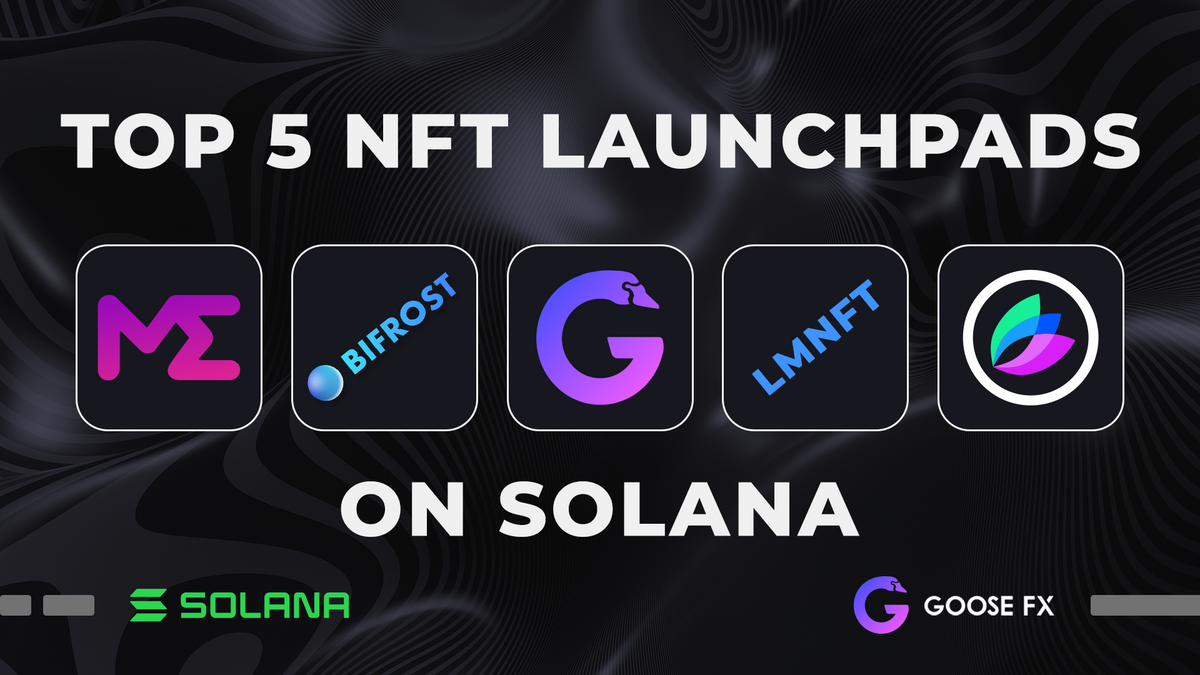 If you've been in the crypto space since 2021, you must have seen the parabolic rise of NFTs and NFT Marketplaces. Today we will learn about NFT Launchpads and distinguish them from your typical NFT Marketplaces like MagicEden or OpenSea. NFT launchpads are essential to the growth of the NFT industry, and here's all you need to know about the best NFT Launchpads on Solana for your upcoming NFT project.
Table of contents
What is an NFT Launchpad?
An NFT Launchpad is a platform that allows creators, artists, and projects to raise funds for their target audience. NFT launchpad allows users to mint the NFT for the first time, unlike buying NFTs from secondary NFT Marketplaces like MagicEden or OpenSea. An NFT Launchpad helps the project by setting up smart contracts for a smooth minting experience for their audience, exposes the NFT project to a larger audience, and helps the creator raise funds from the NFT collection.
As an investor trading NFTs, you get the chance to support the projects and buy the NFTs at a minimal price. A good NFT launchpad protects you from potential scams and 'rug pulls' by performing due diligence before launching an NFT project, even though, as an investor, you are always recommended to DYOR.
In simpler terms, an NFT launchpad is a fundraising platform that allows investors to invest in NFT projects that are not yet available in the market. These platforms help the NFT project minting and storing of NFTs. The launchpad is a cost-effective solution for the NFT project compared to setting up their smart contracts. Let's deep dive into the best NFT Launchpads on Solana, like MagicEden Launchpad, Biforst, and GooseFX Launchpad.
Top 5 NFT Launchpads on Solana [2022]

Magic Eden NFT Launchpad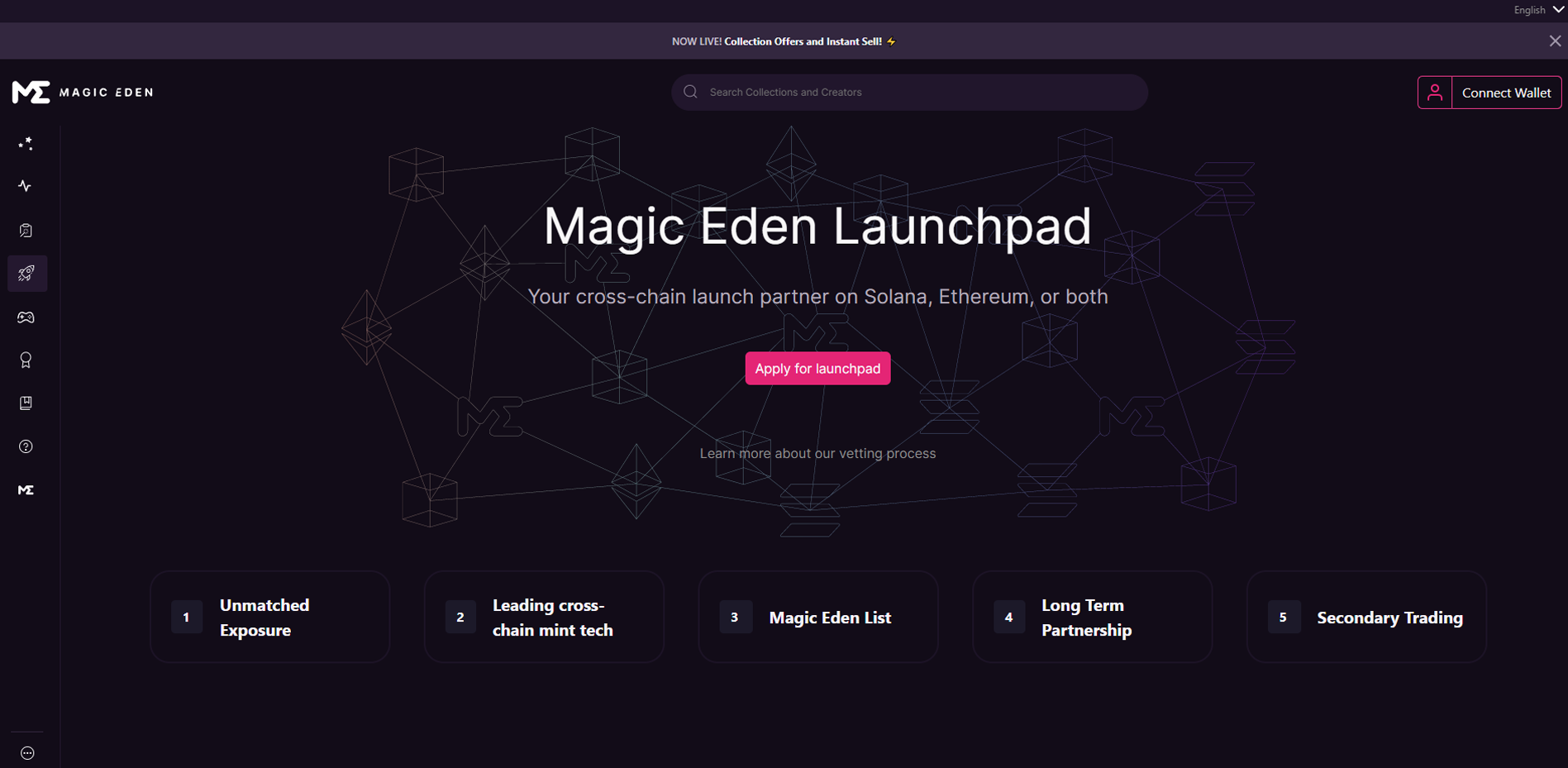 If you've been in the Solana NFT space, you would have heard about Magic Eden. It is one of the most popular NFT Marketplaces and Launchpads on Solana and has the maximum market share as of December 2022 in terms of NFT trading Volume. Magic Eden is officially a cross-chain Launchpad partner on Solana and Ethereum.
Magic Eden NFT Launchpad has launched multiple successful NFT projects and provides tons of features
Get expert advice from the Magic Eden team
Launch mechanics & whitelist strategy
Marketing & social media strategy
Influencer networks
Community management
Advanced Launchpad capabilities
Custom minting contract
Marketing support via organic channels
Whitelist targeting
SPL token support for minting and trading
Custom launchpad page
Operational support through launch
Anti-botting technology
Cross-chain minting technology
Mint with ETH, SOL and Credit Card
Post-launch support
Expert help in staking, tokenomics consulting, general website development, roadmap development
Custom marketplace support via SDK/API
Account management
Bespoke analytics and reports
Upon applying for the Magic Eden NFT launchpad, you'll be asked to complete a survey regarding the details of your NFT project and the details of the Team behind the project. If selected for the launchpad, you must DOX yourself and any other members with a significant project share.
Apply to 👉 Magic Eden NFT Launchpad
Bifrost | Blocksmith Labs | NFT Launchpad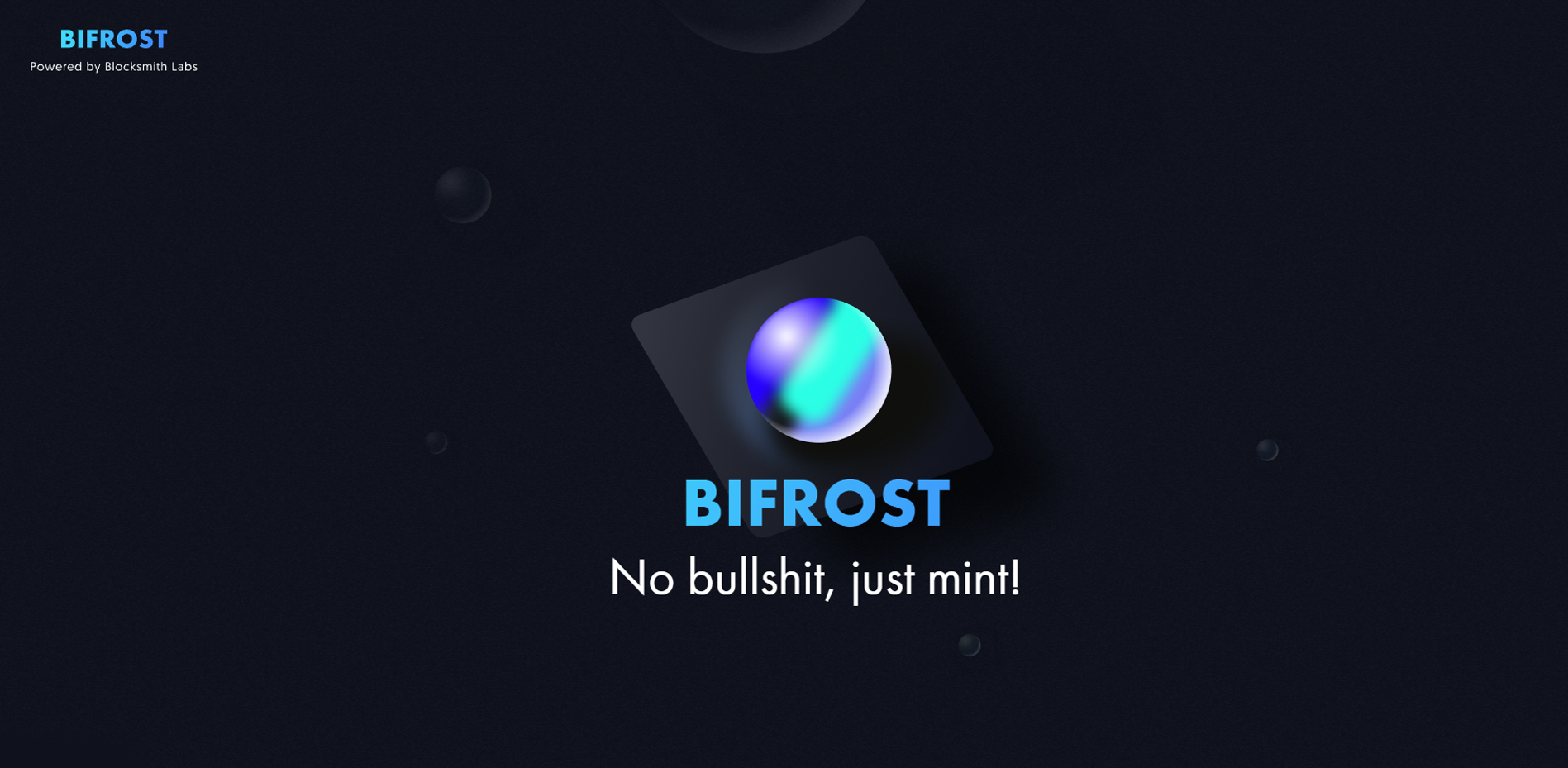 Bifrost is a next-gen launchpad created by Blocksmith Labs. Described as the "no bull shit NFT launchpad."
Bifrost offers a variety of unique features
Dynamic Price Minting
Whitelist mint is Discord server role-based.
Anti-bot mint
Freeze Transfer
Apply to 👉 Bifrost NFT Launchpad
Blocksmith Labs has its NFT collection with perks attached to it. NFT holders can generate their native token - $FORGE, which lets holders access whitelist spots automatically for every project launched on Bifrost NFT Launchpad.
Similar to Magic Eden, upon applying, team Bifrost will go through your application and make sure the team is doxxed. You will be greeted with a short survey, after which you have to share your credentials with them in multiple ways, such as video calls, escrow periods, and many more preventive measures. It will take a few days for them to finish their due diligence, after which they will grant you access to their launchpad.
GooseFX NFT Launchpad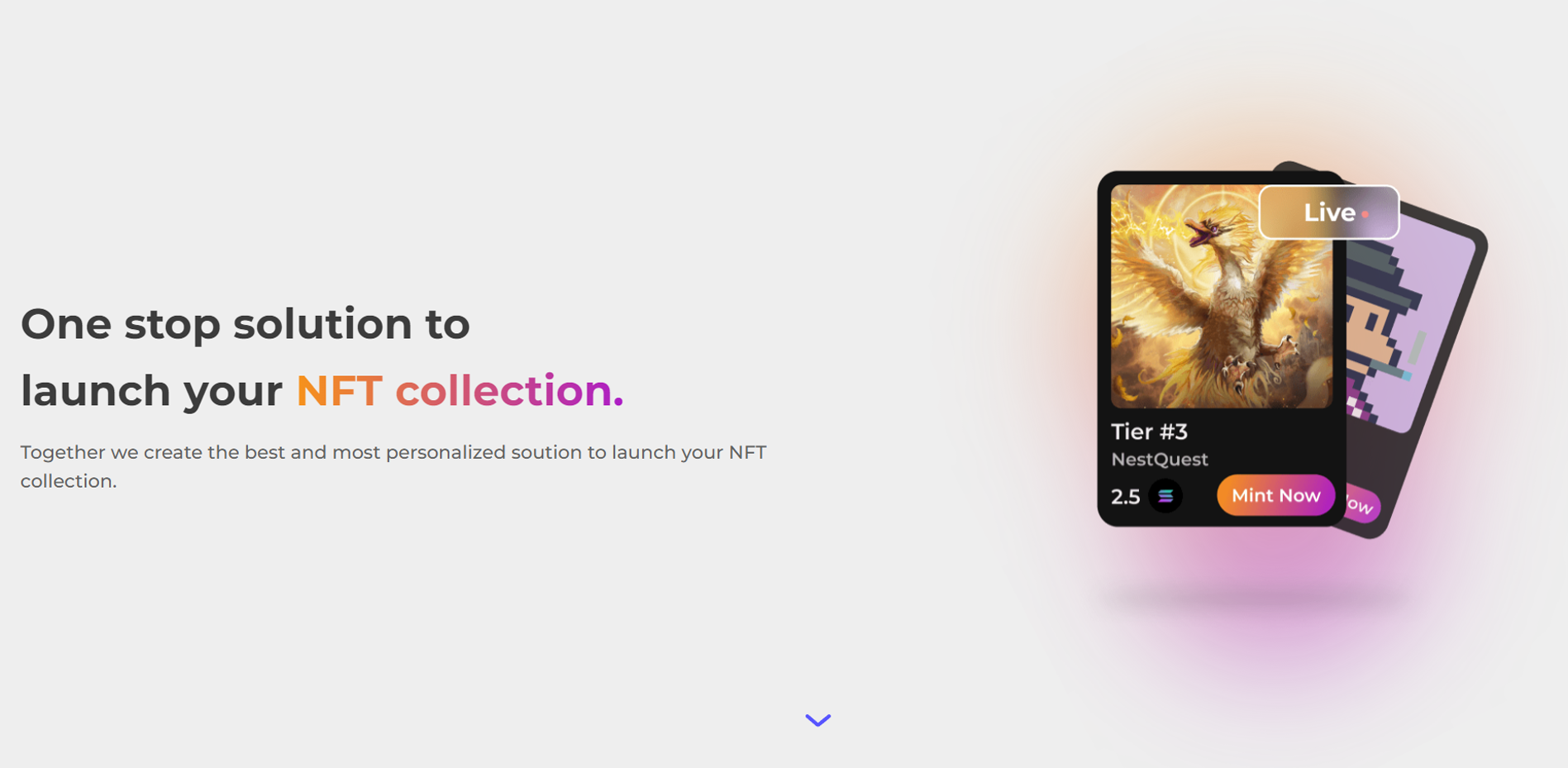 GooseFX is taking several unique steps forward for the NFT community on Solana, with thoughtful mechanics and optionality to help increase transparency for both creators and collectors.
GooseFX NFT Launchpad Offers
Multicurrency support ($SOL and $USDC)
Anti-botting
Mint freeze period (Newly minted NFTs can be frozen in the minter's wallet until the collection creator lifts the freeze!)
Unique @civickey Captcha Pass enforced mints (with facial recognition possible in the future)
Optional creator vesting Creators can assign milestones, and vesting timelines to show off how they are intending to build their community post-mint. This builds more trust in the ecosystem.
Custom Smart Contracts to handle Whitelist tiers
Hidden Reveal (NFTs metadata is hidden upon initial mint. Allowing the creator to control when the community gets to see the final assets and metadata of the NFT)
Marketing & social media strategy
Marketing support via our social channels
Custom launchpad landing page
NFT Marketplace listing support
GooseFX also conducts in-house Due Diligence for every project launched via GooseFX NFT Launchpad to provide a smooth and secure minting experience.
Apply to 👉 GooseFX NFT Launchpad
GooseFX is the One stop solution to launch your NFT collection, we offer 1-1 calls to understand your needs and carter the best solution possible for your NFT collection and NFT launchpad needs on Solana.
LaunchMyNFT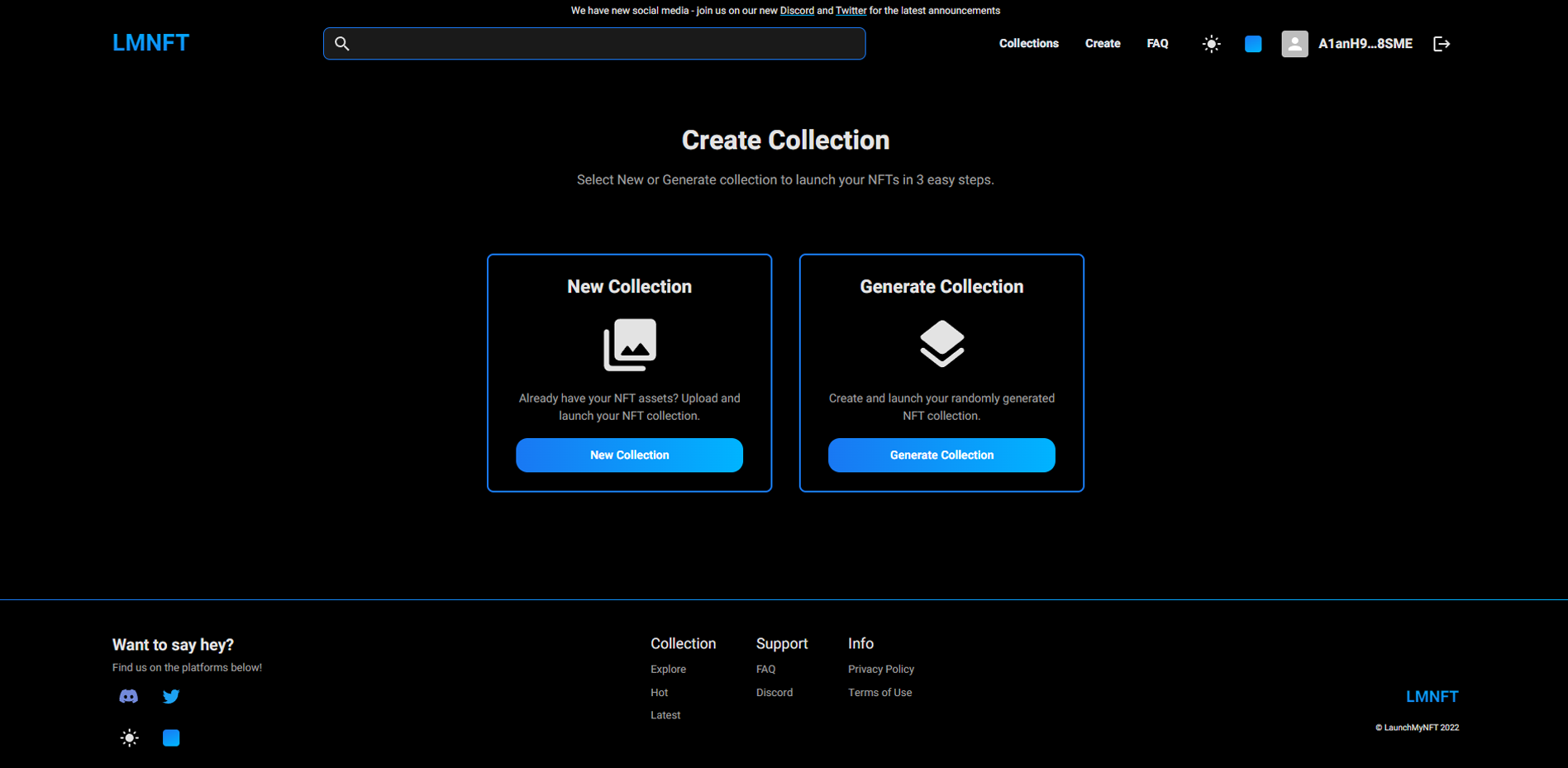 LMNFT also known as Launch My NFT is the first fully automated multi-chain NFT collection generator and launchpad. They currently Solana, Ethereum, Avalanche, Fantom, Binance, Polygon and Stacks with plans to add more chains in future.
LMNFT currently supports up to 10,000 randomly generated NFTs! (Must have enough assets to be able to generate enough combinations).
To launch a collection on LMNFT is free! They only take 2.5% on the initial mint. There are also added native fees to interact with the blockchains.

Apply to 👉 LMNFT Launchpad
SolanArt NFT Launchpad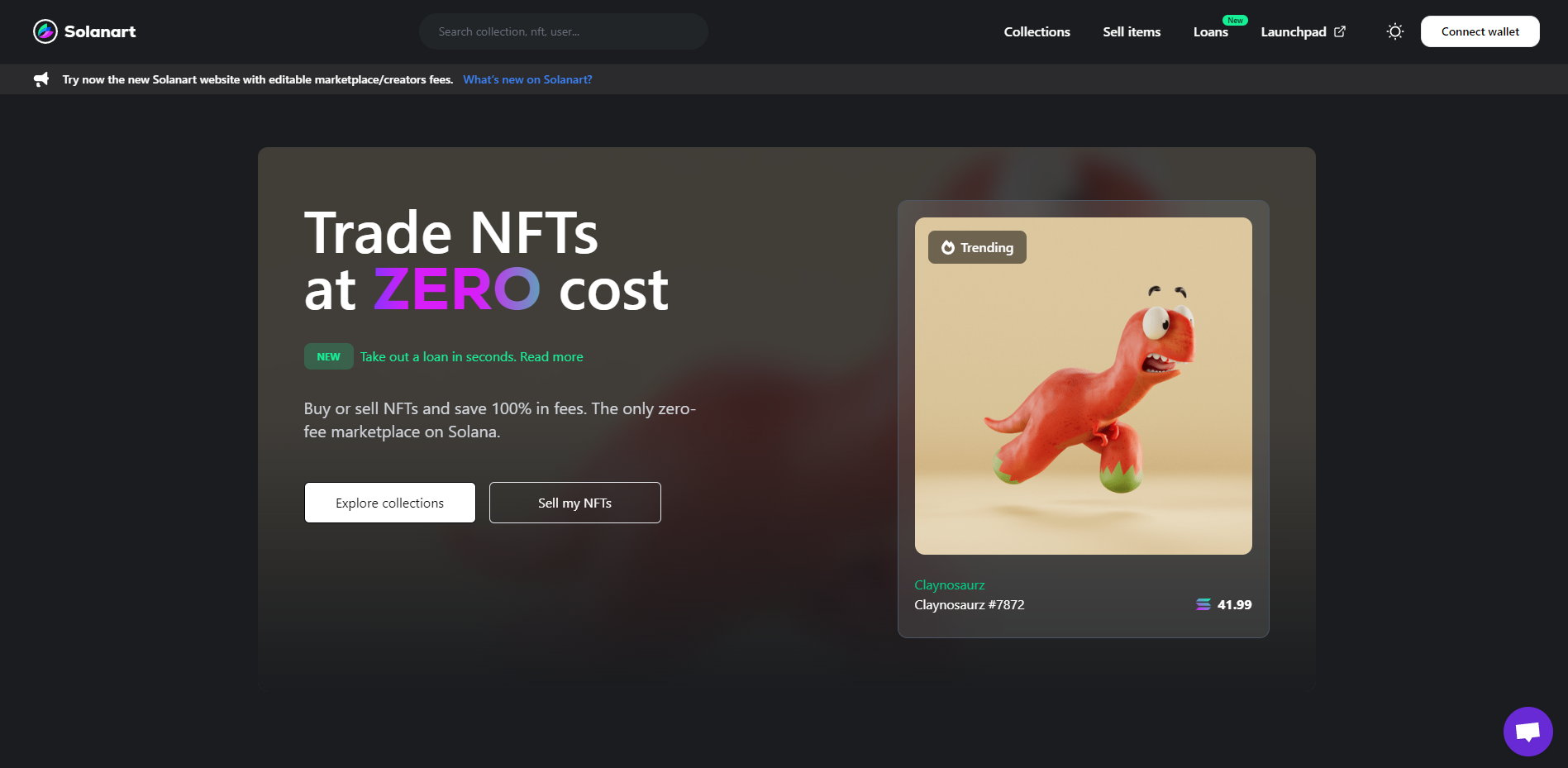 SolanArt is the only zero-fee Marketplace on Solana, one of the most popular NFT Marketplaces and launchpads on Solana in terms of marketplace volume.
Apart from having all the essential features such as marketing exposure, anti-bot mint, and whitelist support, they recently revamped their website and added a Custom Fees feature for the Marketplace and creators.
Like Magic Eden and Bifrost, they do their due diligence via a Type form application where they ask for your details and whether you would be willing to doxx for KYC purposes to SolanArt.

Apply to 👉 SolanArt NFT Launchpad
Summary
The NFT launchpad is a good marketing tool for new NFT projects to stand out among the multitudes of other new NFT projects entering the market daily. While projects are usually rigorously selected before being listed on launchpads, they pose a significant investment risk. Before taking part in any of the presales at launchpads, retail investors should always proceed with extreme caution and always DYOR.
Subscribe to GooseFX blog for more & comment below
Who has the best NFT Launchpad on Solana?
Website | Twitter | Telegram | Discord | Docs
Disclaimer: The statements, proposals, and details above are informational only, and subject to change. We are in early-stage development and may need to change dates, details, or the project as a whole based on the protocol, team, legal or regulatory needs, or due to developments of Solana/Serum. Nothing above should be construed as financial, legal, or investment advice.