Bi-Weekly Market Update
Bi-Weekly Market Update #1
GooseGang Market Update: Strong performance for Bitcoin, Ethereum, and Solana. Neutral sentiment. Follow our recommended Twitter accounts for narrative and trading insights.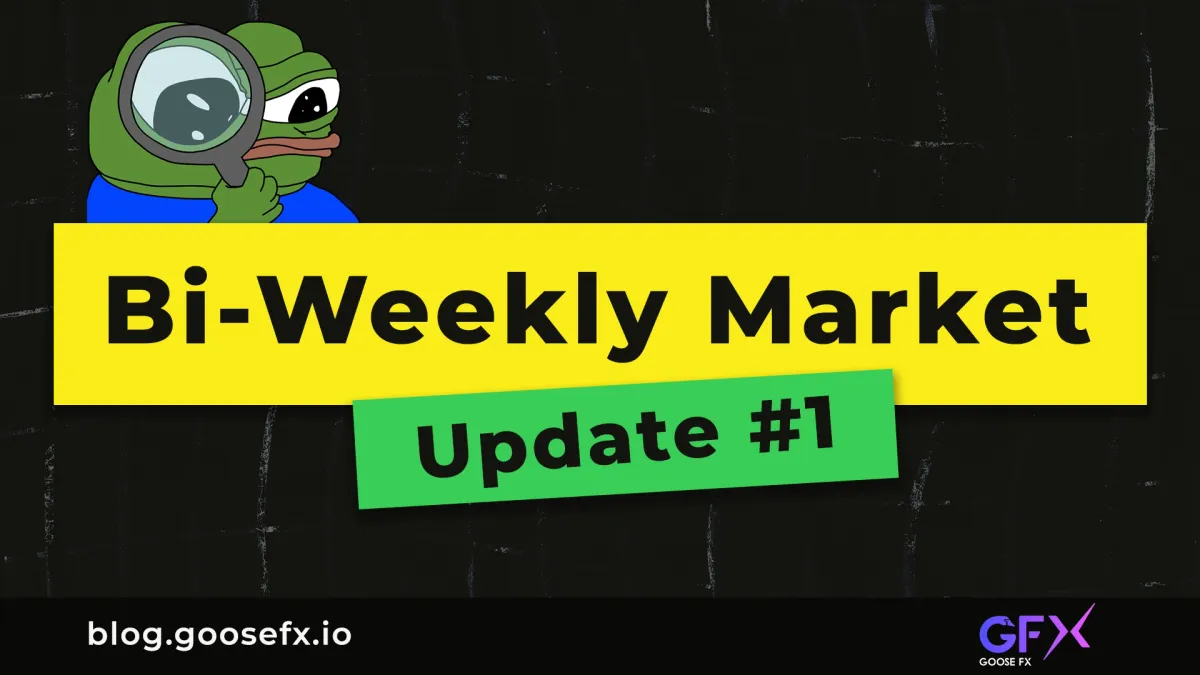 It is the first weekly market update from Lil G's HQ in a series of bi-weekly updates!
These updates are designed to provide a brief overview of the current market and also take you through any trading alpha or educational content you might have missed out on this week from your favorite CT trader 🦆
So, without further ado, let's kickstart this update of January 1st to 15th, 2023!
Market Performance
Bitcoin
These two weeks, we had market-wide rallies across the boards with coins like $SOL and many others casually pulling a 100% increase from their lows.
Bitcoin has started the year off strong with a 31% increase in its price and is currently sitting at $20,700. The global market cap currently sits shy of $1 Trillion, with Bitcoin sitting north of the $400 Billion market cap.
Regarding Bitcoin's volatility, the BVOL index from BitMEX shows how we were at the lowest levels of volatility ever. These two weeks saw a 35% increase indicative of Bitcoin's price action.
Market Sentiment analysis indicates that we went from a phase of Fear to Neutral in these two weeks, from a value of 30 to north of 50.
Lastly, BTC Dominance is currently hovering around 43.5% at the time of writing.
While BTC Dominance predominantly doesn't mean much in Lil goose's opinion, keeping it in check could be an excellent way to allocate and diversify your portfolio.
Ethereum
Coming onto Ethereum as of January 18th, it sits at $1533 with a market cap of $190 Billion. During this period, ETH had a run-up of over 34.5%, thus outperforming BTC by just a fraction.
In these two weeks, we saw a slight decrease in ETH's supply going from 120.53 Million to 120.52 Million.
Gas prices have increased, going from ~18 Gwei to ~25 Gwei on average.
Solana
Solana has been one of the highest gainers in the past two weeks, along with Aptos ($APT), gaining just over 150% from the start of the year and over 200% increase from its lows.
It is currently hovering at around $22 with a Market Cap of $9 Billion, ranking at #10 by Market Capitalization.
The sentiment is shifting a lot, as is evident from the trading volume on Jupiter tripling, going from over $100 Million to $352 Million in this short span. Part of this influx of volume is to be credited to BONK, and it's good to see the ecosystem starting to flourish!
News and Headlines
These two weeks saw a lot of volatility preceding some major news in the US Stock Market, such as the FOMC Minutes, NFP Data, and CPI.
To stay on top of such news, you should follow Tier10k on Twitter.
These next two weeks are slightly less news-heavy compared to the previous week, and the heavy-hitting news is:
PMI
Core PCE Price Index m/m
CB Consumer Confidence
You can keep a tab on sites like ForexFactory for any news in the Stock Market.
Twitter Trading Recommendations
Your average CT user's feed is filled with 99% shitposting tweets and 1% alpha. In that case, Lil Goose is here to ensure you get that 1% of alpha, and in this section, we'll be going over any significant trading threads or videos you might have missed that contain insights to improve your trading.
So, without further ado, let's get into it!
If you are into news and narrative trading, you should be following the subsequent two accounts on Twitter without any hesitation.
First up, we have 0xKyle, who does a lot of heavy lifting for you, and if you are a narrative/news trader, you must keep track of any upcoming news for any token.
In this thread, Kyle shared his Narratives list for 16th Jan-22nd Jan, and many of the coins from this list ended up doing well this week.
Karl0x published his monthly narratives (or alpha), which you can check out below.
Update: At the time of uploading, Karl, along with Apes prologue, have launched their next week's news to look forward to, which you can check out in this thread.
Coming onto trading advice and education, first off, we have Bongoeson with their fantastic thread on scalping.
Next up, we have a fellow pond member 🦢 aka Swan dropping his thread on one of his strats that he used to increase his PnL.
Following that, we have PropTrader on Twitter, posting their thread on why execution is vital and how people should focus on quality rather than the number of setups.
Finally, we have JW sharing his thread regarding Market Profile, and if you are a beginner trying to go into Orderflow stuff, this thread is necessary for you!
Conclusion
To conclude, the cryptocurrency market saw a strong performance during the first two weeks of January, with Bitcoin and Ethereum seeing significant increases in price and market capitalization. Other coins like Solana also saw significant gains, with sentiment shifting towards positive in the market.
Overall, it's an excellent time to be in the crypto market, and investors and traders should be aware of opportunities and potential risks.
Remember to diversify your portfolio and stay informed to make wise decisions!
-Lil Goose out 🦆
Website | Twitter | Telegram | Discord | Docs
Disclaimer: The statements, proposals, and details above are informational only, and subject to change. We are in early-stage development and may need to change dates, details, or the project as a whole based on the protocol, team, legal or regulatory needs, or due to developments of Solana/Serum. Nothing above should be construed as financial, legal, or investment advice.