Bi-Weekly Market Update
Bi-Weekly Market Update #4
This bi-weekly market update covers the period from Feb 20 to Mar 5, 2023. Bitcoin dropped 9.5%, while Ethereum fell 8% and Solana dropped 17%. Powell's testimonies, NFP, and CPI are among the upcoming news. This blog also covers trading alpha to improve your trading.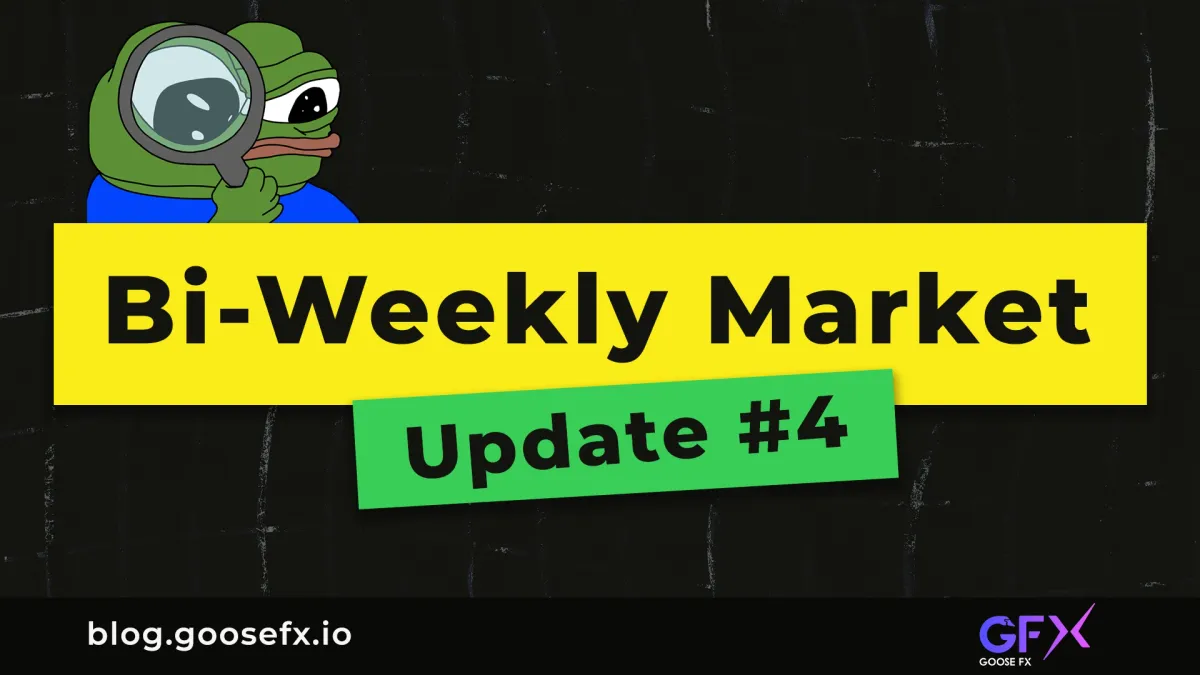 Introduction
Welcome to #4 of the Bi-Weekly market update with your host LilGoose!
These updates are designed to provide a brief overview of the current market and also take you through any trading alpha or educational content you might have missed out on this week from your favorite CT trader 🦆
So, without further ado, let's kickstart this update and see what happened in the markets from Feb 20 to Mar 5, 2023!
Market Performance
Bitcoin
Bitcoin prices plummeted this week by 9.5%, dropping from $24,200 to $21,900, breaking the year's previous upward trend. The price closed in February at an astonishing $16.5 higher than its Open.
Kinda spooky how accurate Cobie was on his trading analysis for Feb. Is Cobie part of the Evil Market Makers that manipulate prices? Lil Goose ponders 🤔
Bitcoin's current price is $22,400, where it has been sitting for the past 3 days, with a market capitalization of $433 billion. The global market capitalization is at $1.07 trillion, down from $1.17 Trillion.
Regarding BVOL, despite occasional 7-8% spikes, it has remained relatively stable at 17.96.
As always, exercise caution and proper risk management to save yourself from major drawdowns in your portfolio!
Moving forward to our Sentiment Analysis section, we can see that sentiment has moved from a state of Greed to Neutral in this period, with the Index currently sitting at 49 compared to 53 in our previous update.
Do we move lower or higher from here? Drop your analysis in the comments 🦆
Finally, BTC Dominance has decreased during this period dropping from its highs at 44.5% to currently hovering at 43.8%.
While BTC Dominance predominantly doesn't mean much in Lil goose's opinion, keeping it in check could be an excellent way to allocate and diversify your portfolio.
Ethereum
Jumping onto Ethereum, we can see that it followed a similar path to Bitcoin however held well during the dump, dropping 8% relative to Bitcoin's 9% decrement. The correlation still stands very high, and Ethereum is still performing as a Beta Asset to BTC.
If you don't know what Beta Assets are, Check out this blog by Lil Goose 🦆
Coming onto ETHBTC, and just like our previous update, we still see that it is hovering inside the 0.068 to 0.077 mark and is currently bouncing from the lower end of the range.
While in the first half of this period, it had dumped about 2%, indicating ETH underperforming BTC, we can see that it has bounced back up 4% from the lows and is up 2% overall. It indicates that ETH is outperforming BTC, as evident above.
ETH is currently sitting at a market capitalization of $189 Billion.
Moving towards ETH's supply, we can still see that it has been decreasing and went from 120.492 Million to 120.473 Million in this period, implying that On-chain activity is still heavily brewing, whether it is the DeFi space or the NFT space.
Finally, onto gas prices, we can see that they have stayed constant at an average of ~37 Gwei while dipping to ~24 Gwei in this period.
Solana
So far, Solana has had a rough period, underperforming both Bitcoin and Ethereum and dropping 17% from $25 to its current price of $20.6.
It is currently sitting at #13 and has moved 1 place down from our last update with a market cap of $7.9 Billion.
While the prices have decreased, the high number of participations in Grizzlython, the hackathon Solana organized, still indicates the bullishness surrounding this ecosystem.
Compared to the last update, the trading volume has decreased in this period on Jupiter, as seen from their stats section, decreasing from $196 Million in the week of 13th-20th Feb to $118 Million in the week of Feb 27 to Mar 6.
News and Headlines
While the past 2 weeks weren't that heavy hitting in terms of macro-economical news apart from FOMC Minutes and Unemployment Claims on Feb 23, the next two weeks seem to be heavy hitting and so let's take a look at the major news to keep in mind:
Powell testifies at Senate Banking Committee on Mar 7
ADP Non-Farm employment change on Mar 8
Powell testifies at House Financial Services Committee on Mar 8
House Financial Services Committee hearing on Crypto on Mar 9
Non-Farm Payrolls or NFP and Unemployment Rate on Mar 10
CPI, Core CPI, and Core PPI on March 14th and 15th
Finally, the FOMC statement on Mar 22
To stay on top of such news, you should follow Tier10k on Twitter.
As always, it is advised not to have any open positions before such volatile news events as they tend to have huge volatility leading to higher chances of getting stopped out.
You can keep a tab on sites like ForexFactory for any news in the Stock Market.
CT Curated Alpha
Saving the best for the last, we have Lil Goose's favourite section. For new people, your feed might be filled with 99% shitposting tweets and 1% alpha. In that case, Lil Goose is here to ensure you get that 1% of alpha, and in this section, we'll be going over any significant trading threads or videos you might have missed that contain insights to improve your trading.
So, without further ado, let's get into it!
There's too much alpha to share, so Lil goose will be dividing this section into three different sections:
General
Narrative/Fundamentals
Basic Trading
Orderflow Trading
Lil Goose urges you to give all these chads a follow!
General
For this, we only have an old tweet from Cobie about working towards your growth!
Narratives/Fundamentals
Moving onwards, first up we have Blocmates that dropped this banger thread on 30 projjects with strong narratives ahead. While this is now outdated to some extent, give them a follow so that you don't miss out any upcoming alpha from them
Next up we have Crypto Linn who posted the 136th Edition of Linn's Leverage. This blog aims to concentrate on upcoming catalysts and fundamentally strong projects and Crypto Linn should be one of the main accounts on your feed if you want some curated narrative based alpha!
Lastly, we have a gold thread from Auri regarding Airdrops and how you can still participate in potential airdrops for under-the-radar protocols.
Trading
First up, we have Trdrtur talking about pairs trading. If you don't know about Pairs trading, fret not as Trdrtur goes into what it means as well!
Next up, we have Config.json talking about Risk Management tips. In Lil Goose's opinion, Risk Management is a more crucial factor than having a profitable strategy.
Lastly, we have some high level alpha drop from WC or WorstContrarian giving his thoughts on Crypto risk premia
Orderflow Trading
First up, we have Luckshuryy dropping an educational thread on how he uses TPO charts and how you can implement them in your trading strategies
Lastly, we have Adam or AbeTrade (who LilGoose has talked about in his previous updates as well) talking about Volume Analysis and how it is a vital piece in his trading systems
If you aren't following any of these chads, make sure you do. LilGoose will be getting threads and alphas from unique people with every update.
Conclusion
That's it for #4 of the Bi-Weekly market update with LilGoose🦆!
To conclude, Bitcoin and Ethereum experienced a similar downward trend, but Ethereum held up better than Bitcoin, showing positive signs of outperforming BTC. Solana faced a rough period, dropping 17% and moving down one place in the market cap ranking.
You should also be aware of several upcoming volatile news events and avoid having open positions before such events.
Lastly, check out the links provided in the CT Trading Alpha section in all trading alpha or educational content you might have missed by checking out the links provided in the CT Trading Alpha section.
Remember to diversify your portfolio and stay informed to make wise decisions!
-Lil Goose out 🦆
Website | Twitter | Telegram | Discord | Docs
Disclaimer: The statements, proposals, and details above are informational only, and subject to change. We are in early-stage development and may need to change dates, details, or the project as a whole based on the protocol, team, legal or regulatory needs, or due to developments of Solana/Serum. Nothing above should be construed as financial, legal, or investment advice.