GooseFX — February Updates
2022 Roadmap, community and development updates!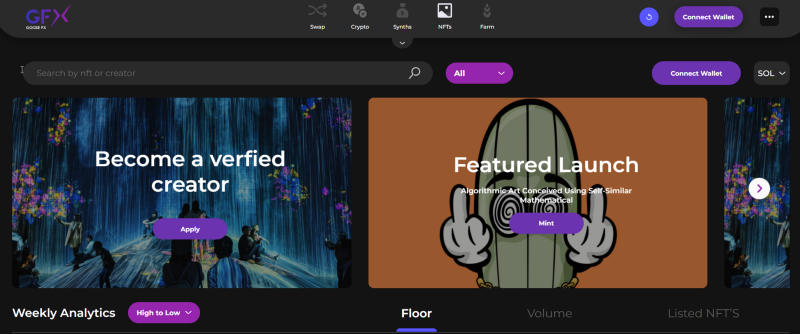 2022 Roadmap, community and development updates!
Community Updates
The new year brought about some new hired for the GooseFX team. In January we brought on four additional engineers, a lead front end as well as two additional full-stack engineers. We also brought on a new Head of Growth and Community Development give him a follow.
We are also looking into bringing on a Wharton Finance PhD candidate to help assist with our NFT valuation models, SSL equations to reduce on chain computation, and develop more quantitative strategies for our derivative products.
Development Updates
The GooseFX team stayed extremely busy last month and made great progress in terms of development. The prime focus for the last month has been the NFT marketplace.
The Goose Nest Marketplace will allow users to buy, sell, and mint NFTs. The NFTs that users list will remain in their wallets until the sale has been completed. This is a major improvement compared to other marketplaces where you must deposit the NFT into an escrow account until the time of sale. The team is currently testing the marketplace internally and will open it up to the public soon!
Our highly anticipated NFT collateralized loans development has officially started and we anticipate its release in Q1. There have been some unique enhancements to ensure users of this product will not only want to use it but find this investment one of the most promising in the markets.
The team has also made great progress towards our single-sided liquidity model which is an improvement from the current AMM model. This revolutionary design is more profitable than current models and reduces the risk for users as they only need to deposit the asset that they wish to have market exposure to. The model is currently undergoing extensive testing and then will be audited by Halborn. Once the audit is complete we will release more details regarding the release.
The NestQuest Roadmap and landing page will be released this week. Tier 1 egg NFT will be required to engage with NestQuest and enjoy the platform benefits associated with NestQuest. We congratulate our community members that have received the egg. We plan on having the eggs listed for sale on a few marketplaces in the future, so it's highly recommended to try to grab one before they get marked up in price.
Key Updates:
Single Sided Liquidity — We chewed diamonds to create an improved AMM equation and are looking at a very promising product. Comparably better to other existing SSL models including Uniswap v3 and Bancor. Will get some stats in a one pager and will be releasing the whitepaper in a few weeks. Code audit starts Feb 21 and then we go to mainnet!
NFT store will be on closed mainnet testing this week. After a week of testing it will be ready for the public. Let us know if you would like access please!
NFT Borrow Lend Development has officially began — Utilizing our pricing model we will roll out a Lender & Borrower flow for users to unlock liquidity in their NFT collections! This will be included in v2 of the NFT store.
NFT marketplace incentives and marketing plan — Working on an incentives plan for the NFT marketplace launch including a possible collaboration with Wormhole to port over ETH NFTs to Solana.
We have scraped 70,000 NFT purchases now. This includes the full transaction history on SMBs, Thugbirdz, Degen Apes, Scoogis, Galactic Geckos, Aurory, Solsteads and Frakt to assist in pricing models for these collections for lend/borrow and derivatives. Also writing the real-time implementation of the NFT data scraper to be used on-chain.
We hired four more engineers to speed up our rollouts in the past 2 weeks. We are also bringing on a Wharton Finance PhD grad to help assist with our NFT valuation models, SSL equations to reduce on chain computation, and develop more quantitative strategies for our derivative products.
We have begun work on perpetual swaps, these will take about 4–6 weeks until they are ready to deploy!
Goal at the moment is to have all our features on mainnet by end of April.
Golden Goose Community Updates
As always we welcome all our new community members and hope you will join us on our social channels to stay more involved.
Website | Twitter | Telegram | Discord | Docs
Disclaimer: The statements, proposals, and details contained above are informational only, and subject to change. We are in early stage development and may need to change dates, details, or the project as a whole based on the protocol, team, legal or regulatory needs, or due to developments of Solana/Serum. Nothing above should be construed as financial or legal advice.