Educational Series
Learn to navigate Jupiter and Birdeye | Tutorial
Discover how to seamlessly swap SOL for other tokens on DEXs like Jupiter and Birdeye. From the basics of swapping to the nuances of placing limit orders, our guide will equip you with everything you need to navigate the Solana trading ecosystem.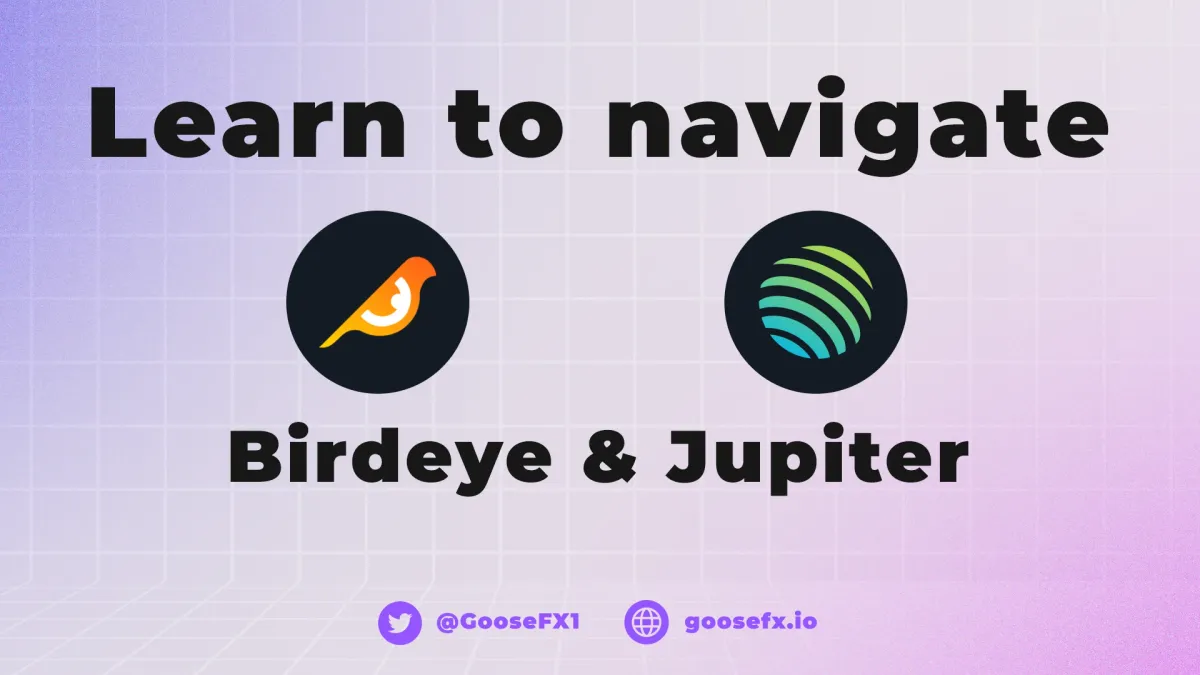 Table of contents
Tutorial - How to swap your SOL
In the following sub-sections, we'll be diving into tutorials on how any newcomer can utilize any one of these DEXs to swap their SOL to any token.
In this tutorial we'll be swapping SOL to USDC utilizing Jupiter.
Step 1
First and most obviously (duh?), visit Jupiter! Once you're there connect your wallet by clicking on the "Connect Wallet" option visible on top-right corner of the page.
Step 2
After connecting, select the two assets you'd like to swap. The asset in the upper row will be the one that you would like to swap while the one in the lower row would be the one that you would like to receive.
In our case, we'd put SOL in the upper row and USDC in the lower row as shown below.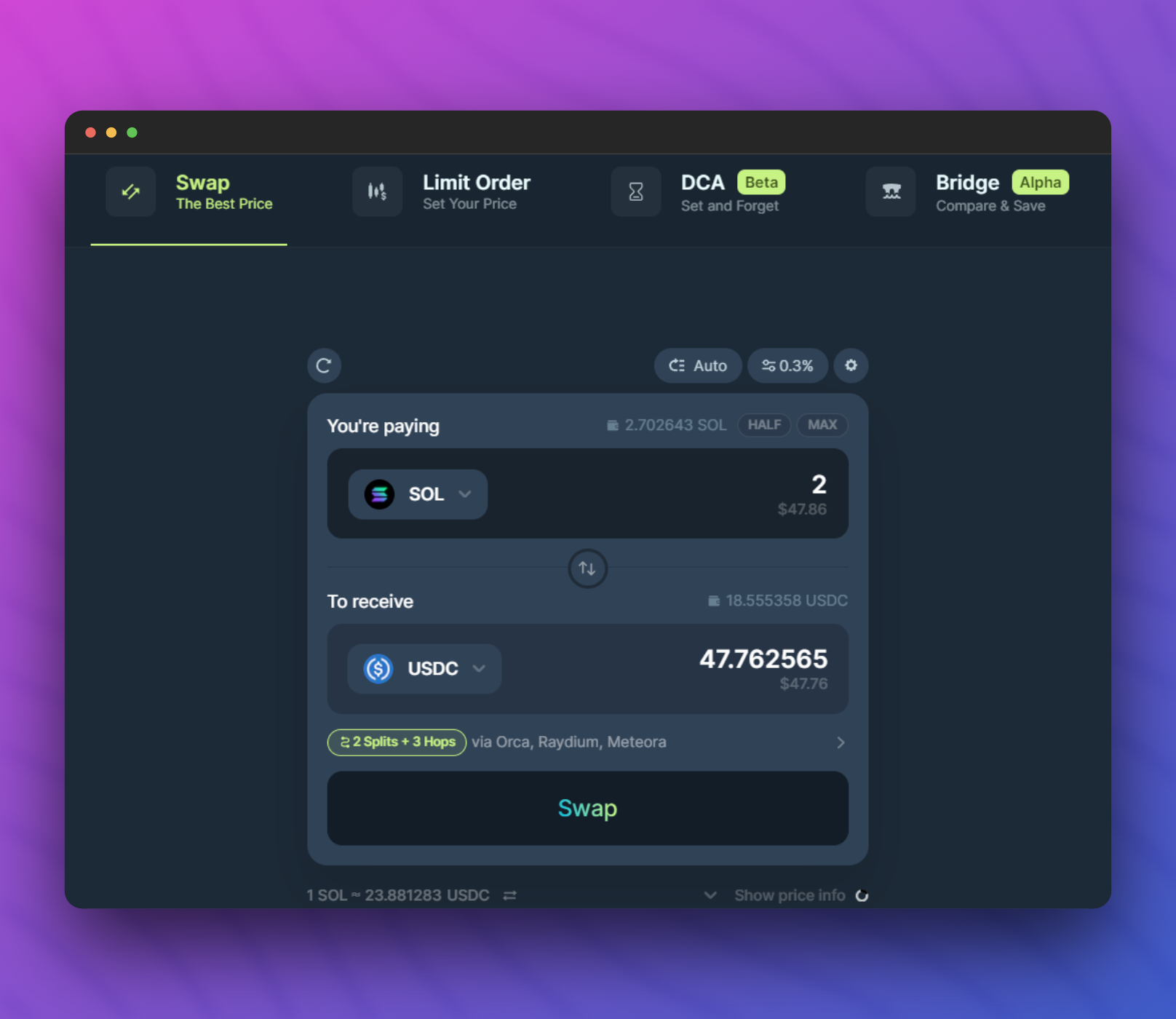 Step 3
After selecting the two assets you'd like to swap from and to, enter the amount of SOL or any other token you'd like to swap.
For example purposes, we're swapping 2 SOL tokens to receive 47.76 USDC.
After setting the amount, click on Swap upon which you'll receive a pop-up notification on your wallet to approve the transaction. Upon approving the transaction, it will take a few seconds to swap and VOILA!
You're all done! You would be able to see your new balances in your wallet.
Note: Make sure you have enough SOL to approve or reject transactions!
Tutorial - Setting a limit order on Jupiter
Step 1
Setting Limit orders is also very similar to performing a swap on Jupiter. First things first; Visit Jupiter. Upon visiting, you'll see something like below.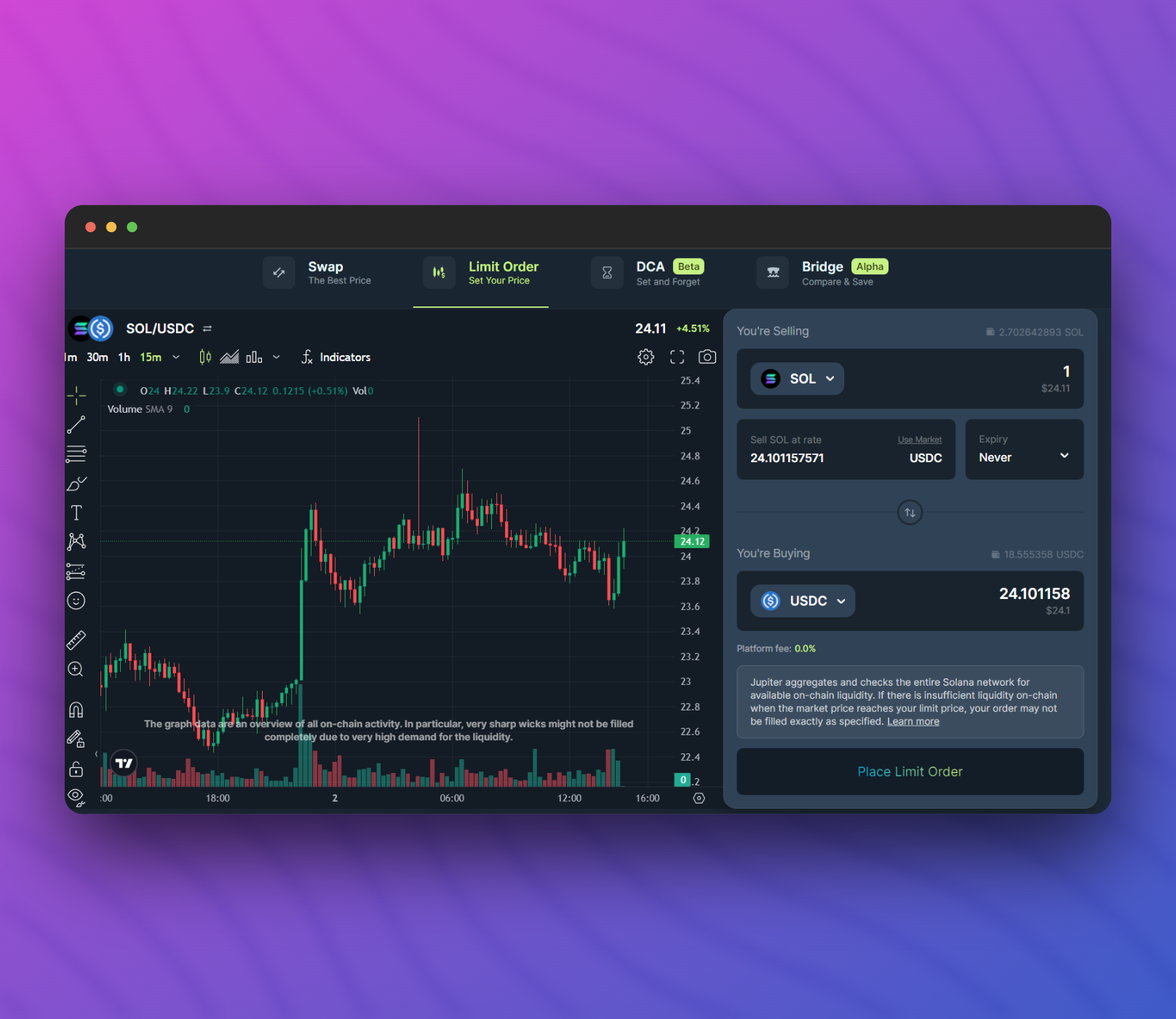 Step 2
Similar to Swaps' tutorial, select the two assets that you would like to swap from and to respectively. Enter the amount of tokens that you'd like to sell of the asset that you're holding.
For this example, we're setting a limit order of 1 SOL.
Step 3
After selecting the amount of SOL you'd like to sell, set the price at which you'd like to sell and also the expiration of this limit order. You can either select from preset Expiration timers or make a custom timer for your limit order.
For our example, we've set a price of 27.656 USDC and the expiration timer to 7 Days.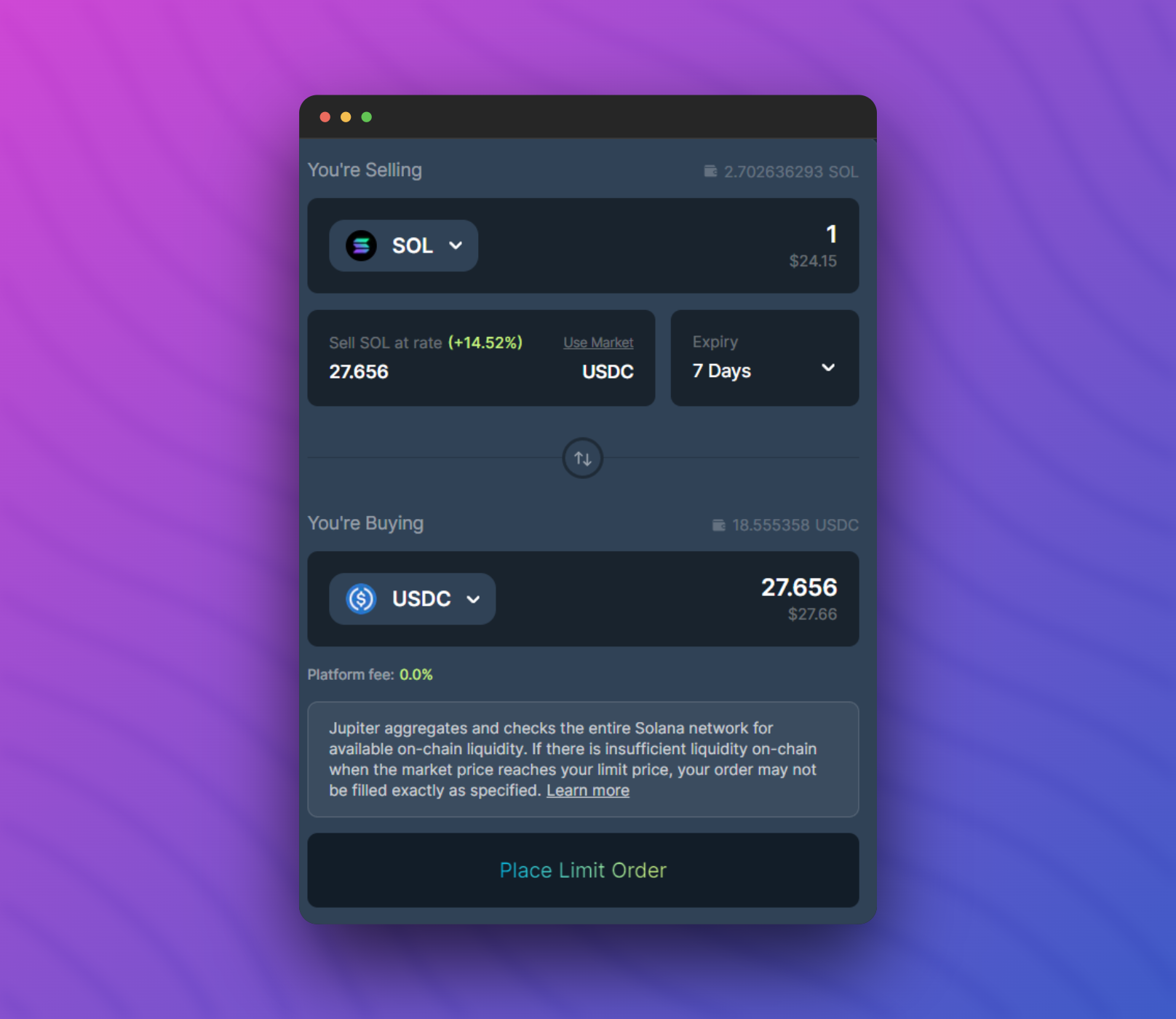 Step 4
After filling all these details, simple click the "Place Limit Order" button and approve the transaction and you're all done!
Tutorial - How to swap BONK
For this tutorial, we'll be utilizing Birdeye to swap our USDC to BONK.
Step 1
First, Visit Birdeye . Upon visiting, you'll see BONK-USD pair loaded up and it will look something like below.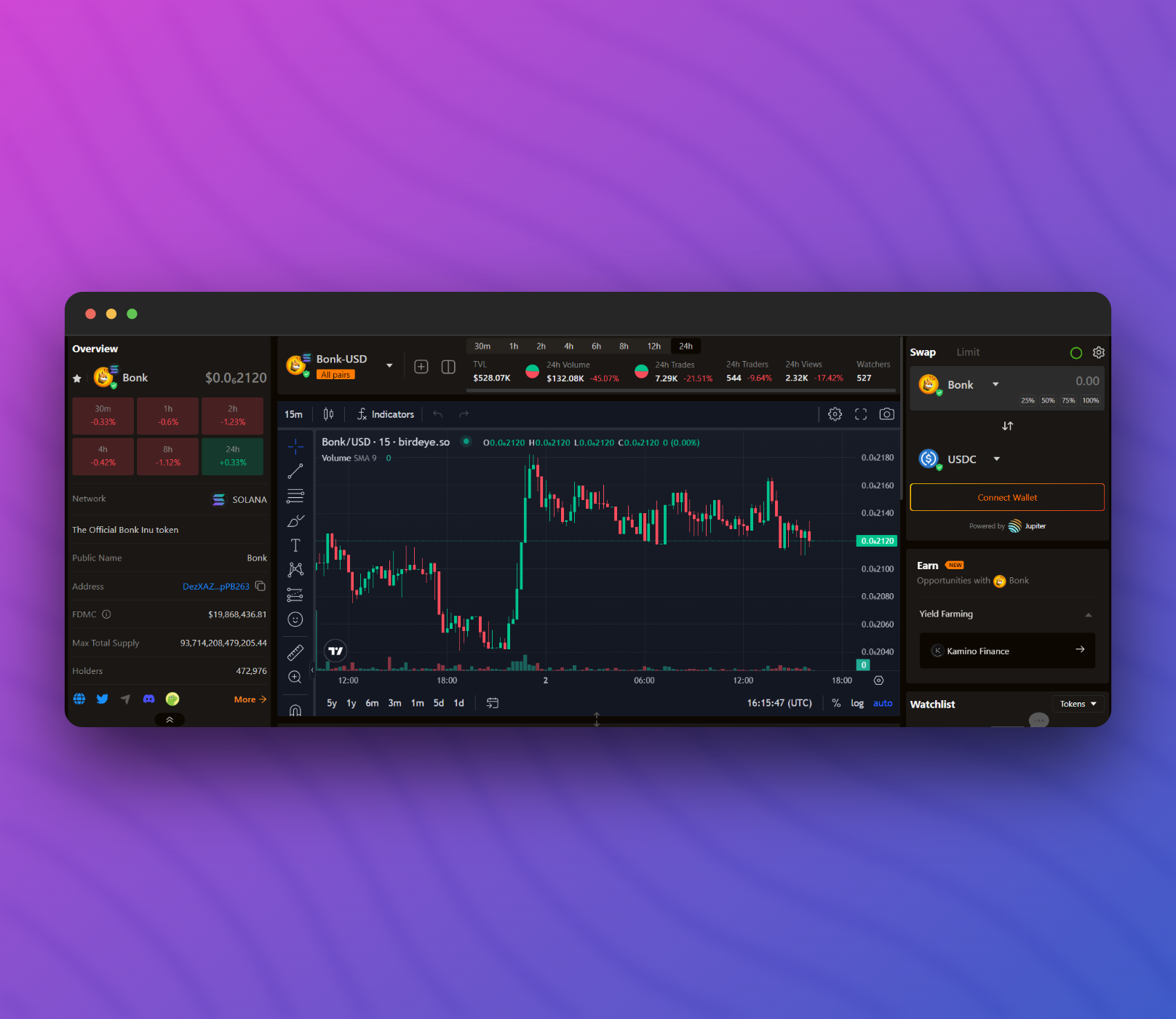 Step 2
Connect your wallet by either clicking the Connect Wallet button on the right side or on the top-right corner.
After connecting your wallet, using the swap button between the two assets, swap the USDC and BONK such that USDC is in the top row while BONK is in the bottom row.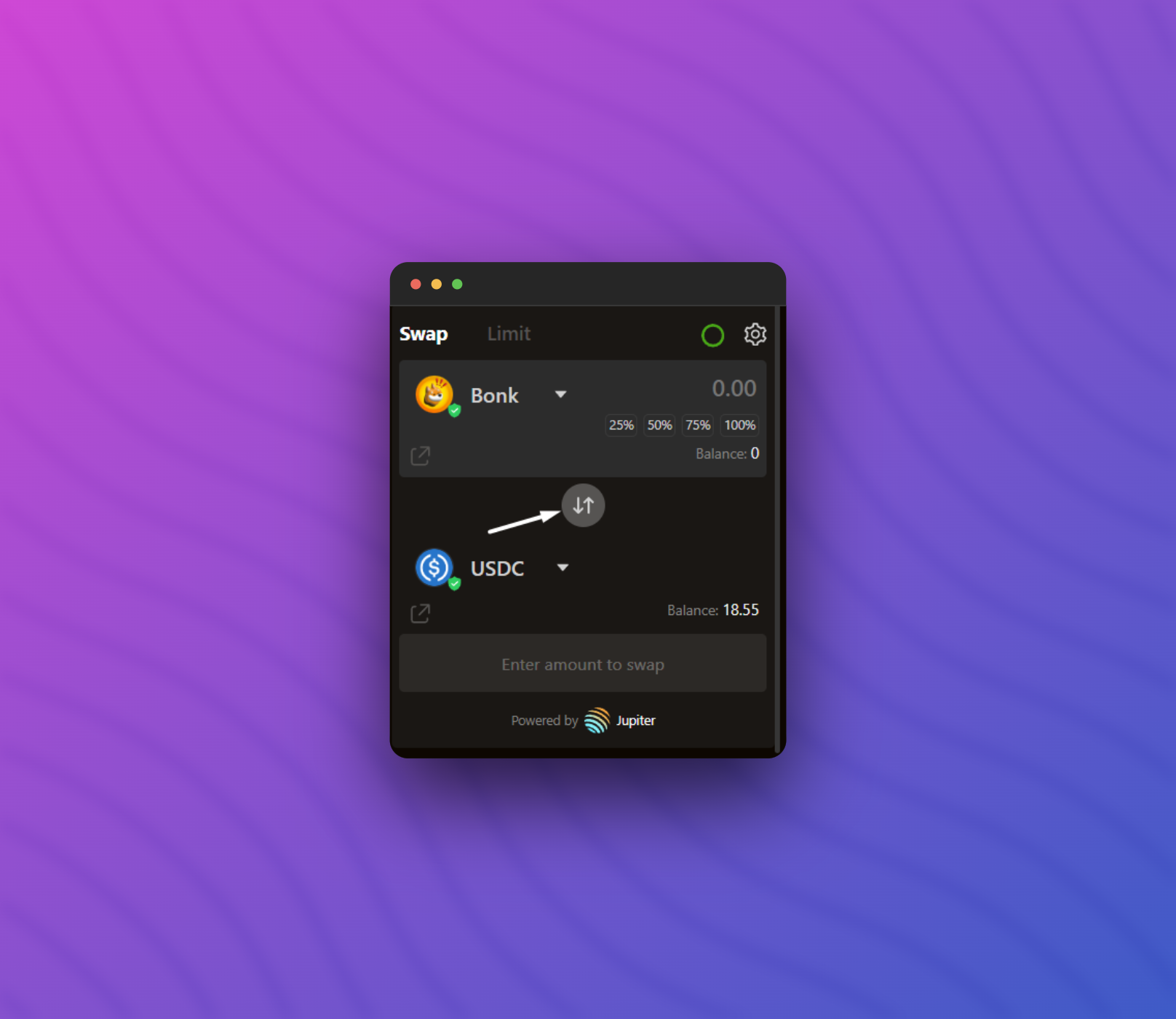 Step 3
Now, it is similar to performing a regular swap. Simply enter the amount of USDC you'd like to convert to BONK. Click the Swap button followed by approving the transaction in your wallet and you're done!
You've successfully converted your USDC to BONK!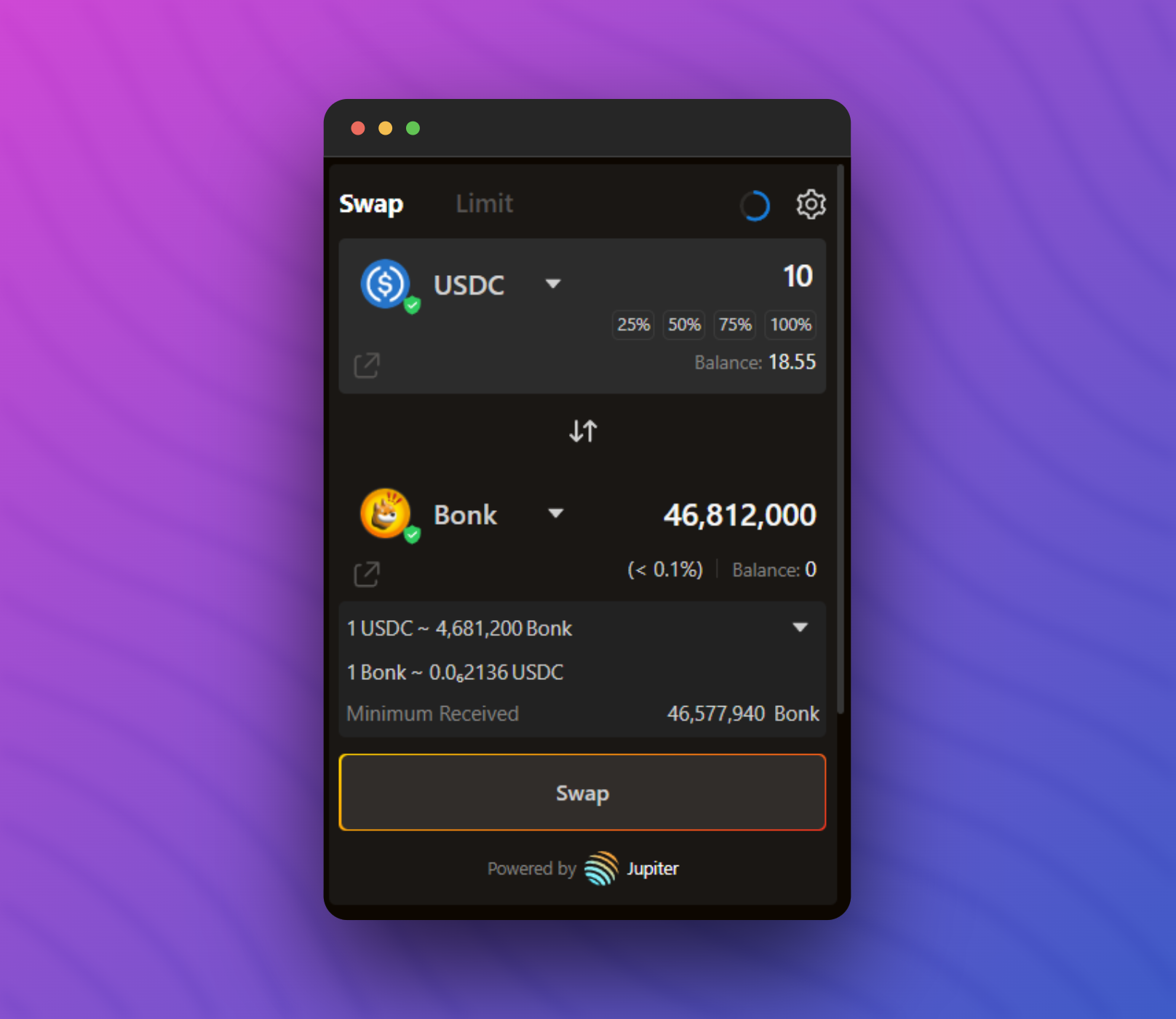 Ending Thoughts
We also went through various tutorials understanding how swaps and limit orders work on Jupiter and also how you can use Birdeye to easily swap tokens such as BONK!
Website | Twitter | Telegram | Discord | Docs
Disclaimer: The statements, proposals, and details above are informational only, and subject to change. We are in early-stage development and may need to change dates, details, or the project as a whole based on the protocol, team, legal or regulatory needs, or due to developments of Solana/Serum. Nothing above should be construed as financial, legal, or investment advice.