Monthly Update 2023
GooseFX - November Update (2023)
Make DeFi simple and exciting on Solana. Join us monthly for updates, community connections, and insights. Don't miss the alpha at the end! ✨ Discover our $GOFX staking rewards, major milestones, and educational blogs. Be a part of the GooseGang!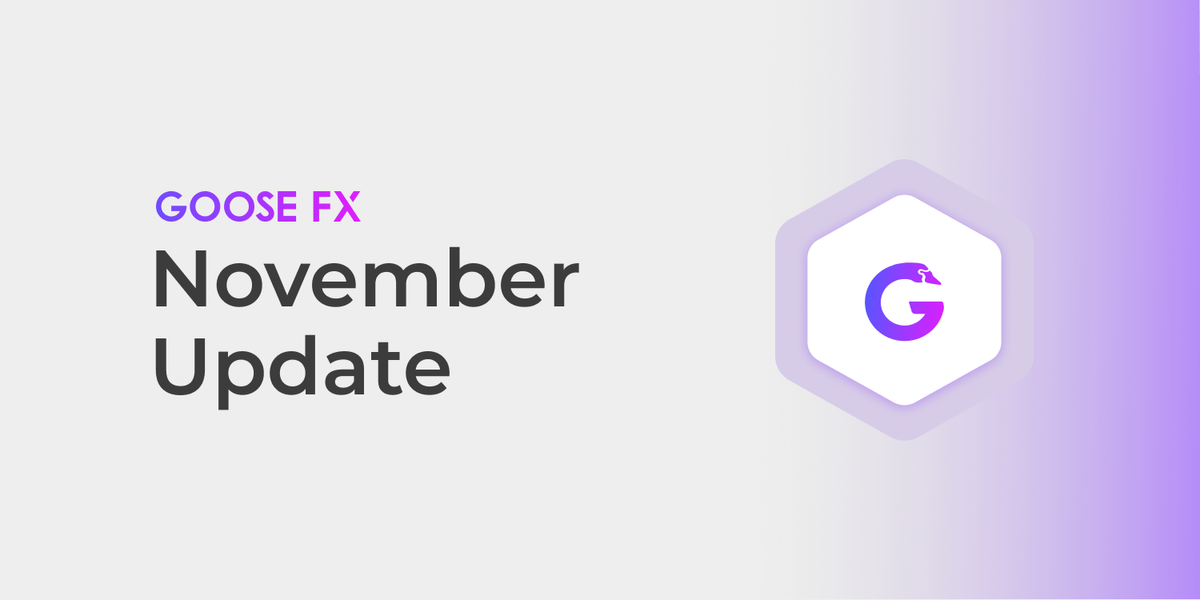 Welcome to GooseFX! Our big goal is to make DeFi easy and exciting. Imagine a super cool app where you can swap, trade perps & collect NFTs all in one place only on Solana.
Every month, we write a special blog just for you. It's like a little update where we chat about our adventures, connect with our #GooseGang, and share all the cool new things we've done.
And hey, don't miss the end of this blog — we've got some alpha to share with you!
With that introduction out of the way let's jump into our updates! ✨
$GOFX Staking - Sharing Our Treasure Chest
At GooseFX, we believe in sharing. That's why we've laid out an intricate plan to accrue fees and give it back to our users — that's YOU!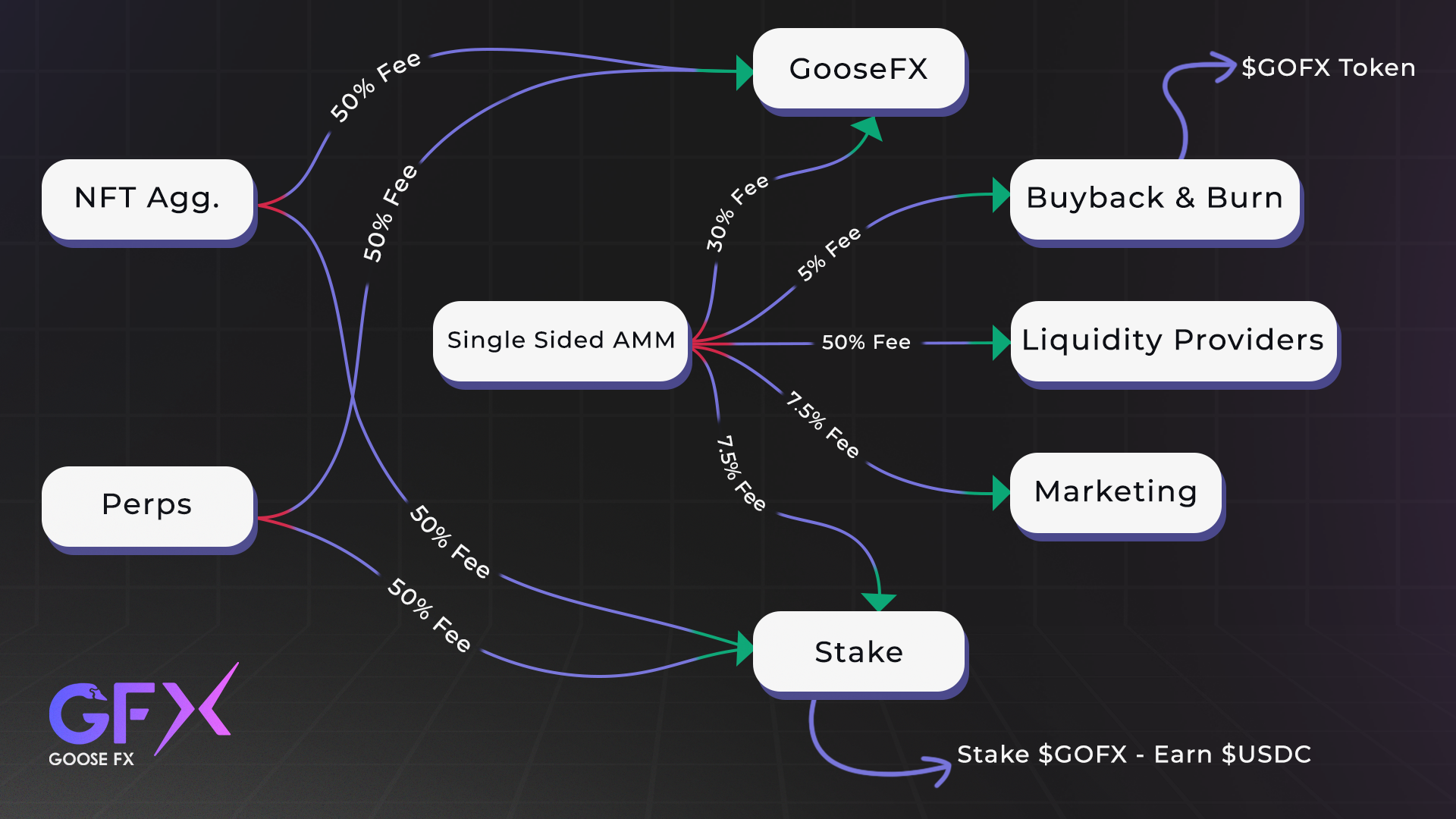 Here's the map to our revenue-sharing plan
Fees from Swapping and Trading: Whether it's trading tokens or collecting NFTs, we take a small fee. But instead of keeping it all to ourselves, we share 50% of the fee generated with users who staked $GOFX.
Staking with $GOFX: You're signing up to get a share of our treasure. It's like getting a bigger slice of cake at a party because you helped bake it!
Earning USDC: The share of treasure you get isn't in gold coins but in USDC, which is like digital dollars you can spend.
And for the friends who love a good treasure hunt, here are some secret clues about how we make the magic happen:
When we say 50% Fee, that's half of the treasure we share with you.
Buyback & Burn: We buyback $GOFX tokens from the market and burn them!
Liquidity Providers: Liquidity Providers are those users/entities that deposit their own tokens, like $BONK, $SOL, and $mSOL, into our v2 SSL Pools, and they earn 50% of the fee back for doing so.
Marketing: We also spend some treasure telling the world about our GooseFX ship, so more friends join us on this adventure. This includes our programs such as Market Maker Program, Raffles and much more!
Stake: This is where you come in, by staking $GOFX you can start earning your share in USDC.
Read about the $GOFX stake rewards and our fee share model on GooseFX docs
Major Achievements and Highlights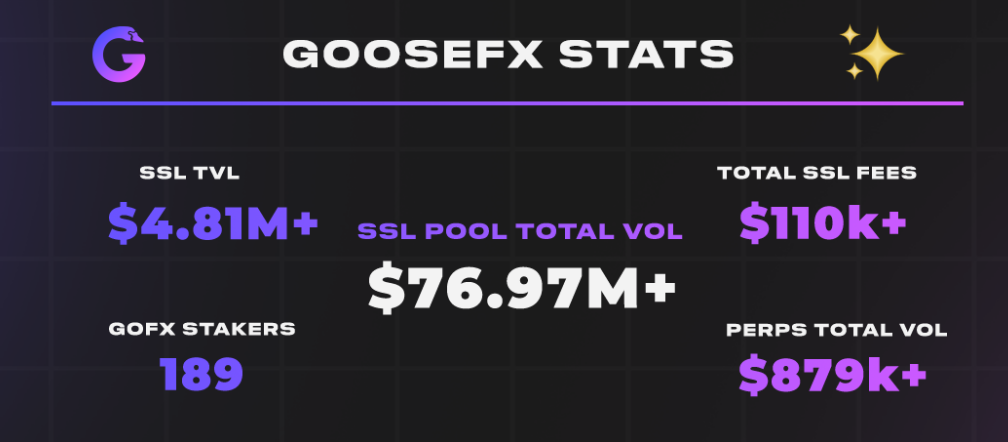 GooseFX Perps achieved a remarkable milestone, recording an impressive trading volume of $879,000!
GooseFX SSL (Single Sided Liquidity) saw substantial growth, with a total value locked (TVL) reaching $4.8 million and an impressive $77 million in total trading volume. This underscores our commitment to capital efficiency and providing our users tools to help maximize their assets.
Furthermore, we're thrilled to announce that GooseFX SSL contributed generated a whooping $110,000 in Fees during the past month.
Note: Did you know that our v2 SSL Pools were integrated with Jupiter on October 18th
Blogs of the Month
At GooseFX, we believe in sharing knowledge and insights with our community. In the past month, we've continued our commitment to educating and engaging with our users through a series of informative blogs. Here's a recap of our top blogs
Top 5 DEXs on Solana
In this blog, we explore Solana's top decentralized exchanges (DEXs), including Jupiter, Orca, Prism, Raydium, Aldrin, and Birdeye.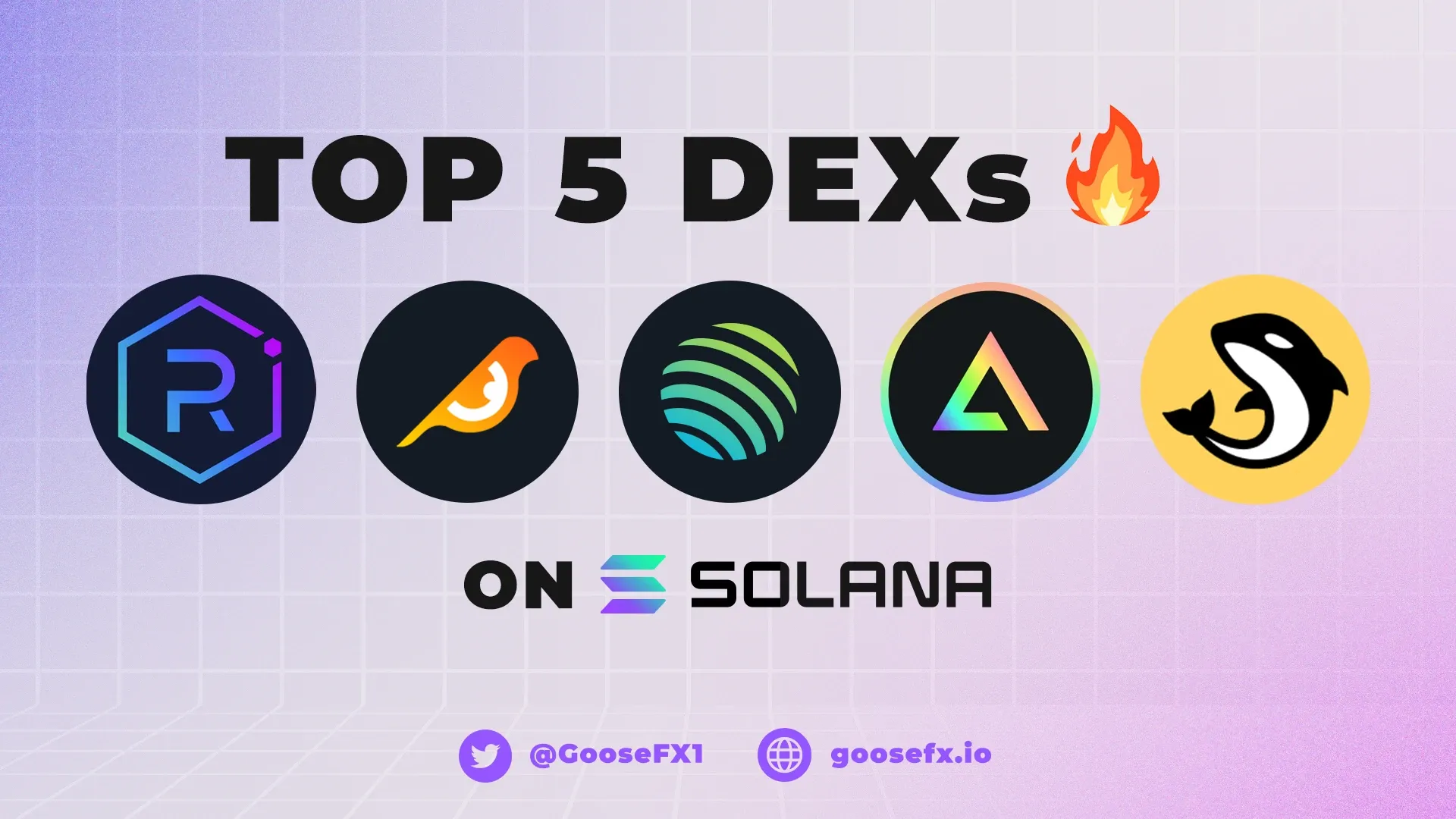 What is Meteora on Solana?
Explore Meteora, the composable yield layer on Solana. Learn how to create your own dynamic pool with simple steps, discover dynamic vaults, AMM pools, and multi-token stable pools.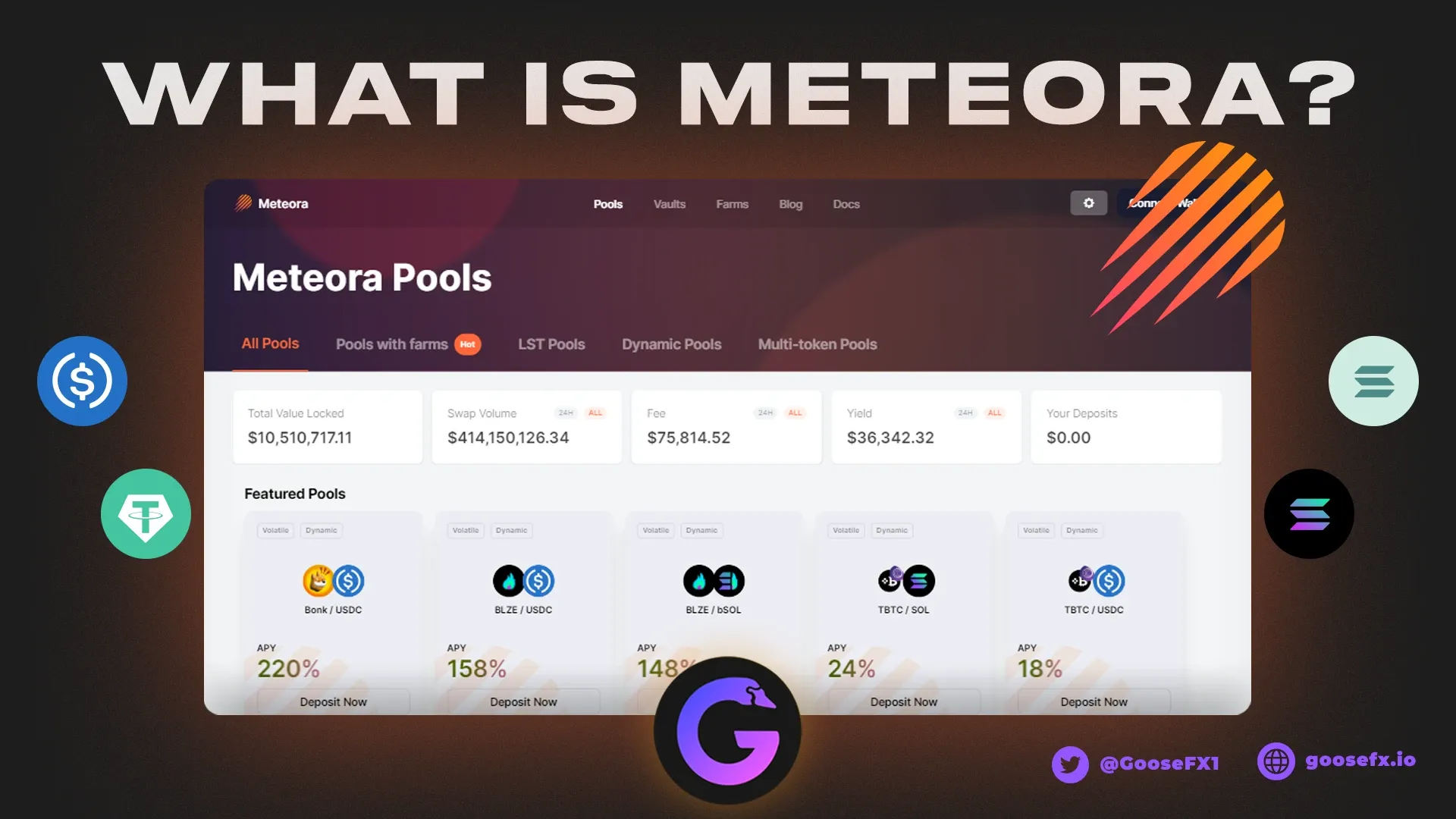 How to Place Limit Orders on Solana
Discover how to seamlessly swap SOL for other tokens on DEXs like Jupiter and Birdeye. From the basics of swapping to the nuances of placing limit orders, our guide will equip you with everything you need to navigate the Solana trading ecosystem.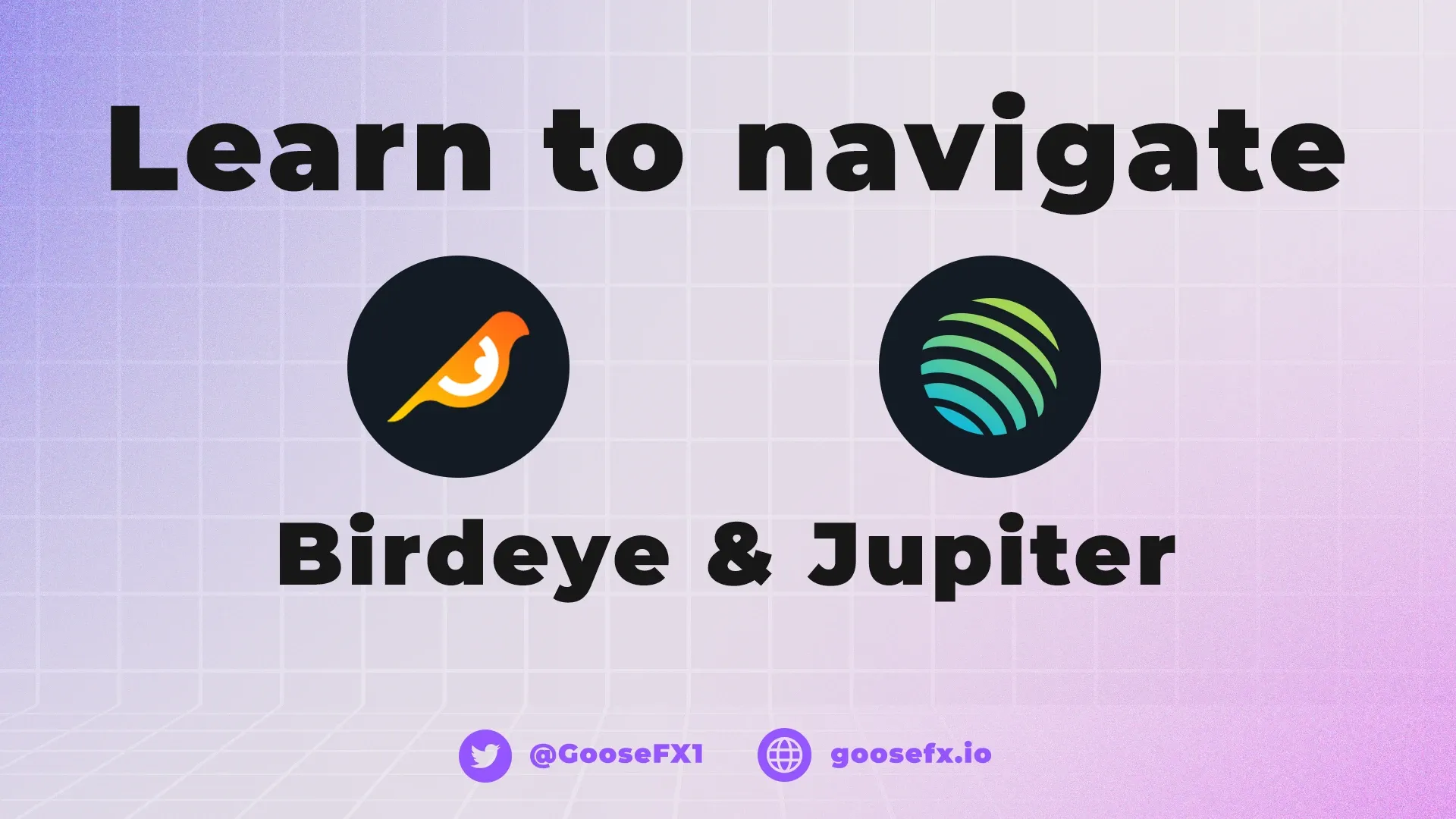 These blogs are designed to provide you with valuable insights into the Solana ecosystem, trading strategies, and DeFi opportunities. Stay informed and keep learning with GooseFX!
Announcements & Insights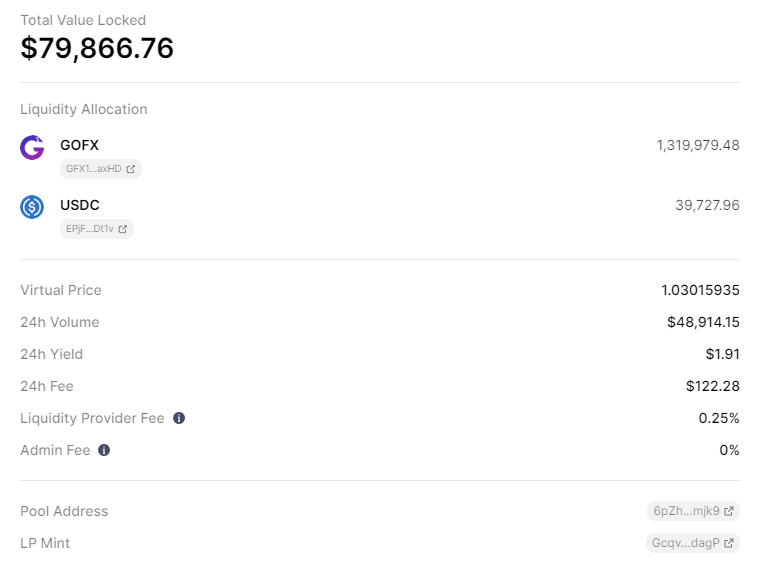 Now connect your @MetaMask wallet for seamless trading on GooseFX
Our NFT Trading Competition has come to an end! Here are the Top 3 traders that stood out from the rest. Congratulations to the winners and participants.
These tweets provide a glimpse of our latest developments, competitions, and community engagement. Follow us on Twitter for real-time updates and exciting news from GooseFX!
Community Engagement
At GooseFX, we believe in the power of community and value the interactions, feedback, and suggestions we receive. Our community plays a vital role in shaping the future of our platform. Here's a glimpse of the community activities and feedback from the past month on GooseFX Discord
Bug Report Resolution: We swiftly addressed a bug reported by our member psilodelic regarding SSL rewards USD conversion, ensuring accurate calculations.
Exclusive Farming Access: Community member solgum proposed an exclusive farming club accessible through $GOFX staking, which we might implement after hitting specific TVL milestones.
Auto-Compounding Staking: gluke's idea of auto-compounding staking was considered for the future, pending the completion of ongoing enhancements.
Discord Data Ticker: A Discord data ticker for GooseFX revenue and volume is under development for Discord.
Conclusion
As we wrap up another exciting month at GooseFX, let's take a moment to recap the highlights and look ahead to what's on the horizon.
In October, we achieved remarkable milestones, with GooseFX Perps achieving a trading volume of $879k, and GooseFX SSL (Single Sided Liquidity) impressively reaching a TVL of $4.8 million, and generating $110,000 in revenue. These achievements underscore our commitment to providing capital-efficient pools for our users.
Our commitment to education and engagement continued through our informative blogs, including an exploration of Solana's top DEXs, insights into Meteora on Solana, and a guide on placing limit orders.
We also hosted a thrilling NFT trading competition, with top traders earning blue chip Solana NFTs.
Looking ahead, GooseFX has exciting plans in store. We're exploring exclusive farming access and auto-compounding staking, which could provide even more value to our community.
We want to express our deepest gratitude to the GooseFX community and all our users for their continuous support, feedback, and engagement. Together, we're building a stronger, more vibrant platform.
Don't miss out on the latest updates and developments from GooseFX. Stay engaged, follow us on social media, and be part of the GooseGang! Your journey with us is just getting started.
Thank you for being a part of the GooseFX adventure! 🦢✨
Website | Twitter | Telegram | Discord | Docs
Disclaimer: The statements, proposals, and details above are informational only, and subject to change. We are in early-stage development and may need to change dates, details, or the project as a whole based on the protocol, team, legal or regulatory needs, or due to developments of Solana/Serum. Nothing above should be construed as financial, legal, or investment advice.