Monthly Update 2023
GooseFX 2022 Recap: A Look Back at the Year and a Glimpse of What's to Come
Team #GooseGang crushed it in 2022 and we're just getting started! Check out our January update to see what we have in store for 2023 🔥🔥🔥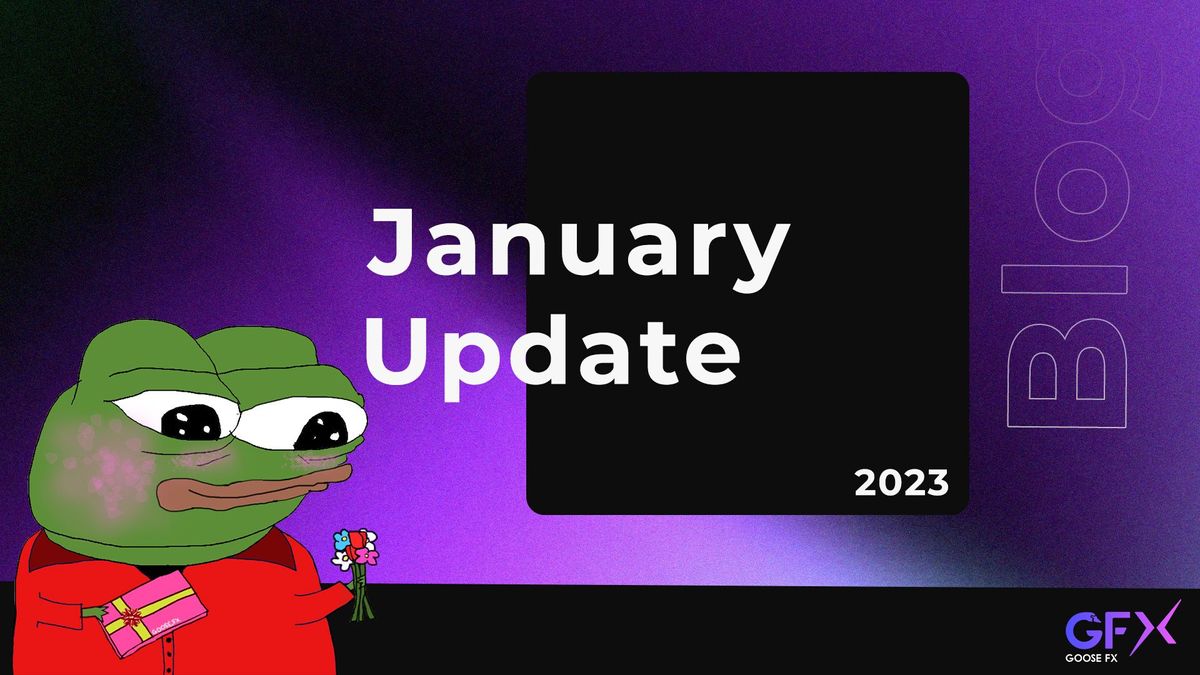 Welcome to the start of a new year and a new era for GooseFX!
The GooseGang team has been working tirelessly to bring you an even better trading experience in 2023, and we have a lot of exciting updates and developments in store for the first quarter.
Get ready to experience the power of our brand new NFT aggregator on Solana, a revolutionary tool that will change how you trade NFTs. Or, if you're interested in futures trading, check out our new perpetual futures DEX, which will revolutionize the way you trade on the market.
And that's not all! We've also worked hard on the new version of our CLMM model, which will be even more efficient and user-friendly than before. Plus, take advantage of our single-sided liquidity pools, designed to maximize your returns on every trade.
It's shaping up to be an incredible year for GooseFX, and we can't wait to share these exciting developments with you. So stay tuned, and get ready for a year of unparalleled trading with the #GooseGang.

GooseFX Yearly Recap: 2022
It's been another exciting year for GooseFX, with several updates and developments that have helped us continue improving our platform and services. Here's a look back at some of the major highlights of 2022
January Update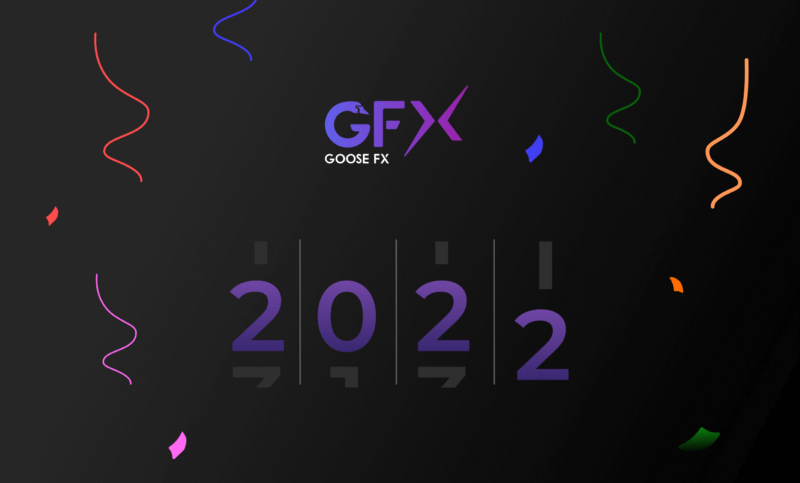 https://www.blog.goosefx.io/goosefx-january-updates/
The GooseFX team reflected on the year's accomplishments, including completing their initial seed raise, establishing a strong network of investors and advisors, and hiring talented new team members.
The NestQuest game, an interactive platform tutorial with rewards, was officially introduced to the community.
The team contributed to identifying and addressing bugs in the Metaplex auction house contract.
The GooseFX team sponsored the Miami Hacker House and put up a $10k bounty for an NFT leasing feature, which was won by the Cardinal DAO team.
Development updates included progress on the NFT marketplace, single-sided liquidity, and the crypto trading UI with the single-sided liquidity smart contracts undergoing testing and auditing.
We participated in AMA with the Grape project and held a number of giveaways to promote the platform and NestQuest NFTs.
Looking forward to 2022, the team plans to continue participating in the Solana ecosystem and building a strong community around the protocol.
February Update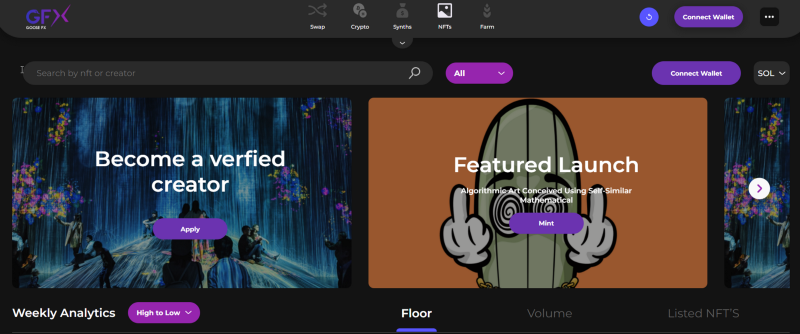 https://www.blog.goosefx.io/goosefx-february-updates/
The GooseFX team hired four additional engineers and a Head of Growth in February.
Plans were announced to bring on a Wharton Finance Ph.D. candidate to help with NFT valuation and the development of quantitative strategies for derivatives.
Development updates included progress on the NFT marketplace, which allows users to buy, sell, and mint NFTs without depositing them into an escrow account.
The team developed NFT collateralized loans and single-sided liquidity, improving current AMM models.
The NestQuest roadmap and landing page were released, and eggs required to access NestQuest were made available for purchase.
Introduction of GooseFX SSL v1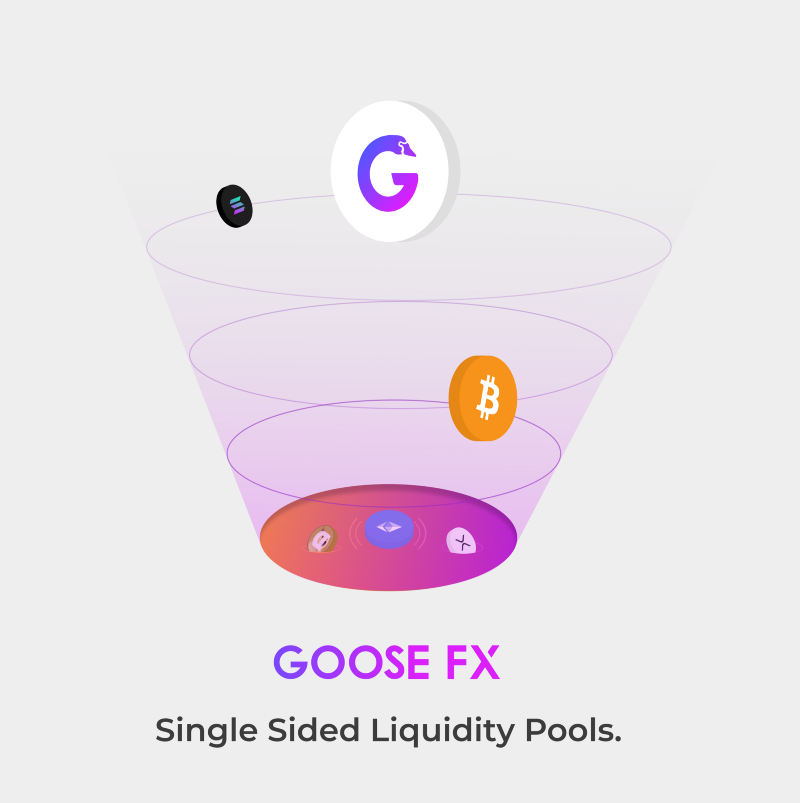 https://www.blog.goosefx.io/introducing-goosefx-ssl-v1-single-sided-liquidity-with-less-slippage-and-more-protection/
GooseFX SSL v1 is a new automated market maker (AMM) design that addresses the issues of complex liquidity provision, inefficient liquidity distribution, and impermanent losses for liquidity providers.
The design includes dynamic pool weights, a liquidity concentration curve, and a swap mechanism that allows single-sided liquidity provision and protects liquidity providers.
The design also includes a fee mechanism that charges a constant rate for trading volume and accrues the fees to the pool where liquidity is withdrawn.
The GooseFX SSL v1 design was tested using historical market data and demonstrated significant improvements in terms of liquidity provision, slippage, and impermanent loss compared to other AMM models.
Introduction of GooseFX NFT Appraisal Engine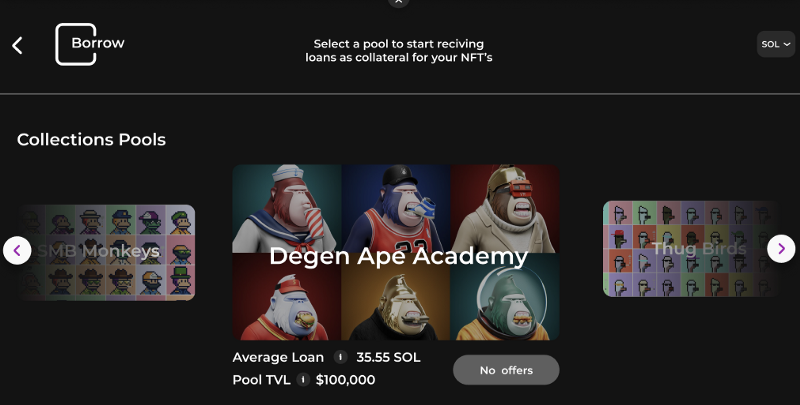 https://www.blog.goosefx.io/introducing-goosefx-nft-appraisal-engine/
In April, we unveiled the GooseFX NFT Appraisal Engine, a new tool that allows users to easily determine the market value of their NFTs. An NFT appraisal tool that uses mathematical modelling and machine learning to determine the value of non-fungible tokens with an R2 score of 0.89. The tool is available through a web interface and API and will provide real-time and historical fair prices for individual NFTs.
May Update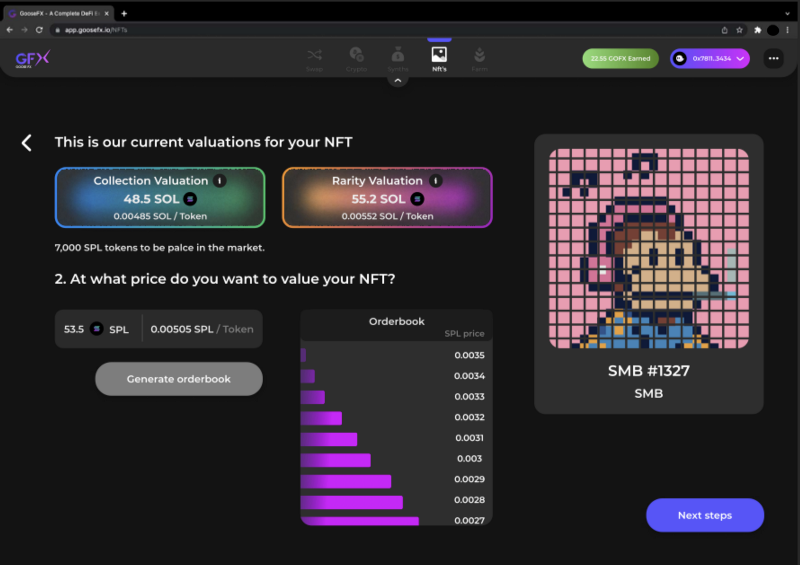 https://www.blog.goosefx.io/goosefx-may-update/
May brought a number of updates to the platform, including the introduction of our new margin trading feature and the expansion of our list of supported cryptocurrencies.
GooseFX Hired new developer , now totalling 16 people, and a full-time community moderator and business development team member.
Development updates include releasing Single-Sided Liquidity Pools, Spot Crypto DEX v2, Concentrated Liquidity Swap AMM, NFT Launchpad, NFT Fractionalization with Serum order books, Perpetuals with Serum's AOB, NFT Borrow/Lend, and NFT Appraisal Engine API.
Released Nest NFT Exchange to Open-Beta with features including Collection Floor Sweeper, Telegram Notifications, and Single Item Listings, and will soon announce NFT Fractionalization
Launched Crypto DEX v2 with refreshed design for streamlined CLOB trading experience
June Update
https://www.blog.goosefx.io/goosefx-may-ama-recap/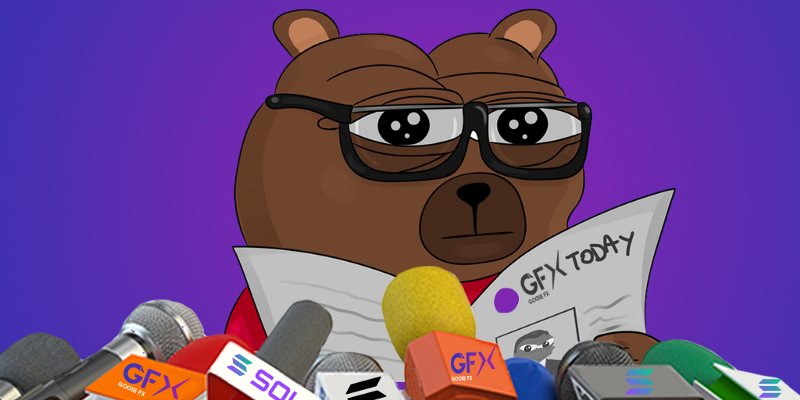 In May, we also hosted an AMA (Ask Me Anything) session, where we answered questions from the community about the platform and the direction of the company. Some of the highlights included our plans for future expansion and the addition of new features to the platform.
GooseFX partnered with Jupiter for SSL integration on swaps.
GooseFX uses Halborn to audit its smart contracts and conducts regular penetration testing on all its dApps to maintain security; bug bounty programs are also in the works.
July Update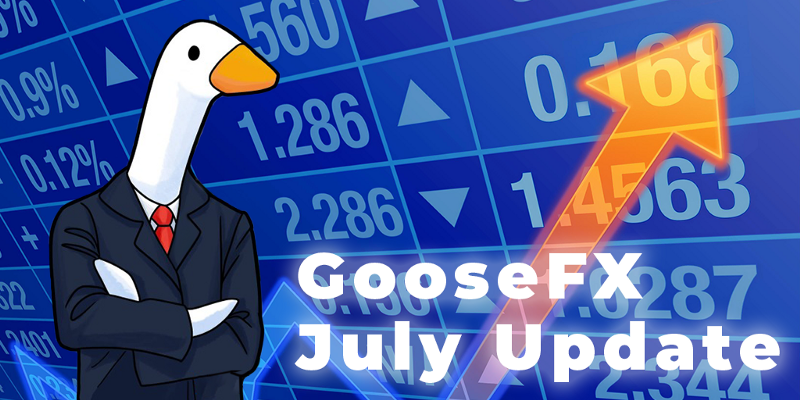 https://www.blog.goosefx.io/goosefx-july-update/
GooseFX listed on AAX Exchange
Single-Sided Liquidity (SSL) now supports SOL, mSOL, USDC, ETH, GMT, and SRM, with plans to add USDT, MNGO, and ORCA
SSL-SDK is now live and available for integration
Goose Team Demonstrated NFT Launchpad at Solana Hacker House in Barcelona and attended Solana Hacker Houses in London, and NFT_NYC
We launched SolFlipperz on our brand new NFT Launchpad on July 18
August Update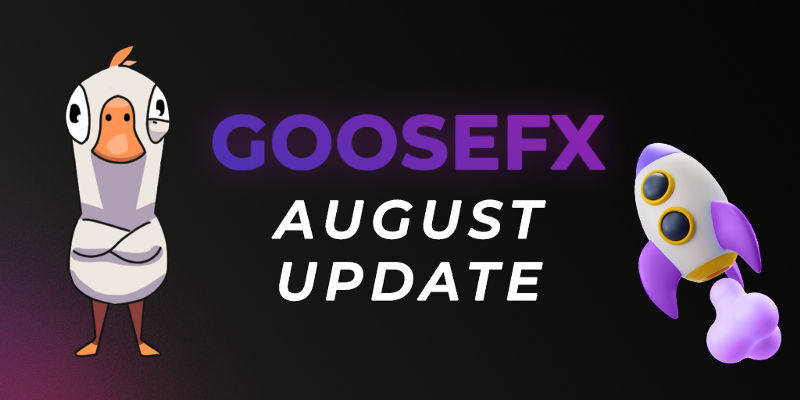 https://www.blog.goosefx.io/goosefx-august-update/
In August, GooseFX released the NFT Launchpad with features as multicurrency support, anti-bot minting, optional creator vesting, wallet-based on-chain whitelist, multiple whitelist tiers, a mint freeze period, and hidden reveal
GooseFX collaborated with Pyth Network and integrated with PRISM, and is adding $ORCA and $USDT to its SSL pools
Over 60 new NFT collections got listed on the GooseFX NFT Marketplace.
Goose Team welcomes a new marketing and business development member.
Perpetual trading engine development begins!
We hosted a meme and art competition with rewards worth over $1000 for the community.
September Update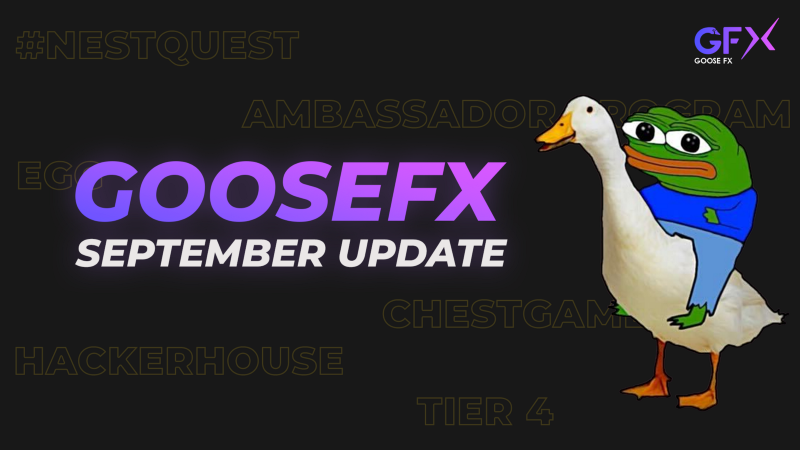 https://www.blog.goosefx.io/goosefx-september-update/
GooseFX's NestQuest NFTs are now listed and tradeable on various marketplaces on Solana.
GooseFX passed a smart contract security audit performed by OtterSec with no critical bugs.
GooseFX is now available at Solana Spaces Miami!
Pyth Network's database now tracks $GOFX
New NFT collections are now available on the GooseFX NFT Marketplace
Team Goose welcomed a new anchor/Rust intern to the team
GooseFX launched the Ambassador Program, inviting talented community members to join the #GooseGang family.
October Update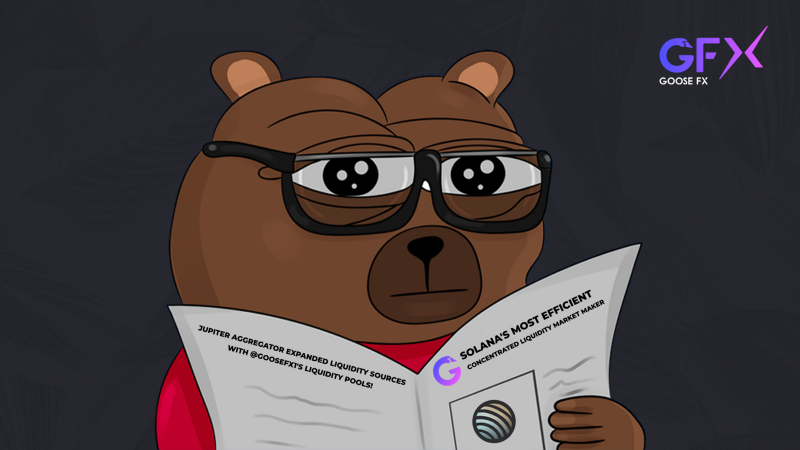 https://www.blog.goosefx.io/goosefx-october-update-636969e44d5c583558783c42/
GooseFX CLMM (Concentrated Liquidity Market Maker) is now available on Jupiter Exchange.
Within a month of its launch, GooseFX CLMM has achieved ~$15M+ in trading volume and is among the top 10 pool providers on Jupiter
Our CLMM pools currently offer $GOFX, $SOL, $sTSOL, $USDC, $USDT, $ETH, $mSOL, $SRM, $GMT and $ORCA.
Team Goose participated in Solana Hacker House Vancouver
GooseFX collaborated with SolanaSpaces and xNFT_Backpack
November Update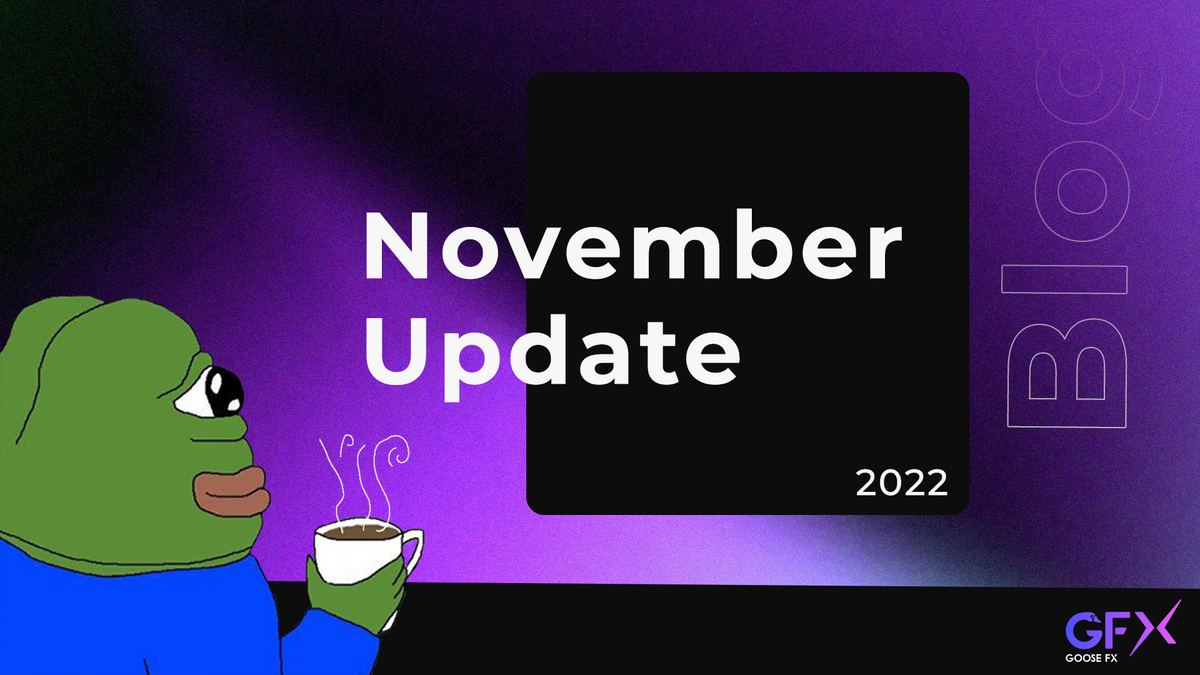 https://www.blog.goosefx.io/goosefx-november-update-2022/
GooseFX CLMM has achieved $40,000,000+ in total trading volume within 30 days
NestQuest Tier 4 now available, allowing users to upgrade to the Armoured Goose by performing combination ritual on NestQuest map.
Team Goose wins $5,000 Developer Grant from Wormhole
December Update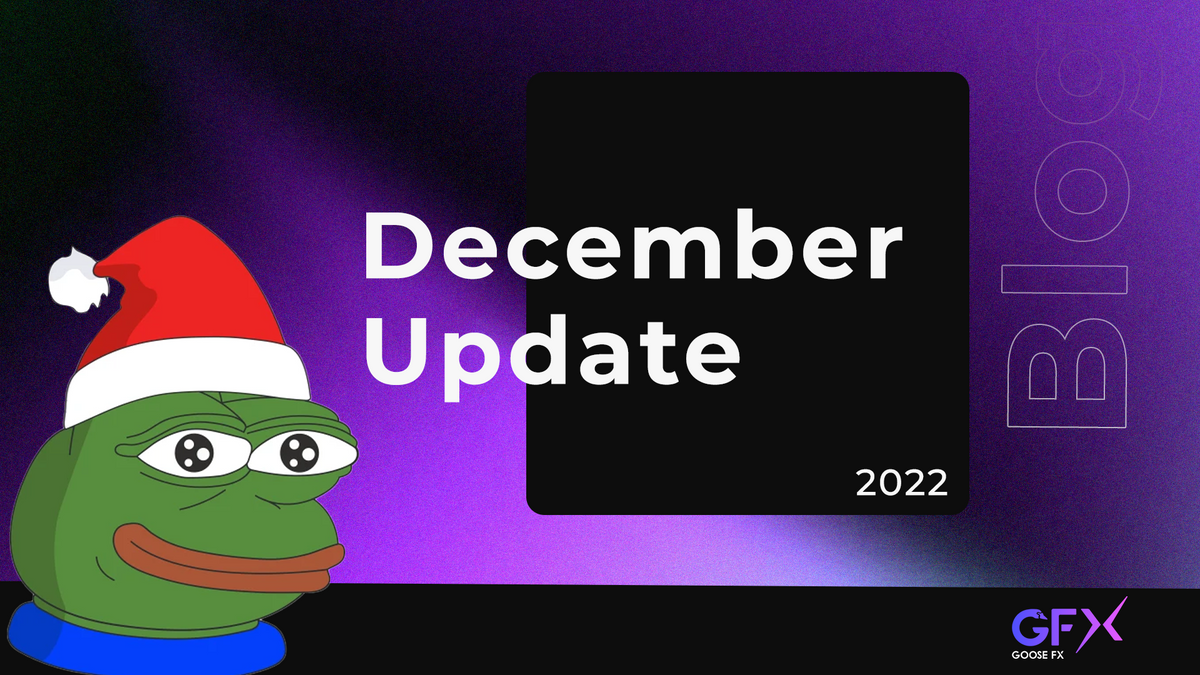 https://www.blog.goosefx.io/goosefx-december-update-2022/
The GooseFX team achieved $69,000,000+ in total trading volume through its Concentrated Liquidity Market Maker (CLMM) in just over 60 days.
GooseFX has entered into partnerships and collaborations with PythNetwork, Dappio, and others in the Solana DeFi space.
The team has launched a DeFi education blog called #GooseAcademy, which has published articles on various DeFi topics.
GooseFX is hiring a full-stack engineer to join their team.
Conclusion
As we wrap up another successful year for GooseFX, we want to thank all of our users for their support and loyalty. It's been an exciting year full of updates, new features, and milestones, and we couldn't have done it without you.
It was a successful year for the GooseFX team as they accomplished several notable achievements, such as surpassing $69 million in total trading volume for their Concentrated Liquidity Market Maker (CLMM) pools and partnering with various companies in the DeFi space. The team also launched their #GooseAcademy blog to provide DeFi education and insights, and they are actively hiring talented individuals to join their team.
We're looking forward to continuing this momentum in the coming year, and we have even more exciting updates and developments in store for 2023. So stay tuned, and get ready for another year of unparalleled trading with the #GooseGang team!
Thank you again for your support, and we hope you have a happy and prosperous new year.
Stay Tuned with #GooseGang
Website | Twitter | Telegram | Discord | Docs
Disclaimer: The statements, proposals, and details above are informational only, and subject to change. We are in early-stage development and may need to change dates, details, or the project as a whole based on the protocol, team, legal or regulatory needs, or due to developments of Solana/Serum. Nothing above should be construed as financial, legal, or investment advice.